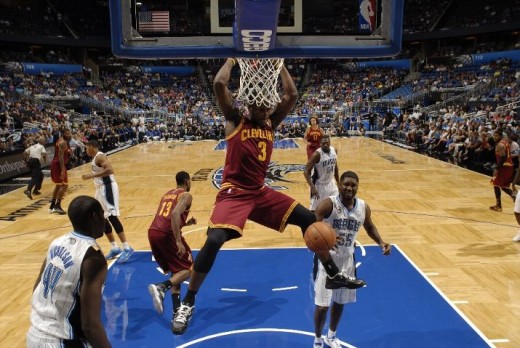 Building on the previous four of these, today a good case RAPM projection will be distilled.  I used the same minutes distribution and assumptions that transitioned the Win Shares projection from unbiased to good case.  For those without photographic memory, those changes were three:
Kyrie continues leaping towards superstardom, buoyed considerably by a massive improvement defensively from age 20 to 21.  His 3.2 RAPM mirrors Chris Paul's Age 21 season
Andrew Bynum experiences relatively strong health; approximately 50 games.  His level of play approaches 90% of his prime (I guess his prime is behind him at age 25?).
Dion Waiters performs as a league average player.  In his case below, like Kyrie, that involved big strides on defense.
Other than those, the minutes and RAPM below are unchanged from the unbiased RAPM projection of 38 wins.  Again, average RAPM is approximately zero.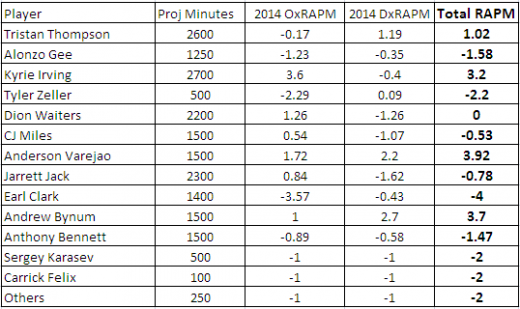 Using the same method as in Part 4, this equates to 46 wins; a very nice jump from the unbiased 38 victories.  A few notable items different that last week, in handy bullet form:
Whereas the unbiased RAPM forecast was three games worse than Win Shares, the good case ends only win less.  The original calculation disliked Dion and Kyrie's D, and a jump towards the mean greatly raises the team's prospects.
Chris Paul's mark in 2006 – 2007 rated him as the 32nd best player in the NBA as a 21-year old.  Beginning the season after that, he hit the top ten and finished between 2nd and 9th every season since.  Irving is not stylistically exactly like Paul, but a similar level of mastery of the game is certainly what Cavs fans are hoping for.
I hope that "average" understates Dion's impact this season.  Even at that level though, he is well on his way to a nice career.  The start of preseason looks nice; two very sweet dunks off cuts on Friday look like a big improvement from last season when he regularly looked lost off the ball.  Those periodic easy buckets raise the shooting percentages a bit.  According to 82games.com, 3% of Dion's shot attempts were dunks last year.  While only two preseason games, the highlight footage is piling up more frequently right now.   In great shape, his skill level looks higher, too.  There was a play in semi-transition where he went behind his back, leaving Oladipo completely flat-footed; also several nice assists for layups or threes.
In 3000 minutes, Andrewson Bynejao likely misses a deserved All-Star bid.  If that duo hit that minutes mark, Cleveland features a top-five center spot.  The combination of strong point guard & center production, plus solid seasons from Thompson and Waiters, pushes the Cavs to the East's fifth or sixth seed.
As expected, small forward represents the weak link.  The big problem as it relates to this forecast?  RAPM abhors Earl Clark's offense; it's turning W's into L's bad.  By January, I hope this is laughable…"remember when that Hetrick guy doubted Earl Clark?  Haters gonna hate".  But right now, for fun, let's plug in the RAPM's of small forwards that I espoused the last two summers*.
In 2012, I championed Ohio native Derrick Brown as a low cost, two year option. Using his 2011 – 2012 RAPM (last year he was busy winning championships in Europe) and replacing Clark's minutes, this Cavs scenario climbs to 48 wins.
This summer, my guys were Mike Dunleavy or Dorell Wright.  Inserting either of their age-adjusted 2012 – 2013 production into the team above…50 wins.  First round home court advantage, with a simple upgrade of the small forward position with players that make less money this season.
So there it is.  Make me look stupid, Earl Clark.
And one final scenario prior to Free Agency 2014.  Have you seen this one anyplace else? Lebron James replaces Clark and Gee's minutes.  Calculating the projected wins when incorporating his 10+ RAPM, Kyrie, Bynejao, Waiters and Thompson…66.
I'm kind of upset at myself for talking about this.
*As a devoted advocate of RAPM, obviously there is some bias in this approach, as the players selected were of course solid by the metric.