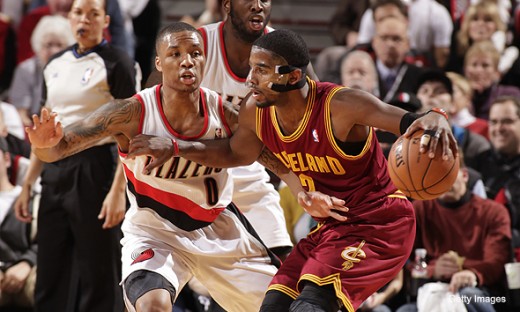 Over the last year in various hypothetical Cavalier trade posts, I have been a little hard on the Portland Trail Blazers.  Over the salary cap this season, committed to 80% of that level for 2014 – 2015, and lacking four of six picks in the next three drafts, their current big three consists of Lamarcus Aldridge, Damian Lillard and Nic Batum.  That's all fine and well, but in the West over the next five seasons, will that beat: Durant, Westbrook & Ibaka; Gasol & Conley; Harden, Howard, Parsons & Lin; or Paul & Griffin?  What about San Antonio or whatever becomes of the Lakers?  Perpetually a deep conference, I envisioned trouble for the Portland core exceeding "first round playoff fodder".  But anyways…that was then…this is now; how is Rip City stacking up with the Cavs this season?
Last Season: Plagued by horrible defense and an atrocious bench, the Blazers stumbled to 33 wins.  Ranking 26th in the league on D, on par with the Cavaliers, Portland finished last in the NBA in blocks + steals + charges per 100 possessions.  Health wasn't the issue; their starters missed a combined 30 games, but RAPM considered four of them (Lillard, Batum, Wes Mathews and JJ Hickson) performing below average at stopping buckets.  The real terror though resided on their bench.  Of players performing in more than one-third of their games, rookie Meyers Leonard paced the team in scoring and rebounding, with 5.5 and 3.7, respectively.  Worse still, of every bench player employed by them last season, he was the only guy to shoot better than 42% from the field.  Ouch.  So did they improve either of those areas this offseason?
What they've done this Off-season:  To an extent, yes.  Looking to shed salary, New Orleans dealt 1) Robin Lopez to Portland for second round picks.  The less-noticed twin, he provides a definite defensive upgrade over the 2) departed Hickson.  Overall, their new center proves at least equal to JJ, and at only one-third the monetary commitment.  Let's give a thumbs-up for that move.  To further bolster their bench, the Trail Blazers inked free agents 3) Mo Williams (2 years, $5.5 million), 4) Dorell Wright (2 years, $6 million, and 5) Earl Watson (1 year, minimum).   All practical, short term, low risk fixes.  While definitely a defensive hemorrhage, Williams provides an upgrade from Eric Maynor, Nolan Smith, and Ronnie Price.  Wright represents a significant improvement over the Luke Babbitt, Victor Claver and Will Barton triumvirate manning back-up wing duties in 2012 – 2013.  And Watson is 34 and not very good any more.  Let's award two thumbs-up for this haul.   Finally, the Trail Blazers bolstered their youth stash.  In addition to Barton and Leonard, they drafted Northeastern Ohio native 6) C.J. McCollum and California's 7) Allen Crabbe (via trade with Cleveland), and also acquired the fifth pick in 2012, 8) Thomas Robinson, for second round picks.  Unfortunately McCollum broke his foot and requires surgery, a second time fracture of that bone.  Best of luck on a quick return.
Taken as a whole, Portland improved their defense and bench, but the key difference between a mild improvement to 38 wins, or a playoff push, will be internal.  The maturation and contributions, particularly defensive, of Lillard, Batum, and their quintet of unproven youngsters will define their season.
How they match up with the Cavs:  Portland finished 19th in the NBA last year for defensive rebounding rate, plus, of 46 centers who played 500 minutes last year, Robin Lopez ranked last for this skill.  Cleveland snagged offensive rebounds at the tenth highest frequency in 2012 – 2013 despite Anderson Varejao playing 25 games.  Add Earl Clark as an elite offensive rebounding small forward, and the Cavs get second chances galore against the Trail Blazers.  Of course, that's assuming that the Portland D can make Kyrie miss.  I like the Cavs winning both games this year, as the Cavs defense improves more than Portland's, and Irving rules.
Match-up to Watch:  From now until eternity, Cavs fans will ask, "how awesome would it have been to draft Derrick Williams in 2011 and have the point guard slot open for Damian Lillard in 2012?"  Wait, no one is asking that?  Regardless, the question still sets the table for the primo pairing between these teams: the two most recent ROY's.  With both point guards progressing towards long successful careers, only one resides among the ten baddest ballers on the planet, and that man is Kyrie Irving.  I look forward to watching him shred an inept Trail Blazers defense twice this season and for several more to come.