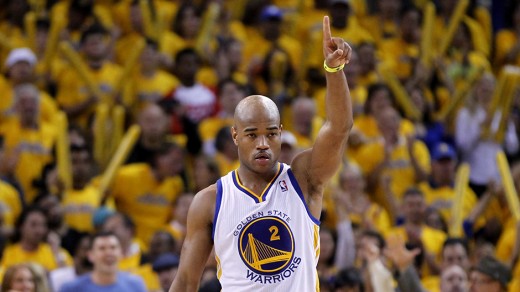 As Cavs: The Blog's chief Bay Area Stuff correspondent, I have a decent amount of experience watching Jarrett Jack: New Cavalier. The zippy bic-domed point guard was somewhat talismanic of the Golden State Warrior's dream 2013 playoffs. Whereas Stephen Curry was incinerating defenses and inventing new colors, Jack was firmly earthbound, yet still effective. His drives and passes tended to stretch the limits of sanity, but he was solid as a third guard, especially in a small lineup with Curry and Klay Thompson. He is nominally the only other point guard on the roster besides Kyrie Irving and Matthew Dellavedova, so he is firmly entrenched there, but with such a liquid roster, the question of fit is a fairly open one.
It's never certain how a player will function with a new team, but Jack is a fairly known quantity. He's been somewhat of a nomad of the NBA, as the Cavs are his sixth team in eight years. Everywhere he's been, he has been an able backup point guard, save for his lone year starting in New Orleans, where he posted his best PER. This coincided with his highest usage rate, which indicates his game is scale independent. Jack does what he does and the data shows he does it regardless of teammates or time. At the very least, Cleveland can expect an above-average backup point guard who will not have a long adjustment period or cause fans to flip their desks over if Irving misses any time *knocks on all the wood in my apartment*.
The comparison to Irving brings up a number of interesting points, namely that Jack is a rough facsimile of Kyrie, only way less effective. He is a score-first guard, best exemplified by his playoffs where he would frustratingly dribble out possessions and insist on driving one-on-one despite Curry being on the floor, but he would end to finish plays off with a basket. He's an able passer, but facilitation is not something he aims to do every possession. Jack has a floater and a fadeaway with decent range in his arsenal, and he has a fairly decent shot selection, peppered with a few head-scratchers. In this sense, he is an archetypal backup point guard: able to move the ball and score when the big guns are resting, but not quite enough of a chameleon to lead a huge part of sustained, balanced basketball team. And that's okay. Cleveland already has a superstar lead guard. His defense is also similar to Kyrie's in that it's not great. Golden State's Game 1 heartbreaking loss to San Antonio featured a crucial defensive lapse by Jack which allowed Manu Ginobili to do this. Last year, he could rely on the all-world backstop abilities of Andrew Bogut, which allowed Golden State to play him more in the playoffs, but with Cavs big man rotation so young or injured, he may not have the same safety net. The Cavs roster is loaded with shooting guards and short on small forwards, so it is logical to expect Mike Brown to roll with smaller lineups. Jack thrived in this configuration in Oakland and may have the chance to reprise this role here. His assist rate has been near 30% the past few years, close to Kyrie Irving's numbers and better than the backup point guards last year, so more Jack on the floor will probably lead to better shooting opportunities for Dion Waiters.
A more nebulous positive that Jarrett Jack brings is the always slippery veteran leandership. He has played with young virtuosos before, and the word is Jack is a great dude to have in a locker room. He turns 30 right before opening day and is the second oldest player on the team after Anderson Varejao. Mike Brown may have to squabble with Jack over shot selection and try to reign in the point guard's more adventurous tendencies at times, but he has been around the block a few times and will intangibly help Cleveland's talented pack of  youngsters find their wings. While Jack's defensive abilities aren't going to improve dramatically, it's probably reassuring for Brown to know exactly what he has on such a cloudy team. If anything, the struggle will be in finding hiding spots for Jack. Offensively, Brown won't have to do too much besides toss jack the keys and tell him not to break anything. Spacing is an all-the-time issue with this Cavs team, especially sans Boobie Gibson and his wonderful twitter account, and Jack doesn't really alleviate that (although his feed is one of the more underrated NBA twitter accounts). However, his constant forays into the lane will catalyze the second unit's offense, and sometimes that's enough to tread water or go on runs while Irving takes a breather.
Kirk Goldsberry's excellent post yesterday at Grantland on developing a new shooting metric identified Jarrett Jack as the seventh-best outside shooter in the league between Serge Ibaka and Shane Battier (um) but ahead of such luminaries as Danny Green and Steve Novak. Goldsberry stresses context, and it's important to remember that Jack played alongside Stephen Curry and Klay Thompson last year, when he had one of his best shooting season's ever. If anything, this new datum is a reminder that while Jack may take ill-advised shots at times, he is a net plus as a shooter and remains a very effective weapon. Also, this happened on Tuesday, which isn't relevant to the discussion at hand, but is awesome nonetheless.
The transfer from talent to wins is a very tricky one, and the process is not smooth. Players have to grow and evolve, transformations which take time and experience to nucleate on a team level. Jack will help the team on-court with his scoring and occasional passing, but his steadying hand will likely allow the team's more rough-edged players to grow and learn how to win. While Jack's was part of his first playoff series win last year, he has shown tremendous poise in the face of constantly being traded back and forth across the league. There isn't a linear translation from leadership to wins, but Jack's addition matters, and is a real positive heading into the 2013-2014 season.