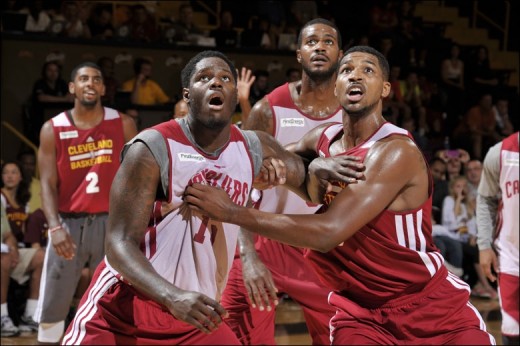 Your 2013-14 Cleveland Cavaliers got their first "official" run on a damp Saturday afternoon on the campus of Baldwin Wallace University. Unfortunately, "damp" didn't just describe the Cleveland-area weather. Before a private audience of military members and their families, a slippery court forced Mike Brown to call the team's annual Wine & Gold scrimmage with 6:10 left in the third quarter.
Still, two and a half quarters was plenty for Kryie Iriving to score a game-high 17 points for the Wine Team in a 46-38 Wine win. In fact, when the game was cut short, Irving seemed to be just getting warmed up. After a slow shooting start for … well, for everyone involved in this game, Irving's shot from deep started dropping to compliment his trademark contorting conversions at the rim. Irving looked basically like all of us remember him: a true game changer who, when he's on, looks like he can score with absolutely anyone in the league. He even looks a little stronger after a healthy off-season. But, you don't need me to tell you that there's plenty to be excited about with Iriving. How about the rest of the team?
Reserve center, Tyler Zeller, led the Gold Team with 13 points before being the reason Brown called off the game. While battling for a rebound, Anderson Varejao came down on Zeller, sending the second year big man to the court in a big ole pile of grimace. Both players seemed fine after the incident, but apparently seeing any big man go down, especially in a play involving Varejao, he of the frequent "freak" injuries over the last three years, caused Brown to throw in the soggy towel. Before that, Zeller had run the floor extremely well, getting many of his points on passes from Jarrett Jack in transition.
And… I'm sorry, but seeing Varejao back on the floor playing for the Cavs — and playing in Brown's defensive system at that — just makes me happy. The Brazilian big man finished with seven rebounds and showed flashes of dusting off the two-man game with Irving that Austin Carr called (albeit hyperbolically) "the best one-two punch in the league."
Rookie Anthony Bennett looked big. Very big. Apparently, space is not the only thing the 2013 number one overall pick's been eating up while rehabbing from his off-season shoulder surgery (sorry… couldn't resist). The 20-year old big man looked out of shape and often directionless on the court (though, to be fair, one of those things is entirely to be expected — I'll let you guess which one). However, after an 0-2 start that had Bennett sucking air, he responded with a monster one-handed dunk that started when he received a pass completely flat footed and seemed to end .000001 seconds later with just a rim a' rattlin'. That's how quickly Bennett exploded at the hoop. GM Chris Grant, joining Carr and Fred McLeod for the webcast, pointed out that Bennett has the sam wingspan as former Cavs' center Zydrunas Ilgauskas. Ilgauskas, at 7-3, is seven inches taller than Bennett. This bears some watching.
Dion Waiters looked improved. He is clearly in much better shape than at any point last season and his jumper is much more straight-up-and-down than at any point last season. He contributed to some of the sloppiness early, but had a great dunk after Irving chased down a loose ball in the corner and, later, hit a three point shot. This too bears some watching.
For all of the buzz surrounding his hand-switching, Tristan Thompson seemed to struggle in familiar ways. His foul shot — great in his summer games with Team Canada — was long or short all afternoon and, when he tried score around the rim, if he wasn't drawing a foul, his shots just weren't breaking through the mess of hands defending him. The team did look very active defensively, though, and Thompson, along with Varejao, Earl Clark, and Earl Clark's length was a big part of that.
But, aside from Irving, it was Jack who made the biggest impression. The 6-3 guard ran the point for the Gold Team and did a great job running whatever semblance of offense exists in a scrimmage and hitting shots to keep the Gold Team in it once a warmed up Irving started pushing it well in the Wine's favor. At one point, Irving and Jack were trading shots, really getting after each other, that had Grant praising the leadership of the player who is likely his best free agent signing to date.
The Wine Team featured Irving, Waiters, Elliot Williams, Sergey Karasev, Thompson, Varejao, Alonzo Gee Kenny Kadji and Henry Sims, while the Gold Team was made up of Jack, C.J. Miles, Clark, Jermaine Taylor, Bennett, Carrick Felix, Zeller, DeSagana Diop, Matthew Dellavedova and Michael Lee.
Notes: Grant said that, due to the injury concerns surrounding Varejao and Andrew Bynum, the team will likely keep a seventh big on its roster, with Kadji and Sims mentioned by name.
The Cavs' GM also relayed a story of Bynum, after attempting a jump hook, commenting to Grant that he's still getting used to the feeling of having the ball in his hands. Grant had nothing but praise for the former all-star center's rehab from knee surgery, but agreed that, yes, after not playing all of last year, that's understandable.