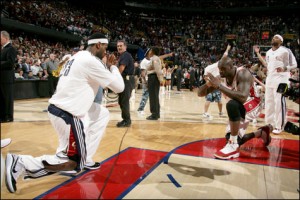 "After the game, LeBron said that he was pleased the Bulls made the playoffs and pleased they put up such a fight. He went so far as to say that if the Raptors would have gotten in that it wouldn't have been a test and wouldn't have helped the team prepare for the next round." [Brian Windhorst's Beat Blog]
Windhorst's most EPIC podcast ever.  Wait till the end when he starts going OFF on Dwight Howard.
"But there were too many quarters in this series where the Cavs seemed to think this was the regular season. Yes, they put the Bulls away in five games and did hold the home court, but they can't possibly believe they can repeat this so-so performance and knock off Boston." [Terry Pluto's Scribbles]
"As for the series, Chicago challenged the Cavs, especially in the last game, which could have gone the Bulls' way had two Rose fourth-quarter shots that were all but in not somehow rolled out, and had the officials given Rose continuation and a basket in the fourth quarter when he was fouled by O'Neal. Those breaks went Cleveland's way, and as a result the Cavs advance to face the Celtics in the Eastern Conference semifinals. Game 1 of that series will be played in Cleveland on Saturday." [Pat McManamon – Fanhouse]
Derrick Rose and LeBron think Del Negro is a good coach
Good Vid of Game 4 Highlights.
"And if you're ever feeling down, here's something you can always remember as a pick-me-up — even LeBron James isn't perfect at everything. He can't even make clutch free throws with his off hand." [Trey Kerby – Ball Don't Lie]
Awesome collection of picture over at WFNY. I was listening to Mike Synder last night and he said Shaq's vest was the largest he had ever seen worn by a human being.  Now I see what he meant.
Tweets To The Present: (follow me @tompestak)
@PDcavsinsider Please tell the Cavalier nation I am fine. LeBron is sleeping and I am playing Call of Duty. I will be ready for Boston. [LeBron's Elbow]
He's up to 400 followers RT @LeBronsElbow Told them I'm fine, they keep poking me & putting me in machines. All they'll find is awesomeness. [Brian Windhorst]
I'm not one of the people screaming for more Hickson, but last 2 games against Boston: 26 pts., 14 reb. (11 reb in last game) [Dan Labbe]