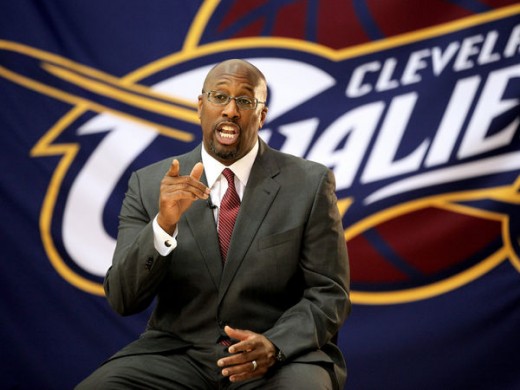 When Mike Brown was originally hired by Dan Gilbert back in 2005, the first time coach was tasked with getting a young Cavaliers star, LeBron James, his first taste of the playoffs after two seasons ending in disappointing near-misses. At the time, the 35-year old former assistant to Rick Carlisle in Indiana, downplayed the pressure he was facing. "My job," he said, "is to coach this basketball team, and that's what I'm focused on."
As with any NBA head coaching job, that's easier said than done. In addition to making good on his promises to build the team as a defense-first unit, he already had to worry about the prospect that James would choose to leave (James didn't sign his extension with the Cavs until the summer of 2006) as well as deal with the national assumption that, very soon, then-current Pistons coach and longtime windmill to Gilbert's tilt, Larry Brown, would be brought in as President of Basketball Operations.
You can imagine Gilbert's pitch: "Hey, congratulations on becoming one of 30 NBA head coaches… Now, you won't mind making sure our local star is happy enough to stay with us forever, will you? Oh, and I'm going to try to make Larry Brown your boss. Yeah, the Larry Brown that famously doesn't really get along with people and could tire of any position at any time and start publicly courting another job. That one. Oh, and, yeah, I should mention that our current star totally hates this guy from being coached/embarrassed by him in the Olympics. Cool?"
Whatever hangs over the head of the Cavaliers' head coach heading into the 2013-14 season, even while his new roster also features a third-year budding star who as yet to taste that sweet, sweet playoff honey, it can't get worse than that first time. Can it?
As you'd expect from a man who has seen many of head coaching's highest and lowes points in the eight years since, Mike Brown starts his Cavs coach redux as a noticeably different coach. Well, sort of…
Andy Varejao is only #Cavs player who played for Mike Brown in 1st go-round in CLE. "Coach seems like he's more serious now," he says.

— M.S. Boyer/J. Valade (@PDcavsinsider) September 30, 2013
Okay, more serious is a start. But looking at some of Brown's Media Day comments, it's the subtle differences that stand out.
"Our mantra for this year is going to be 'Commitment to the Journey'," Brown said. "We're going to have players around us who are selfless, who are accountable, and that have a blind trust in the group. And our identity will be one of a tough-minded, physical, defensive first group. Our guys will feel it. They will breath it. They will touch it. And they will see it from myself and my staff on a daily basis. I can't wait to get started."
(Note: to view the video click here and go to the 10:35 mark.)
Now, a lot of that is the type of talk you'd expect from your head coach heading into any season. But to Brown, a man who was let go by Gilbert for having his team quit on him and fired by the Lakers for not having the cult of personality of a Phil Jackson, words like "accountability," "blind trust" and "journey" seem particularly pointed. Brown has always been credited for being a hard worker, but his approach to molding this Cavaliers team seems to have a lot more to do with commanding respect and leading by example than by being good natured and trusting his veteran players to lead — as he was near-universally credited with doing in his 2008-09 Coach of the Year season. Of course, that may also have something to do with his current dearth of veteran leaders. Always a possibility.
At least at this point in the not-quite-the-season, Cavs fans haven't heard anything from Brown that brings up queasy reminders to his "LeBron lets me coach him" remarks of yesteryear. There seems, for instance, a lack of pandering to Kryie Irving. I'm sure Brown respects Irving's talents, but his measured praise (and, again, who knows how this all changes when Irving starts hitting game winners during the season) seems to quietly say "I'll praise you when you show me that you can lead this team and can play some defense. Prove to me that you're one of the game's rising stars." Brown's relationship with Dion Waiters has been more chummy, but smartly so. Waiters, Brown seems to be betting, is a player who will play better when he believes he has your full belief and confidence, while Irving may like to prove doubters wrong.
Brown has also been clear about defining players' roles. Waiters will play shooting guard. Earl Clark will be a small forward. Anthony Bennett will play power forward. While much of this was done to aid a young team grasping a new set of defensive principles, it also harkens back to 2010, when player discord over their roles was largely blamed for the team's collapse against the Celtics.
That's where Brown is showing his growth as a coach and a leader — he's learned from his mistakes — but coaches have systems and those systems can sometimes be resistant to change.
In fact, the biggest knock on Brown — it was the most resounding knock in both of his previous dismissals — is his unwillingness to change, his inability to adjust. This was the criticism of Brown in 2009 when his Cavs failed to figure out a historically hot-shooting Orlando Magic team. This was the criticism in 2010 when Brown (among other things) refused to go small to gain an advantage on the playoff-resurgent Celtics (a plan that, has since, used James to change certain facets of the way much of the league now plays — so there's that). This was the criticism in 2012 when he kept trying to shoehorn a slow, aging Lakers roster into the Princeton offense, an offense that, while once the bright, twinkling star of newfangled pro offenses had, by then, already begun to lose some of its disciples around the league (Byron Scott famously bagged the offense he was trying install in Cleveland for being too difficult for the players to grasp). Brown always preferred Sasha Pavlovic's length to Daniel Gibson's lack thereof, even if Gibson was the better shooter. Flash-forward, and anyone can see that Clark has great size for a small forward. The question is will Brown stick with him there if, say, Sergey Karasev is a top-five shooter from jump (not likely, of course, but just go with me here…) or if Bennett drops some weight, proves himself more than a sieve on defense and might be worth experimenting at the three (again, just go with me here)? Even more than it was when Brown took the job eight years ago, the NBA is a game that begs for experimentation and forward thinking. Just how much Brown has incorporated adaptability into the system in which he believes still remains to be seen — and may, ultimately, determine the longevity and success of his second tour with the club.
Oh, and this time around he starts with the goatee. So, you know, he's got that going for him too…