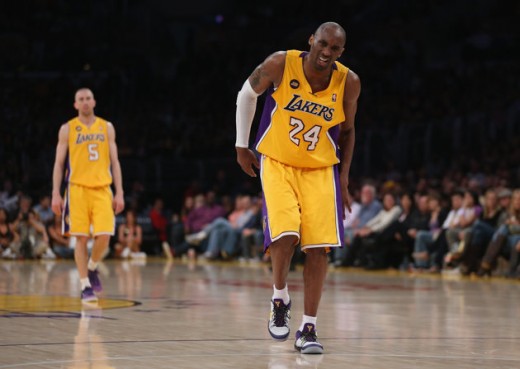 Every year, there are a handful of questions I ask myself to gauge exactly how I'm going to approach the upcoming NBA season. These questions range from, say, "how good do I expect my own team, the Cleveland Cavaliers, to be?" (passable, at the very least … I like to start slow) to "what team will I be irrationally attached to this year?" (possibly the San Antonio Spurs … after last year's Finals, I might not be able to quit them) to "what team will I be sitting on my hands waiting to self-destruct?" (I'm looking at you, Detroit!). One question, though, is constant and possibly the most telling of them all: "Do I hate the Los Angeles Lakers?"
Heading into the 2009-10 season, the answer would have been a definitive yes. The Cavs and Lakers were both expected to be contenders. The Lakers had "beaten us" to Ron Artest during the Cavs' "LeBron won't tell anyone he's resigning with the Cavs" 2009 free agent bonanza and, back then, there was still lively debate about whether that LeBron character or the Lakers' Kobe Bryant was the best player in the league. When the Cavs went into their post-2010 tank, so did much of my hatred for the Lakers. Last year, I even found myself rooting for them a little [the writer pauses to throw up a little in his mouth] since the Lakers had to make the playoffs in order for Cleveland to get the Lakers' Sergey Karasev (um, I mean, first round draft pick). This mild vested interest had me doing all sorts of crazy things like appreciating Kobe Bryant's game!(?) It was sickening, really, and I spent much of the season showering twice a day and never once feeling like I got all the dirt off. I don't know how Lakers fans do it. I really don't.
And what about this year? Do I hate the Lakers again? Maybe. Or, maybe, my brief flirtation with non-disgust has grown into something more. Let's see…
Last Season: The Lakers traded for Steve Nash and signed the 38 year old, two-time MVP point guard to a contract extension through the 2014-15 season. With Nash joining Bryant, Pau Gasol and Andrew Bynum — not to mention the organization's unflagging confidence in head coach Mike Brown [cough…cough] — the buzz was of championship. Then the Lakers' doubled down trading arguably the second best center in the league (Bynum) for the best (Dwight Howard) and that buzz became the deafening roar of a poisonous swarm.
Aaaaand then the wings fell off of that swarm. The Lake Show started slow, prompting ownership to fire Brown after only five games, then seemed certain to re-hire former coach Phil Jackson … until they didn't. Enter Nash's MVP-era Phoenix coach, Mike D'Antoni, and his ill-fitting up-tempo offense that immediately created a strain between the new coach and the new Lakers center, Howard, who rarely sniffed his peak form all season as he worked his way back from off-season back surgery. But, once again, Bryant would not be denied, putting together game after game of "if I could play 58 minutes a game, I would" performances pulling his team back to within a shot of the bottom end of the playoff bracket out west. Bryant tore his achilles tendon in a mid-April game against the Golden State Warriors but, his yeoman's work done, the Lakers wound up making the playoffs as the seventh seed, good for a 4-0 drub-and-out from the Spurs.
Makes me tired just typing all that. But, wait, it gets better!
What they've done this off-season: Mainly, they've seen Howard sign with the Houston Rockets. There are ways of spinning this that don't suggest the long-term future of the team is murky at best, but let me be clear that this is not what the team wanted to happen. Howard butted heads with D'Antoni. He butted heads with Bryant. He continued a two-year run of goof-ballery that has made him one of the easier players for fans to dislike. Okay, sure. But if he would have chosen to stay, the Lakers would have been (in for their share of headaches) pleased.
So, now they have their franchise cornerstone facing rehab from an often debilitating injury and their intended future franchise cornerstone holding up some other team's foundational corner. What do you do? Well, first off, you never count out Kobe Bean Bryant. Bryant has recently said that he likely won't be ready for the start of the year, as he'd hoped, but he is still "shattering" the rehab timetable and, if he has anything to say about it, will return sooner (with a post-surgery skill set that is currently only speculative) than later. They still have Nash, who they hope will be fully recovered from a broken leg suffered at the start of last season, but will likely see his minutes managed more in keeping with his current status as "oldest player currently under NBA contract." After that, the team set out to D'Antoni-fy their team, bringing in low-cost/no-problem-shooting-in-under-seven-seconds wings like Nick Young, Wesley Johnson, Xavier Henry and Shawne Williams, who, as a Knick a couple years back, had a quietly strong season in D'Antoni's system. The team also addressed their Howard-less chasm in the middle by resigning center Robert Sacre and bringing in Chris Kaman's beard on a reasonable deal, though the return of back-up point guard Jordan Farmar might end up being the team's best off-season move.
Biggest questions: What kind of player will Bryant be when he returns? And will the team, now constructed slightly more as its coach would like (though from the free agent bargain bin), be able to execute D'Antoni's high scoring offensive style well enough to stay relevant in the West?
How they match up with the Cavs: This is a pretty fun match-up for several reasons. You have the "Mike Brown taking on his former team" angle. You have D'Antoni's offense going against Brown's defensive system. You have Andrew Bynum (hopefully) going against his former team. And, of course, you have Kyrie Irving's burgeoning pseudo-rivalry with Bryant who, you'll recall, he challenged to a charity game of one-on-one last year. If both teams are good, there's plenty to follow here on and off the court.
All things being equal, the Cavs should have the deeper, more talented squad. Wait, did I just say that?! [deep breath] Well, it's true. There is a version of the 2013-14 Lakers that one can imagine plays pretty well — good for a mid-to-low spot in the playoffs. For that to happen, though, Bryant has to do some more shattering by not only coming back early but playing at or near his pre-injury level and Kaman and Young will have to play (much) better than expected. One can imagine that all happening, but odds of it actually happening are not very likely. The Cavs will be able to run plenty of younger, fresher legs at Gasol and Nash and Bryant, as well as bringing in a more talented, balanced bench. Yes, the purple and gold still has the edge in experience, but the danger of that edge is always that, one day, it will become a bit too rusty.
The match-up to watch: I have to go Irving versus Nash. Nash has been one of my all-time favorite players to watch and, even at 39, he'll have moments that expose Irving's lacking defensive effort. Last year, Bryant often guarded the opposing team's best perimeter player, but you have to think that, if nothing else, the achilles injury will rob him of a little of the lateral speed he used to match up against quicker point guards. If Irving can establish himself as "the player who most puts his imprint on the game," over Bryant's scoring and Nash's shooting/passing, he'll give the Cavs a good shot to win.
So, going into the 2013-14 season, do I hate the Lakers? [Long sigh. Deep breath. Long sigh.] I'm sorry to say that I don't. Don't like them either. But my sports hatred's got bigger fish to fry (sorry, Lakers fans).