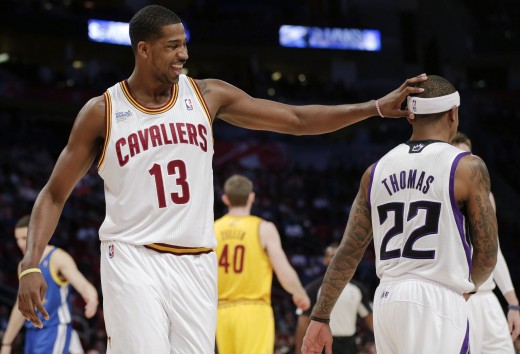 The Sacreattle Superkings were the subject of a protracted and fairly nasty relocation struggle last year, a struggle which highlighted how highly sought after NBA franchises are since the one in the tussle was a fairly terrible one. The Kings, now of Sacramento for the foreseeable future, have been trudging through 6 seasons of awful basketball. Unlike their elite early-2000's contemporaries, Sacramento flamed out pretty bad after their highest point, even less gracefully than the Suns. However, their ownership group appears to be of a more (read: not actively trying to sabotage their team's on court fortunes) supportive kind.
Last Season: The Kings also played basketball last season, hard as it was to concentrate on it. The team sputtered a lot and looked generally lost under coach Keith Smart. Led by the omnipotent and frustrating Demarcus Cousins and the ever-enigmatic Tyreke Evans, the Kings won 28 games and disappointed pretty much everyone. Their talent level was probably higher than their performance indicated, but there were a host of extenuating circumstances and an uncreative coach holding the team back. The whole year — the end most markedly — the individual players each set out to get theirs to such an extent that the latter third of the team's games were absurdist anti-teamwork exhibitions, some of which the team bizarrely ended up winning. All this was pretty minor compared with the dramatic theater of relocation. Kevin Johnson eventually won and the new regime is a vast improvement, although they had the Maloofs for openers and anyone is an improvement on those jackals.
What they've done this off-season: A whole lot of top down renovations. New owner Vivek Ranadive has a history of active engagement with fans, management and the team from his time with the Warriors. Ranadive and other co-owners have tuned up the organization at all levels, and the whole operation has become a much more sophisticated The whole front office was swept out and replaced with a new crew led by Pete D'Alessandro, former right hand man to Masai Ujiri. The new front office is a particularly interesting blend of hyper-precise advanced stats people and Chris Mullin. Mike Malone, lead assistant to Mark Jackson and largely accredited defensive ace, was also taken from the Warriors in Kevin Johnson's pirate raid. While determining the effectiveness of a coach is an impossible task, Malone looks to be a guy who will minimally install a functional defense.
The large turnover didn't stop with top-level dudes, as sometimes star sometimes shadow Tyreke Evans is off to New Orleans for 4/44. Evans departure coupled with the weird probably-signing-and-then-not-signing of Andre Igoudala signals that the new group is willing to be patient with their new toy. Tanking may or may not be a good idea (head on over to our parent blog for their take on all this), but it does seem like an approach the Kings will be taking this year. They brought in Luc Richard Mbah A Moute and Greivis Vasquez, both of whom are intriguing talents who will improve the team, but not enough for them to push for the playoffs or anything. The team's last Warrior to jump across the Central Valley was Carl Landry, a more veteran player with Kings experience. Recruiting established players is a typically unsuccessful quest for lottery scufflers, but it typically works and is a good idea if the team is preparing to jump out of it's cycle of torpedoing for draft picks. Perhaps management is angling for relevance in the next few frames or simply a voice of reason amidst a locker room of enthusiastic youngsters. Of those youngsters, Ben McLemore is probably the most intriguing. He somehow fell to seventh in the draft, probably because he is relatively raw, but if the scouts are to be believed, he has the largest capacity for improvement towards all-star level. The Kings spent their second round pick on Ray McCallum and they like him so much that he is already on a three-year deal. The last time the Kings did this, the deal went to the very last pick in his draft Isaiah Thomas and he turned out to be quite a player.
How they match up with the Cavs: Cleveland is a strangely and subtly unbalanced team. While there is a horde of able post players, their best player is their point guard. Sacramento is a touch more balanced, but also runs into sort of the same problem without the Kyrie Irving solution. Demarcus Cousins is the centerpiece and he and Bynum make fascinating foils for one another. Both are grumpy, devastatingly talented true centers, often misunderstood as unintelligent. Bynum makes basketball look so simple, when healthy he constantly leverages his body to it's logical zenith of effectiveness. Cousins makes basketball look like a Herculean task, he is constantly straining against everyone on the court, but he is weirdly effective. Overall, the Cavs have superior depth and they don't have too difficult of a defensive task, since Sacramento doesn't spread the floor well. The game will be decided inside, and will likely be tilted towards the Cavs.
The match-up to watch: Isaiah Thomas vs. Kyrie Irving. Fires were stoked this week when this video making an advanced stats comparison of the two young point guards suggested Irving received disproportionate attention. This juicy narrative could animate the matchup, but it's secondary to potentially wild play. Both players are like stuntman, making adventurous forays into the center of the court and then creatively moving the ball radially outward. Neither plays particularly effective defense, thus these dive bombs into the central key will happen frequently.