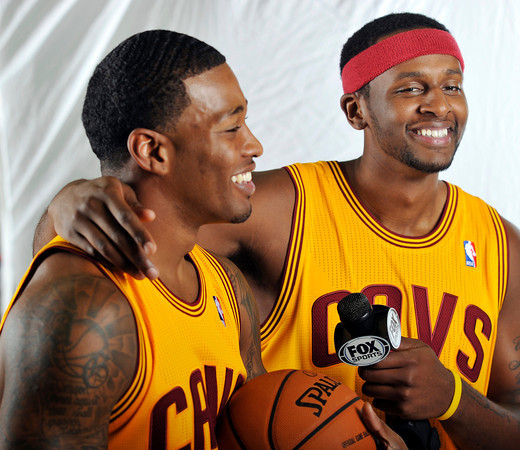 ESPN offered up the next 75 players in #NBArank.  From 276 to 300, no more Cavs.  At 270, in slides C.J. Miles.  If last year serves as indication of where @masfresco's prime heads, his spot is ascendant for next year. The next 25 include T-Zell at #250 and Alonzo Gee at #241; not a bad spot for the 9th and 10th ranked players on a team.  No way Norris Cole should be above them though; definitely some fevered experts there.
As the rankings head into solid rotation players, eight Cavs still remain: Kyrie, Tristan, Dion, Varejao, Bynum, Jack, Anthony Bennett, and…Earl Clark?  Did I miss him somewhere?  If not, playing in LA did well for his reputation.  Earl, I'm rooting for you, but no way do you belong (50 spots) ahead of 3J Miles.
In other news, USA Today declared the Cavaliers the NBA's tenth most watchable team.  Damn straight; get your popcorn ready.  Reasons obviously include Kyrie, and more obviously, Andrew Bynum's hair.
Finally, a lengthy article from Crain's Cleveland Business about the Cavs' use of Sports VU, the data tracking cameras that are taking over the NBA.   What did you do before you knew that Tristan Thompson ran 2.31 miles per game?  Did we even exist before having a dribble-count for CJ Miles at our finger tips?  I don't remember, nor do I want to.
Seriously though, massive quantities of data tracking are  coming to every NBA arena this year.  Read the article.  Cleveland "wouldn't disclose the size of (their) beefed-up analytics department, but it's evident the organization, in the words of Mr. Carper, is going 'all in' with the data."
And in the biggest news, Cavstheblog will be shutting down for the weekend, for a long overdue upgrade.  Maybe the comment monster will finally be vanquished.  The plan is to be operational again by Monday.