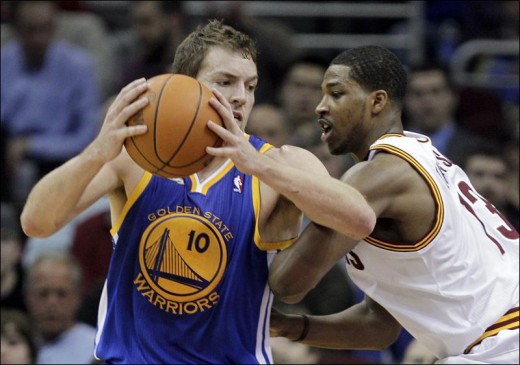 One of last season's darlings, the Golden State Warriors made big moves this offseason.  How do their future prospects look and what does it mean for the Cavs?  Let's see…
Last Season: GSW waltzed through a 47-win season, gaining the Western Conference sixth seed, before upsetting the 57-win Denver Nuggets in the playoffs opening round.  In the second, following an epic double-overtime loss against San Antonio, the Warriors took game two on the road.  The nation collectively wondered whether the upstart Californians could wear the glass slipper and upend the aging dynasty, but alas, San Antonio righted the ship and cruised to a six-game series win.
For the season, Steph Curry took a leap forward, playing 78 games and averaging 23 points and 7 assists.  His points, assists and minutes played hit career highs, and he drained 60 more threes than any other player in the League.  Culminating with an April Player of the Month award, his hot streak carried into the the mini-Cinderella run in May.  David Lee made the all-star team, averaging 19 & 11, and Harrison Barnes received First-team all rookie honors.
As a team, they played fast, and were equally capable on offense (11th) and defense (14th).  Fueled by the long ball, they converted over 40% from deep; the first team surpassing that threshold since 2009 – 10.  With their three highest playoff minute-earners being the young trio of Curry, Barnes, and Klay Thompson, the future seemed bright in Oakland.
What they've done this off-season: Quite a bit.  Of Warriors last season, Jarrett Jack and Carl Landry ranked: 3rd and 4th in Win Shares; 3rd and 4th in PER; and 2nd and 5th in offensive RAPM.  1) Both parted via free agency.  Partially filling that void is a free agent haul of 2) Marreese Speights, 3) Toney Douglas and 4) Jermaine O'Neal, providing a new combo-guard bench offensive spark and some veteran paint presence.
Hot-shot assistant coach 5) Mike Malone departed to coach the Kings (we're rooting for you Mike, send that protected pick over to Cleveland), and GSW hired 6) Lindsey Hunter and 7) Brian Scalabrine to take his place.
From the draft, they added 8) Nemanja Nedovic, occasionally described as the European Derrick Rose.  This only goes as far as their leaping though; the original won an MVP at age 22, the Euro version posted a 10.6 PER in the Euroleague.  Golden State also inked sharp-shooting younger sibling 9) Seth Curry, to a non-guaranteed deal as an undrafted free agent.
But of course, I saved the big move for last.   On July 10th, as part of a three team deal, GSW packaged Richard Jefferson, Brandon Rush, Andris Biedrins, and five draft picks to snag 10) Andre Iguodala, who signed a 4 year, $48 million deal.  Swapping the expiring contracts of three guys that tallied 1100 total minutes in 2012 – 2013, for a recent All-Star / NBA's premier perimeter defensive player?  Sounds like a no brainer.
But I can see reasons to be wary of expecting too much out of Oakland.  Last season, their 47 wins nabbed the sixth-seed, but their scoring margin only ranked eighth.  Eight players saw 78 or more games, two more than any other team in the NBA; only Andrew Bogut missed significant time, a non-rare occurrence. Can they maintain that inordinate level of health?  Particularly as it relates to Stephen Curry, he of the dual-surgery ankle?  It's a shame this question hovers around him, because he's amazing.  Last year at age 24, he finished sixth in the NBA in Offensive Win Shares; 7th in Offensive RAPM; and 10th in Hollinger's Extra Wins Added.  This man deserves to be one of the league's elite weapons for the rest of the decade.
Beyond Curry though, the team lacks firepower.  Last season, RAPM considered only three Warriors better than average on offense.  One of those, Jarrett Jack, is gone.  Another, David Lee, just turned thirty and returns from a torn hip flexor.    New addition Iguodala adds some spark, but his offensive performance continues gradually declining.  Curry's fellow youngsters present questions on whether "Borderline All-Star" or "Nice Fifth Wheel" is their future.  Turning 24 in February, Klay Thompson needs to prove his 12.7 PER was a sophomore slump.  Of his makes last year, 80% were assisted; according to hoopdata.com, of 129 swingmen that played 40 games, that ranks 110th.  Harrison Barnes' production resembled the scoop on him from college; he doesn't create good looks at the basket.  Only 29 of those swingmen were assisted on a higher percentage of their makes at the rim, and for setting up others with gimmes, he accumulated one assist at the rim per 80 minutes.  Only 21, strides need made in this regard to improve his low usage, relatively inefficient (11 PER) regular season performance.
For that five-man core, through 2015 – 2016, the team wrapped up $48.5 million annually.  Having dealt six draft picks from the next four years, only Brooklyn controls less on draft day; little opportunity for cheap talent infusions exist there. Barring another trade, for the next three seasons, this team's offense may be Steph Curry and a bunch of variables.  If he misses any time, things could get dicey in the Bay Area.
What is this though, a Golden State Warriors blog?  Let's talk about…
How they match up with the Cavs: Is this the version where Andrew Bynum and Andrew Bogut are healthy?  And Kyrie Irving and Steph Curry?  Let's say yes.
Obviously the point guard battle boasts the potential for perpetual fireworks; the world deserves those two going off for 45 against each other in overtime thrillers.  Other than that, well, the Cavalier defense needs to tighten along the perimeter; Cleveland's close-outs and rotations left much to be desired, whereas Golden State drained three balls with historic proficiency.  Matching strength against strength, the Warriors rated as last season's top defensive rebounding team, while when healthy, Tristan and Varejao formed a ridiculous offensive rebounding troop.
Ultimately though, a Bogut, Lee, Speights, O'Neal and Festus Ezeli rotation boasts multiple big bodies to clog the paint and rebound.  With Iguodala taking aim at Kyrie or Dion, and a relative dearth of shooters for the Cavs, the Warriors appear to have the requisite pieces to counteract Cleveland's positives, while their own best attributes coincide with Cavalier weaknesses.
In a hypothetical NBA Finals…Golden State triumphs over the Wine & Gold in six*.
The match-up to watch: I'll pick Tristan Thompson versus David Lee.  For the Cavs to start tipping these games in their favor, this battle needs won.  Lee grabbed the third most defensive boards in the NBA last year; TT snatched the second highest amount of O-boards.  With Irving and Curry battling to a glorious stalemate, the margins exist at the other positions.  If the youthful Thompson continues catching up with the David Lee's of the world, the future looks bright in Cleveland.
Come back Tuesday, when C:tB's resident left-coaster drops some real knowledge about what's happening out West.
*Not an actual prediction.