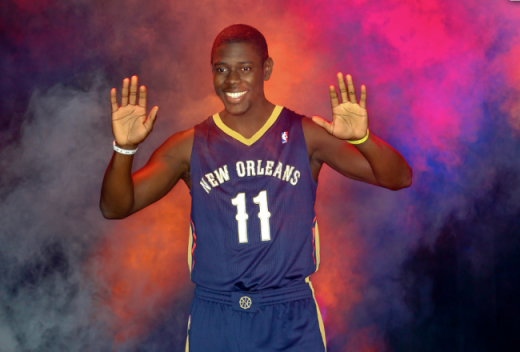 It's an inaugural season of sorts down in the Big Easy. Gone is the name "Hornets," which beat a teal stained path back to the good people (if not the good team) of Charlotte, NC after owner Tom Benson decided to brand his recently purchased team with a certain bird of local import. The 86-year old Benson then pressed GM Dell Demps to move the team's rebuilding effort demonstrably forward and whether you call them the Pellies, the 'Cans or take the time necessary to say all three syllables of Pelicans, the NBA's New Orleans franchise is one of its more intriguing (which is not to say, necessarily, one of its better) going into the 2013-14 season.
Last Season: In its final season as the New Orleans Hornets, the team saw its two main building blocks, rookie Anthony Davis and shooting guard Eric Gordon, miss 18 and 40 games respectively. Davis's missed games not withstanding, he turned in a promising rookie campaign averaging 13.5 points, better than 8 rebounds and nearly 2 blocks in only 28.8 minutes a game. In terms of PER and adjusted per minute stats, Davis compares favorably to the early seasons of Tim Duncan (who played over 40 minutes a game as a rookie… woah!) and Kevin Garnett (who began playing exclusively at power forward in his third season). So much of New Orleans's projected future success, depends on Davis taking a step firmly toward that stratosphere, Gordon staying healthy enough to be the B to Davis's A and Austin Rivers avoiding a second straight historically bad season. A nice, but unspectacular, rotation of Greivis Vasquez, Ryan Anderson and Robin Lopez rounded out the team to make them 27-55 and, staring at a dearth of franchise changing talent in the draft, seemed to be (like another team we know…) settling in for a long, patient rebuild.
What they've done this off-season: On draft night, the Pelicans hit the accelerator. They hope.
Sitting at number six in the draft and with the best available player being another skinny shot-blocking center from Kentucky (and a less good one, at that), Demps helped out Philadelphia GM Sam Hinkie's tear-down-the-wall plan by trading Nerlens Noel (and a partially protected 2014 first rounder) to the Sixers for all-star point guard Jrue Holiday. Demps similarly attacked free agency by swooping in and snatching Tyreke Evans from Sacramento, deepening the stockpile of under-25 talent on the New Orleans roster.
Neither move was universally praised. Holiday, while an all-star in just his fourth season, is still not considered an elite point guard. In Evans, the Pelicans invested $11 million a year for a former Rookie of the Year whose subsequent body of work with the Kings was … well, uneven. Will all of the Pelicans's new pieces remain healthy enough for the team to have a chance to click? Will Holiday be able to build on his 2012-13 campaign in the tougher Western Conference? Does Evans fit if he starts? If the best fit is for Evans to come off the bench, does he accept that role? If Davis shows the (dur)ability to prove those Duncan and Garnett comparisons are not just statistical mirages, a lot of this takes care of itself and New Orleans, while still probably not a playoff team, will be well on its way to being one.
How they match up with the Cavs: There are a lot of similarities between these two teams. Young all-star point guards? Check, check. Shooting guards who are gifted passers and are at their best when attacking the rim? Dion Waiters and Evans. Check, check. Talented, versatile front lines with injury concerns? Yep. Big question marks at small forward? Absolutely. For all the talk of the Pelicans guards, though, power forward Ryan Anderson may be their best outside shooter, so someone from  the Holiday-Gordon-Evans-Rivers group will have to hit more regularly from deep. If they don't, the Cavs have enough big bodies to pack the paint and make things difficult for New Orleans. On the flip side, the Pelicans don't really have anyone with the bulk to challenge Andrew Bynum. If the Cavs' center is healthy enough to throw it around a little, it's tough to see the Pelicans bigs — especially Davis — able to do much to stop him (and insert "for the fifteen minutes a game Bynum gets medically cleared to play" joke … here).
The match-up to watch: After watching Waiters and Rivers go at each other in Summer League, I'm tempted to go all in on Waiters/Rivers being the great shooting guard rivalry of the next decade. For that to happen, though, Rivers will have to play. With the newly fortified N.O. back court, it's not clear exactly how much of that he'll be doing. And, you know, there's me using the word "great" when talking about Waiters and Rivers… There's definitely that.
The big match-up here, though, has got to be Tristan Thompson, the fourth pick in the 2011 draft, and Davis, the number one overall in 2012. Thompson has got to hold his own here. Davis is a gifted shot blocker and getting his shot blocked has been a Tristan Thompson staple from jump. Has Thompson made enough offensive improvement to make Davis work on the defensive end? If so, he does have the strength advantage to play the bruiser, possibly able to neutralize some of what Davis is able to do with his superior length.