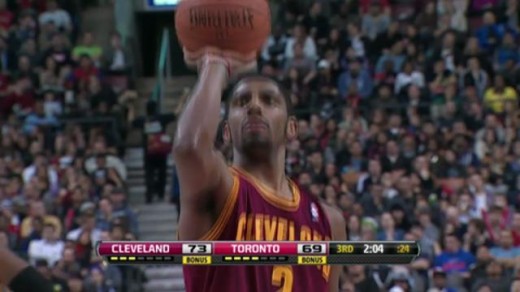 Every NBA-team is in a semi-permanent state of transition, but creating a team identity and team stability matters for the purposes of creating continuity, or the illusion of continuity, between different groups of players. It is a necessary divining of order from chaos. The Raptors have been a man without a country since Chris Bosh left, but there's finally rational reason to believe help is on it's way at last. Semi-native son Masai Ujiri is back to GM this aimless ship full of dinosaurs somewhere. With the reigning EOY calling shots and an intriguing if not vague roster, Toronto won't be boring.
Last Season: Toronto was boring, even if they made the biggest midseason trade of the year. They shipped Ed Davis and flotsam out and received Rudy Gay, flashpoint of last season's debate about on the validity and essentialism of efficiency metrics. The trade for Gay was particularly interesting within the context of the Raptors' trajectory, as his acquisition signalled the moment that the Colangelo administration felt confident enough in their young core to make the leap out of the cycle of tanking. Gay did not bring the team to the postseason, but instead brought Toronto to a slightly more improved version of mediocrity. Demar DeRozan remained a fairly enigmatic dude and Kyle Lowry didn't do much. The team won 34 games and was thoroughly uninteresting aside from the rookie season of Lithuanian big man Jonas Valanciunas.
What they've done this offseason: Perhaps Masai Ujiri's greatest trait is his impatience. Ujiri showed up in Denver and built a very competitive team quickly, a strategy that is in high contrast with the prevalent, post-Thunder wisdom of sitting on your butt until a team falls towards you. In the first summer of employ with the Raptors, Ujiri shipped out albatross/forward Andrea Bargnani to the Knicks and received a first round pick and some shooting help from Steve Novak. Bargnani had been wallowing and his regression and inability for Colangelo to move symbolized the malaise the organization had been in for years. Ujiri's ability to clean up that situation so rapidly speaks to his talent as an evaluator and executive. The team also signed Tyler Hansborough, took a flyer on D.J. Augustin and inked summer league star Dwight Buycks. These are all solid moves, the transactions of a team looking to deepen their talent pool. Hansborough adds some steel to the front line, and Buycks is a real gem of a backup point guard. Also, summer league MVP Jonas Valanciunas apparently added 20-30 pounds of muscle.
How they match up with the Cavs: Not particularly well, or at least, not on paper. With this Cavs squad, the big men will always be the focus, since they represent a systematic team strength. The Raptors offense will primarily run through guards and wing players, thus post play looks to be an advantage the Cavs will exploit. However, Cleveland doesn't employ a wing defender of the proper echelon to neutralize Gay, 'average' as he is. Kyrie Irving will likely be bullied by Lowry, a physical, dense and athletic point guard. Holistically, the Cavaliers are a superior team but the matchup will hinge upon the effectiveness of Bynum et al. in penetrating through the Raptors interior defense. Lowry won't be able to contain Irving, but nobody really can. Steve Novak is an intriguing rogue in this matchup, as he is a rare three-point specialist who can get his shot off against most defenders due to his being 6' 10". I don't really see Toronto opting to tank this season with all the talent they brought in, so these games should be entertaining games between fringe playoff teams.
Match-up to Watch: Jonas Valanciunas vs. Tristan Thompson. Young, athletic, skilled power forwards who are various stages of murky in their developments are always intriguing to me, hat tip to Anthony Randolph. Both have made important alterations in the physical way they play basketball this summer, Thompson switching his shooting hand and Valanciunas growing larger arms. This matchup ensures an above-replacement-level amount of athletic ability, even if it won't always be used for entirely constructive purposes.