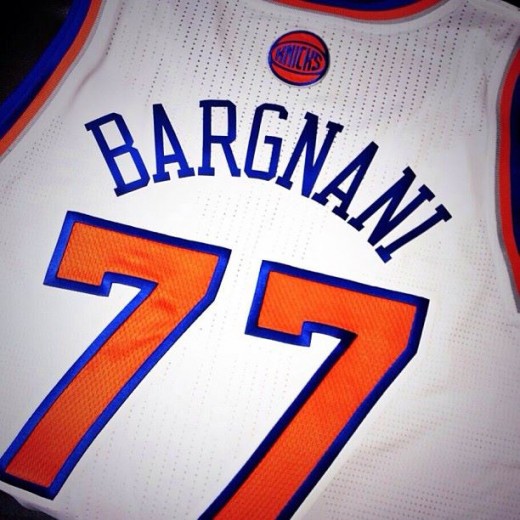 There's a really fun piece of speculative(ish) fiction by Jim Cavan over at The Classical that imagines Jim Dolan in all of his breast obsessed, navel gazing glory on the night the Knicks dealt for Carmelo Anthony. Dolan is presented as a man who knows precious little about how to build a competitive basketball team but, luckily, has precious little interest in doing so. Knicks fans love to overvalue their team (as, to be fair, most fans do), but they, unlike fans of certain other New York sports franchises, are sympathetic because, largely, they overvalue to cope. So, for every Knicks fan who tells you how "Carmelo has figured it out" or that "J.R. Smith is really starting to mature as a player" or that "Mike Woodson's gonna make a 3-4-5 combo of Anthony, Amar'e Stoudemire, Tyson Chandler and Andrea Bargnani a match-up nightmare" know that what's behind the bluster is something else: the real, stark, terrifying reality that Jim Dolan still owns the team and that (in a truly Clevelandian sentiment) Dolan will always find a way to screw it up. Bless you, our brothers and sister in dread. Bless you.
Last Season: Things went way right. Things went way wrong. Then things basically went as they should.
The Knicks finished with a very respectable 54-28 record. They raced out to a 15-5 record in the first month of the season behind absolutely ridiculous three-point shooting, Anthony mismatching his way into the MVP conversation playing primarily power forward in Stoudemire's absence/decline, and a top-10 rated defense anchored by Chandler. Things normalized as the season wore on but the team won 15 of their last 16 games to lock up the number two seed in the playoffs, good for not having to face the Miami Heat before the Conference Finals. But, in their Conference Semi-Finals match-up with the Indiana Pacers, the Knicks blinked first and went away from their most successful lineup in favor of trying to match the Pacers' size. The Knicks lost in six.
The good news for the Knicks is that they finally got that Cleveland Cavaliers monkey off their back. On March 4, they rallied from 18 down to beat the Cavs in Cleveland and, in doing so, snapped a 10-game losing streak at The Q. The Cavs went 0-3 against the Knicks last season, but the series did feature Kyrie Irving in the black protective face mask dropping 41 on the Knicks in MSG. For that, we'll always be thankful…
What they've done this offseason: I brought up Cavan's piece on Dolan because this offseason could easily inspire another installment (or twelve). There was the deal that brought the aforementioned Bargnani into the fold (from Toronto for Steve Novak and Marcus Camby). They signed the recently amnestied NYC native Metta World Peace. They saw team leader Jason Kidd retire and then become coach of their cross-bridge rivals, the Nets. And they drafted well, if not for immediate impact, grabbing Michigan's Tim Hardaway Jr. with the 24th overall pick.
The rub of the Knicks offseason revolves around their reinforced front line. Bargnani has played in fewer than half the games of the past two seasons and is now two years removed from when he was a seven-foot F/C averaging 21.4 points for the Raptors. Last year, his PER of 11.2 was the second lowest of his career. Even if he's healthy, Bargnani's acquisition means fewer minutes for Anthony at the four. The Knicks spin having Chandler, Stoudemire, Kenyon Martin and World Peace along with Anthony and Bargnani as "front court flexibility" but how much that flexibility makes up for them being less able to do the one thing they were most successful doing last year — playing Anthony at the four — remains to be seen.
How they match up with the Cavs: a lot about this match up hinges on how Bargnani and World Peace assimilate into what has to be Anthony's team. This is to say, a train wreck of a Knicks season (always a possibility — Raymond Felton could show up out of shape, J.R. Smith could … well, continue to be the J.R. Smith we all know and feel some way about) means a much better match up. But, let's assume things go well in the Big Apple. Bargnani could create real mismatches stretching Tristan Thompson out to the three point line, though Mike Brown could always choose to run Andrew Bynum and Anderson Varejao together to better counter a Chandler/Bargnani front court. Dion Waiters is going to have to be much more disciplined on the defensive end to temper Smith's chucking and attack offensively to needle Smith's temper. The strengths of these two teams are just very different. Any Knicks success starts with their forwards, while the Cavs rely on on their guards and (hopefully) their center. This makes determining a clear advantage in their head-to-head match up a little tricky … but I'll say it will come down to discipline. The Cavs are young and unproven on defense. And the Knicks? Well, they have two guys with Smith and Martin on the back of their jerseys. Whichever team is able to stay disciplined should see its fair share of success against the other this season.
Match-up to Watch: Bynum v. Chandler is definitely one. And don't sleep on Earl Clark v. Anthony. But I think I've talked myself into Waiters v. Smith. With both players equally as likely to get inside their own head as get into their opponent's this run might feature some truly fantastic mental chess. Waiters is capable of attacking the rim and getting Smith into foul trouble. Smith is able to get hot from deep and punish Waiters's undisciplined defense (per the version he played last season). Both players at least suspect they may be the best player on the floor at any time. I'll risk a Nick Gilbert copyright suit and just say… What's not to like?