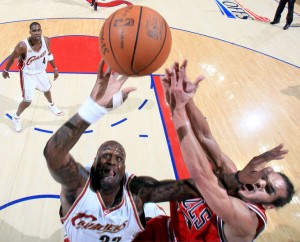 "I absolutely did not say that," he said. "That's not a true statement. I was going to take the shot, though. I don't think it was disrespectful for them to tell me to take the shot. But I feel like I worked enough on my game where I feel like I'm confident to keep on continuing to take those shots. [LeBron James from Mary Schmitt Boyer's Article]
Pat McManamon with a great article on LeBron's introspective qualities.
"But mostly, what we cannot allow them to do is beat us up in the paint like they did in Game 2. That should not happen. In the first game, we controlled the paint. In the next game they did – mostly because of early foul trouble.  We have to stay out of early foul trouble. And a lot depends on the refs in that regard. Some refs don't let Shaq play." [Austin Carr's Blog]
"He's one of the fastest guys in the league," Hinrich said. "He's 275, 280. It's an unbelievable matchup. Especially when he gets in the open court. If you get in front of him, you foul him, he's probably going to [get] an and 1. It's a cover like no other in the league for sure." [Kirk Hinrich on LeBron – ESPNChicago]
"It was bold and audacious, no matter how good he may have been at hoops. It was a leap of faith.
Who could have engendered the young player's trust to orchestrate such a thing?
That, my friends — according to the word of those who were there at the time — was the work of William Wesley. It's not news James and Wesley have known each other that long, but the reality of those summers is telling about the depth of the connection between Wesley and James." [Henry Abbott on LeBron and Wesley]
For a while it felt like 90% of online NBA arguments were about Kobe v. LeBron.  They've died down quite a bit but Ric Bucher and Chris Broussard have taken their essence and made people pay to read them: "Overall, I'd say the Lakers are a more talented team, too. But it's about perception: the Lakers and Kobe Bryant are banged up and worn down trying to make a third trip to the Finals. The Cavs are healthy with a full head of steam. The fact is, Nash won back-to-back MVP awards while failing to get a ring and he's still wearing that scarlet letter. I'm not saying it's right or fair, it's just the way it is. Create an expectation and then fail to fill it and there is hell to pay — as LeBron will find out if he isn't hugging the Larry O'Brien trophy in June." [Broussard and Bucher Debate Who has the Most to Lose]
This article discusses the travesty that was Dwight Howard not getting a few DPOY votes.  Guess who wrote it?
The Cavaliers Will Win The Championship Because…
Tweets To The Present: (follow me @tompestak)
This picture of Jamario Moon from @Chris_Broussard's article is epic: http://bit.ly/9gs4uf [TheAkronHammer]
Signs were West was working on plea deal before Monday. If that happened, he could have faced suspension. Now timetable pushed to summer. [Brian Windhorst]
Not saying it's a fe de compli in Chicago..but Bulls are on page 4 of the Tribune, kicked off front page by the Cubs and NfL draft.. [Fred McLeod]
I'm a Clevelander, he doesn't care about me RT @espnchijon: Is Joakim taking you on a tour of Chicago today? [Brian Windhorst]