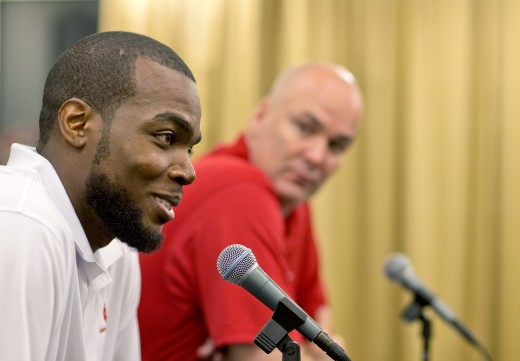 Last Season: The Hawks finished the season a respectable 44-38, but lost in the first round to the stingy Indiana Pacers (4-2).  They defended well, finishing 13th overall in defensive efficiency, while landing at 15th in offensive efficiency.   They shared the ball (2nd in the NBA in Assist rate) and shot the ball efficiently (9th in TS%).  However, they were plagued by a lack of rebounding (26th overall) and coughed it up a little too much.  All in all, they were your prototypical average NBA team.  (We've come to expect this from the Hawks.)  They got out to a fast start in 2012 and then stayed afloat just long enough to earn the 6th seed in the East before getting bounced.  Rumors of a Josh Smith exodus permeated the franchise, and after the season ended, Danny Ferry hired former Spurs assistant coach Mike Budenholzer to replace Larry Drew after 3 seasons of 40-win basketball.
What they've done this offseason: It's probably too overdramatic to say "Danny Ferry doesn't rebuild, he reloads", but he certainly doesn't rebuild.  He's still a San Antonio Spur at heart, and his offseason moves reflect that mindset.  With scouts referring to the 2014 draft as historically loaded, Ferry chose to plug the holes and then some.
They lost Josh Smith to free agency, and responded with a vengeance.  Smith is a generational athlete with all-star talent.  He has the ability to dominate on both ends of the floor.  He's a high flyer and devastating finisher on the break.  He is an elite defender at the SF position.  However his approach to the game keeps him from harnessing his talents to become a top 20 player.  The greatest gift that a large, dominant athlete can bestow on an opponent is a flat-footed, out-of-rhythm long jumper.  Smith's floor game is the gift that keeps on giving.  He barely shot over 50% on free throws last season and completed a second straight year hovering around a measly 50% TS percentage.  He will be missed, but not as much as you think.
Replacing him is Paul Millsap, who can be thought of as a Josh Smith foil.  He's an underwhelming athlete that plays below the rim.  But he's a basketball player.  He's a solid rebounder and underrated defender that scores efficiently from almost any angle.  Millsap has been one of the most underrated players in the league for some time now, and should have a few more prime years ahead of him.  He's an undersized 4 that can slide to the 3 depending on the situation, giving Atlanta some flexibility in the frontcourt. Along with all-star Al Horford, Millsap will be  flanked by newcomers Elton Brand and DeMarre Carroll.  Brand has reinvented himself the last few seasons – embracing the role of rebounder/defender and clubhouse leader.  He will bolster Atlanta's relatively thin bench and anemic rebounding numbers.  Carroll was one of my most sought after FA's for the Cavaliers last season.  (That was, before I realized CG and DG are high rollers!)   He's a long athlete with good athleticism and no outside shot to speak of.  Carroll is similar to Earl Clark, although unlike Clark, Carroll's advanced plus/minus stats were off the charts good.  (versus off the charts bad)  I'm not sure if Danny Ferry's corps of advanced stat gurus honed in on players with high Regularized Adjusted Plus/Minus, but all of their offseason acquisitions rated highly in RAPM, especially relative to their production and reputation.  So he may have played moneyball with the FA class while guys like Morey outgrew the phenomenon and splurged for Dwight Howard.  Also to their credit, the Hawks resigned Kyle Korver and matched an offer that RFA Jeff Teague received for 4 years, 32 million dollars.  Both moves made sense, as Korver will remain a tall sharpshooter long after his athleticism wanes, and Teague is an electric point guard with a ton of potential to turn the corner and enter the upper echelon of point guards.  On the other side of the acquisition process, the Hawks had, in my opinion, an excellent draft.  They nabbed two intriguing international prospects in Dennis Schroeder (6'2″ PG) and Lucas Nogueira, he of the 7′ 5″ wingspan and sweet locks.  Nogueira will stay in Spain for a year, and joining him will be criminally underrated Center Mike Muscala.  The Hawks have a crowded frontcourt for time being, with some nice pieces stashed overseas for the future.
How they match up with the Cavs: The Cavs had trouble matching up with just about everyone last season, but particularly teams boasting a strong frontcourt.  The return of Anderson Varejao and any injection of Andrew Bynum obviously changes that equation drastically.  The area where the Cavs still appear vulnerable is in stopping perimeter penetration on pick and rolls.  Jeff Teague and Lou Williams will be leading the attack, with Millsap and Brand being much better pick and pop options than Smith was.  On the other end of the ball, the Cavs bigs will be challenged going at Millsap, Carroll, Brand, and Horford.  Fortunately, the brutality-ridden age of ZAZA has finally ended in the ATL.  Tyler Zeller rejoice!
Match-up to Watch: Kyrie Irving vs Jeff Teague.  Everyone knows about wunderkind Uncle Drew.  But don't sleep on Teague.  He came into the league a little bit out of control, and with a broken shot.  Time for a new scouting report.  Teague launched almost 250 3-pointers last season and drained 36% of them, which will force defenses to respect his range.  In addition, he has become automatic from the free throw line, which bodes well since he's a blur getting to the rack.  Perhaps the most important improvement has been his passing ability.  He can run an offense and is an effective distributor, which allows Lou Williams to do his "Sweet Lou" thing at the other guard spot.  When Irving and Teague do battle, expect some brilliant point guard play.