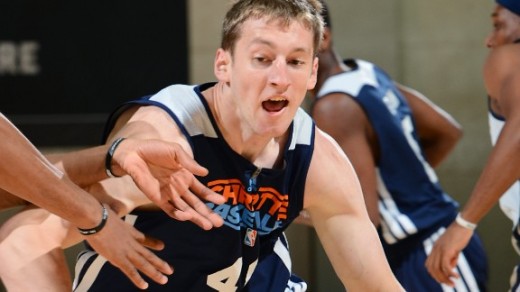 The Charlotte Bobcats are an NBA team that is probably full of nice guys who try real hard and this might be the nicest thing I can say about them. Hey at least Byron Mullens doesn't play for them anymore!
Last Season: The cardboard cats beat out (or rather, lost to) Orlando in the 2012-2013 race to the bottom, finishing with 21 wins. This was always kind of the goal, be dreadful until a few more draft classes and necessary seasoning create a dynamic, balanced team ready to win. The issue is that this path assumes constant internal improvement and a healthy nursery to raise bobkittens in. To the former point, a few of Charlotte's young players seem to be in a holding pattern. Bismack Biyombo still has some pretty serious appendages, but may not be all that skilled of a basketball player. Michael Kidd-Gilchrist's offensive potential is shadowy as ever. This year they hired their third new coach in three years, and the resultant turmoil can't be good for this roster full of 20 year-olds. Oh and also they got new uniforms!
What they've done this offseason: They drafted Cody Zeller fourth, a move that was met with derision, particularly since this involved passing on Nerlens Noel and Ben Mclemore, players who seemingly have more potential. It's by definition impossible to judge this move in terms of basketball impact, but Zeller did not impress me and he has T-rex arms. Cavs fans will be familiar with the Zellers, and if his development is analogous to Tyler's, Cody will be a pleasant surprise. The big move for the Bobcats was to seemingly break course off of being young and dumb and opt to sign Al Jefferson for 3 Years/41 Million. There are a few different lines of logic as to why they went and did this, but I'm thinking this is a move to make their team less cripplingly depressing without risking their status as horrible. With Jefferson, the team has an offensive focal point, which will free up space for Jeff Taylor to shoot and for Kidd-Gilchrist to learn how to shoot. They will probably improve on their brutal offense, but not to the degree that they won't be bottom feeders again. Also, the Bobcats signed Anthony Tolliver.
How they match up with the Cavs: The Cavs have one of the deepest rotations of skilled bigs in the league and the Bobcats may have the worst. Sure, they have a lot of tall guys, but none of them are good at much else besides having lots and lots of atoms. The 5-deep of Thompson, Varejao, Zeller, Bennett and Bynum should theoretically wreck. This theme continues at pretty much every position. The best Bobcat, Kemba Walker, matches up across from Kyrie Irving, who should have a series of field days once again. Matchups kind of don't matter, since the Bobcats will be playing for the sake of playing and development and Cleveland will probably be playing for easy wins.
Match-up to Watch: Tyler Zeller vs. Cody Zeller. This isn't the strongest (Jefferson v. Bynum) or most entertaining (Irving v. Walker) matchup here, but it's definitely the funniest. Both players will probably come off the bench and guard each other, given that they are of similar builds and games since they are, ya know, related. Each Zeller has a distinct animalistic countenance, but their matchup seems inconsequential as two St. Bernards wrestling. The 2013-2014 Cavs squad should be orders of magnitude better than the Bobcats, so fans may as well get their laughs in.