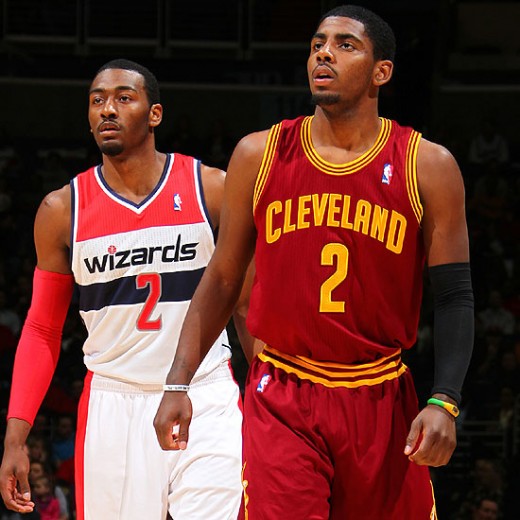 Another "sizing up", and another time I draw a team on the up-and-up.  Today we're covering the Washington Wizards!
Last Season: Starting the season without their former number one overall pick point guard, the Wizards stumbled out of the gate.  Big time.  While Wall sat out the Wizards struggled to a 5-28 record.  Furthermore, it looked like the third pick in the 2012 draft, Brad Beal, was going to flop through his rookie year.  But once Wall returned on January 12th, the offense kicked into high gear.  The Wizards finished the season 24-25, with Wall as the driving force on the offense (and Beal a close second)
What they've done this offseason: For the most part, the Wizards have stayed the course, with one huge exception: the drafting of Otto Porter.  Porter couldn't make more sense for this team – he's great playing off the ball, rebounds well, and can shoot the three.  The Wizards also grabbed Glen Rice Jr. –  we'll see how that one pans out, and resigned Martell Webster.  They added Eric Maynor to back up John Wall, a fine move to add some insurance for a player who has yet to play a full year, and had Emeka Okafor and Trevor Ariza opt into the final year of their contracts.  All in all, this roster will look largely the same save for the addition of Porter.
How they match up with the Cavs: In one word: interestingly.  One can really imagine the trio of Wall-Beal-Porter doing damage, with Wall driving and dish to one of his two sharp shooters.  This could prove a tough match-up for the Cavaliers, who have proven relatively weak on perimeter defense.  That being said, I'd take TT/Andy/Bennett/a healthy Bynum over an aging Nene and an offensively-challenged Okafor any day.  The end result?  A tough match-up on the outside and a likely advantage on the inside.  Like the Pistons last week, watch for these two teams to grow up together, building the foundation for some long-term competition.
Match-up to Watch: Clearly the Kyrie/Wall duel has the makings of a long-term rivalry.  While Wall is more of an athletic freak who uses his speed and strength to attack the rim, Kyrie (as we all know) uses creative ball handling and an innate sense of space and graving to shoot inside and out.  If either or both players can develop and muster the interest in defense, this will be a fun one for years.  Likewise Waiters/Beal should be an interesting match-up, especially given the reports that Cleveland had quite a bit of interest in Beal on draft night.  Beal is a pure shooter while Waiters is an attacker, but both are clearly skilled.  Who would've been the better fit with Kyrie long term?  Who becomes the better player?  You'll have to watch to find out.