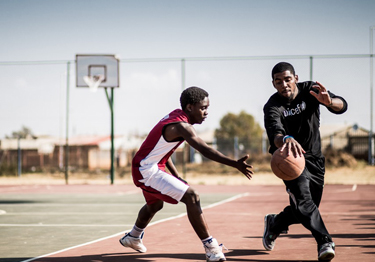 I am not sure what came over me, but I inadvertently neglected Kyrie-related links this morning. So, here's two:
Kyrie visited South Africa with UNICEF to support various educational programs.  The visit also included the CEO of UNICEF's US arm and also Dikembe Mutombo.  Props to you, Mr. Irving.
Nike styled the Hyperdunk 2013 based on Kyrie's past and future.  Those topics are, "the main theme of Irving's 2013 Hyperdunk as told through color and material. Born in Melbourne, Australia, where his father, Drederick, played professional basketball, Irving is proud of his roots. The green-toned teal and volt colorway is a futuristic take on Australia's National basketball team colorway of green and yellow.  Featured on the tongue and lining is a "wave" graphic that depicts the story of his travels overseas from Melbourne to New Jersey."
Nike…I'll be looking for my check in the mail.