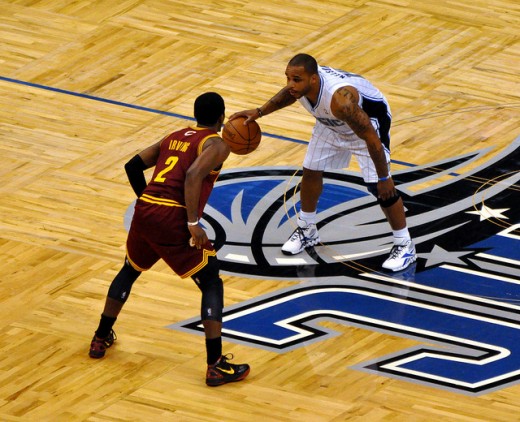 This week, the Cavs:the Bloggers take our insights to the Southeast Division.  Given this is a short week and there are five teams, a need existed to exclude the least interesting of that crew; we are not taking our talents to South Beach.  Quick synopsis of the Miami Heat: they won the 2013 championship; all their major players return, along with new addition Greg Oden; the Cavs stand a notch or two below them; I want to watch Dion Waiters dunk on Chris Andersen again.
With that out of the way, let's discuss the Heat's neighbors to the north: the Orlando Magic.
Last Season: Waking from their Dwightmare, Orlando plummeted from perennial contender, to the League's worst team, finishing with a putrid 20 wins.  Equally inept at both ends, they clanked shots towards the NBA's 27th ranked offense and  missed rotations en route to the 25th defense.  As consolation, they gained Victor Oladipo on draft night to add to the haul of Arron Afflalo, Nic Vucevic, Moe Harkless and three first round draft picks from the Howard trade.  The Magic also dealt upcoming free agent JJ Redick at the trade deadline for Tobias Harris and Doron Lamb.
What they've done this offseason: Really, a whole lot of nothing.  This is clearly a team looking to win the lottery for a third time in franchise history. As previously noted, they selected the Indiana University defense stopper / dunk machine with the second pick in June, and also snagged Romero Osby from Oklahoma later.  Orlando waived Al Harrington, opting to eat the last two years of his contract, and also let Beno Udrih walk in free agency.  Replacing those two, Jason Maxiell joined on for one year guaranteed for $2.5 million.  Ronnie Price came onboard for one year at the league minimum.  If not for tanking, it is hard to envision 3o-year old Price staying NBA-employed for another season; look at these numbers.  This is not a franchise playing to win in 2013 – 2014.
How they match up with the Cavs: The Magic treated their post-Dwight rebuild similarly to Cleveland in 2010: get rid of  most veterans; acquire draft picks; spend nothing in free agency. Ten of the 16 players on this roster are from the three most recent drafts.  Arron Afflalo is only player with a contract guaranteed in 2015 – 2016.  It doesn't particularly matter how they match up with Cleveland, this is a young team likely to struggle.  If the Wine & Gold are pushing towards the playoffs, they need to take care of business and get W's against this squad.  Kyrie, Dion and Jarrett Jack will face the veteran components of the Magic, lining up opposite Jameer Nelson and Afflalo, as well as Oladipo.  Irving's starpower easily tips that one towards the Cavs, and while Orlando's front court includes interesting pieces like Vucevic, Harris, Andrew Nicholson and Kyle O'Quinn, none is older than 23 or played more than two years in the League; a 40+ win Cavs team with Bynum, Varejao and Tristan abuses that line with veteran guile.
Match-up to Watch: Tristan, Bennett and Zeller versus Vucevic, Nicholson and and Harris contains several young frontcourts pieces that may battle for years, but Waiters versus Oladipo is where my eyes will gravitate.  I never objected to Waiters at #4 last year, but if the Cavs had gone another route in 2012, I probably end up talking myself into Oladipo at #1 in 2013.  Lots of fans less favorable on the Dion decision will compare these two over their careers.  The driving of Waiters attempting to evade Oladipo's lock down defense; the young Magic(ian) cutting around screens, blanketed by the (drastically improved) off-ball defense of Dion.  With 1/2 inch separating them in height, and five months in age, this tandem could be paired with playoff wins on the line for a decade.