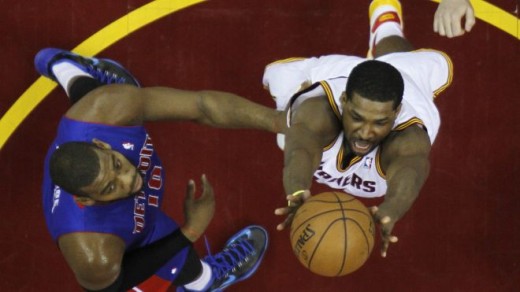 Closing out this week's review of the Central Division is the Detroit Pistons.  Unlike the Chicago Bulls and Indiana Pacers, who are absolutely expected to make the playoffs, and unlike the Milwaukee Bucks, who probably got a whole lot worse by losing Jennings and Monta Ellis, the Pistons, like the Cavs, fall somewhere between bad and semi-relevent.  What does all this mean?  Welcome to your 2013-2014 7-8 seed competition!
Last Season: For this first time this week, this section doesn't include discussion of a playoff series.  Like the Cavs, Detroit had a number of issues.  Their offense was disjointed, and their coach was…Lawrence Frank.  Need I say more?  That being said, there were some major bright spots on the Pistons' roster.  Namely Andre Drummond.  Although only averaging just a tick above 20 minutes per game, Drummond displayed refined post skills.  Look out, Cavs fans, this kid is a force to be reckoned with.
What They've Done This Off-Season: The question should really be what haven't they done this off-season.  Really, beyond Drummond, Greg Monroe, and Rodney Stuckey (And Charlie Villanueva…ouch) this roster should look a whole lot different.  After the firing of Frank and the drafting of Kentavious Caldwell-Pope, whose long-distance shooting should compliment the needs of this team perfectly, the Detroit free agency really kicked off with a BANG with the signing of Atlanta's Josh Smith.  Opinions on the Smith signing vary widely, but really, Smith makes quite a bit of sense on this team, at least when both Monroe and Drummond aren't on the floor.  Smith isn't much of a floor spacer, but he is a vet with actual, real talent (versus Charlie V…who is mostly useless) and should help firm up an already decent front court.  Next, the Pistons signed NBA vet Chauncey Billups, who will likely be the backup point guard and will mostly  act as the symbolic leader to a young team.  The real shocker of the Piston off-season came in the form of a trade with the Milwaukee Bucks for Brandon Jennings.  While the Pistons didn't give up much by way of stardom (Brandon Knight, Khris Middleton, and Vlacheslav Kravtsov…what was that last one?) signing Jennings is a definite risk.  Since his rookie year, Jennings has mostly stagnated and, in some instances, has regressed on the court.  Still, that's not to say he's not supremely talented, because with the right coach and on the right team, Jennings can still be a good player.  The real question going into the 2013 season is,  "can new head coach Mo Cheeks keep a team full of head cases in check".  There's no question that Detroit's roster is loaded with upper echelon talent – Drummond, Smith, Monroe, and Jennings can all be borderline all-stars in the right situations – but getting all four players to function cohesively on the court is a task not many coaches could achieve.  Good luck with that, Mo.
How they match up with the Cavs: This is a tough one to predict.  On paper, the matchup is scary.  Jennings has the ability to abuse defenders, and we're all aware of Kyrie's ability on that side of the ball.  Likewise Josh Smith is still a top 15 SF, where the Cavs remained thin in the off-season.  Throw in the fact that Drummond could be a candidate for a 15 and 10 season (while Bynum remains a question mark) and this could get ugly.  But the ugliness is predicated on 1. Jennings' desire to share the ball.  2. His ability to get the ball to Drummond in the post. and 3.  Josh Smith's desire to not take stupid jumpers.  Can Detroit achieve all three of these stipulations?  Doubtful.  I could see a Pistons' matchup becoming the Dion Waiters show pretty quickly, too.
Match-up to watch: There are honestly so many enjoyable match-ups here that I can't pick just one.  Kyrie vs Jennings?  Yep.  TT vs Monroe?  Awesome.  Andy and/or Bynum vs Drummond?  I'm a little scared, but sure!  Even Dion vs Stuckey intrigues me, as they're both combo guards who can take their man off the dribble.  If this off-season has taught us one thing about the Pistons, it's that the Cleveland/Detroit rivalry is primed for a return.  And I can't wait.