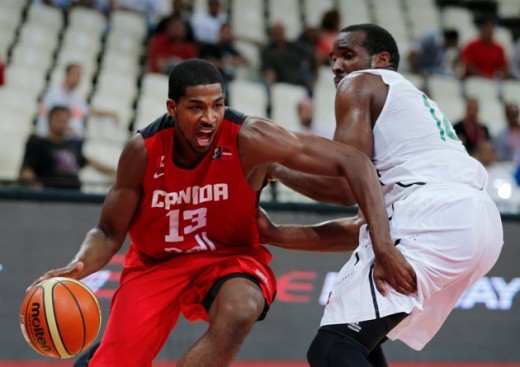 In another summer edition of links to the (almost) present…
Last week, Hoopshype reported that Josh Childress is working out for the Cavs and the Spurs.  During the early years of the Joe Johnson, Josh Smith, and Al Horford Atlanta Hawks, Childress served as their highly efficient sixth-man wing.  Following a 2007 – 2008 season featuring him playing 2300 minutes for the playoff bound Hawks and finishing fourth in the NBA for True Shooting, he bolted via free agency for Greece.  After two seasons helping guide Olympiakos to the Euroleague semifinals, and then with Linas Kleiza, the Finals, he returned to the NBA.  Hopefully he enjoyed the amazing scenery and history of Greece, because the move did nothing for his career.  Since returning, he was signed by the Suns, then amnestied, then picked up by the Nets, but shortly cut, and now…auditioning in September in hopes of making a 25-win team.  My confidence in the Gee / Clark / 20-year old Karasev rotation at the three is marginal, so I hope that Childress finally rediscovers his early form and makes the roster.  He turned 30 this summer.
Tristan lead Canada through the Tuto Marchand Cup between August 22nd and 26th.  Of all players from the several countries, he finished fifth in the tourney for points and blocked shots, and second in rebounding.  Unfortunately Canada lost every game; to a Puerto Rican squad lead by JJ Barea, Renaldo Balkman, and Carlos Arroyo; an Argentine team paced by Luis Scola; and Dominican and Brazilian teams featuring no one recognizable.  The great dawn of Canadian basketball may be a few years away.  Tristan though had two double-doubles, including a 21 & 11, committed only two turnovers in four games, and made eight of his eleven free throws; the righty foul shooting starts well enough.
This weekend, the FIBA Americas Competition started in Caracas, Venezula, and so far Team Canuck has faired much better than the week prior.  After three games, they sit at the top of their group with wins over Jamaica and Brazil.  Tristan has struggled shooting from the field, but converted 18 of 21 free throws.  This is going to be hilarious when he drains 85% of his freebies right-handed next season.  Through the three games, Thompson also snagged 25 rebounds in 78 minutes.  Good luck to the Canadian squad, as the top four groups from his 10-team competition qualify for next summer's FIBA World Cup.
Dion's Dream Chasers Summit went down last Friday.  I am not sure of details, but Philly.com discussed it Saturday, primarily with a focus on rapper Meek Mill.  Honing in on Mr. Mill (?) makes sense though; he has 2.75 million twitter followers.  I cannot immediately think of any of his songs, but will certainly discuss with Colin, hopefully increasing my street cred along the way.
In other news, Dion told Hoopsworld, "this year, I'm going to show a lot of people who doubted me and still doubt me. I'm going to show them. And I don't need praise and all of that. I just want to be respected. I'm coming." No one ever doubted Dion's bravado, but I like some of these thoughts even better:
I'm working on everything, especially staying balanced when I shoot the ball. That's the biggest thing, as well as taking good shots within the offense; and
We have a big year coming up and I need to be ready for my team and the organization; or perhaps
If you have a good game or a bad game, you can't let it affect you. You just have to keep working hard and playing hard every day.
For what it's worth, my most hoped-for individual storyline of next season is probably, "Dion proves doubters wrong".
How did I miss this?  C.J. Miles releases rap records every summer?  The link includes the first single from this year's mixtape.  Although the production quality seems poor (at least on my computer), I like @masfresco's flow.  He avoids the basic bling and bi&%@$ stuff, and makes do with a one line hook (which probably doesn't qualify as such).  I wouldn't have guessed CJ Miles sounded like this.