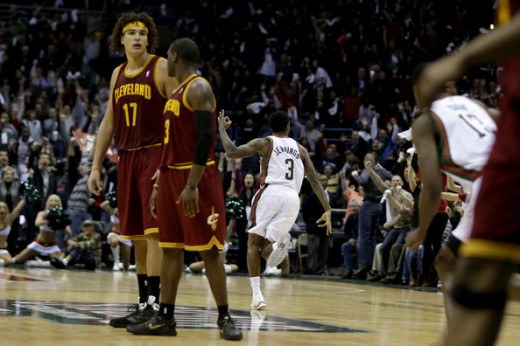 I know you remember the game the picture above is from.  So do Dion and Andy, as they daily recollect the commitment they made to each other in this moment…"we will never let the Bucks beat us like that again".
And they're right; Brandon Jennings is gone.  Following up on Robert and Patrick's looks at the Pacers and Bulls, I drew the short straw and preview Cavs versus Bucks.  On the other hand though, the Bucks were the Eastern Conference 8th seed last year; this may be the most important match-up for the young, playoff-hungry, Wine and Gold.  On to it…
Last Season: Milwaukee rode an offense primed by 37 points and 13 assists per night from Brandon Jennings and Monta Ellis; a defense fortified by shot-swatter extraordinaire Larry Sanders; and a trade for JJ Redick, into the Eastern Conference playoffs.  Once there, they were brutalized by the Miami Heat, losing every game by double digits.  This continued a five year trend for the Bucks of coasting towards 35 to 45 wins, with strong defense buoying their inefficient offense.
What they've done this offseason: Unsatisfied with the mediocre results fueled by Jennings and Ellis, they jettisoned those two, plus Redick and Mike Dunleavy, to formulate a new, probably worse backcourt.  Goodbye, familiar faces; Hello, OJ Mayo, Gary Neal, Brandon Knight, Luke Ridnour, and Nate Wolters.  1) Jennings was sent packing to Detroit in exchange for recent top-eight pick Brandon Knight.  2) Redick was dealt for second round draft choices; receiving that haul as the eventual compensation for Tobias Harris could sting for 10 – 15 years.  3) Monta Ellis signed with Dallas, in an ultimate twist of revenge after Milwaukee signed Mayo from the Mavericks.  Both guys signed for 3 years, $25 million and are in their primes throughout the deals; Ellis is better, so this isn't necessarily a good switch for the Bucks, but it was definitely a thing they did this offseason. 4) Zaza Pachulia was signed for 3 years and $16 million; I am absolutely sure this makes sense to someone. 5) They acquired Giannis Antetokounmpo and Nate Wolters on draft night.  The first guy is the equivalent of a college freshman, so he won't contribute much right away, but his hands are enormous. 6) Serbian Miroslav Radujica was signed.  Based on a quick glance, it appears he is the poor man's Pachulia, so this seems logical; why change your system every time your starting center sits, right?  7) Carlos Delfino came on board for one more year than Dunleavy received from the Bulls, at the same per annum rate, despite also being on the wrong side of 30, and worse.
So, a lot of stuff happened.  Arguably, most of it nonsensical.  Let's move on to…
How they match up with the Cavs: I like it.  The Bucks don't have the guards to abuse the Cavs on defense, and Kyrie will destroy Neal and Ridnour at the other end…and we know what Irving does to Brandon Knight.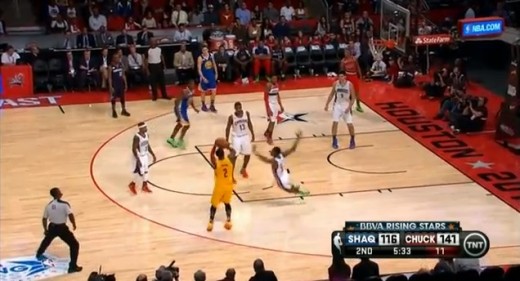 Aside from Pachulia, the lithe Bucks frontcourt of Sanders, John Henson and Ekpe Udoh can be abused by the wrecking ball rotation of Bynum, Thompson, Varejao and Bennett.  Really, I'm not sure who the Bucks match up with, or if they're not playing a bizarre game of anti-fantasy basketball.  But there is one intriguing battle to be waged…
Match-up to Watch: The Bucks have assembled a stellar center triumvirate of Pachulia, Radujica, and Viacheslav Kravtsov.  Assuming the plan is to not play any of those guys very much, I want to see Tristan Thompson and Tyler Zeller go to war against Larry Sanders and John Henson.  The Bucks appear to be excited about and committed to this young front court, so TT and TZ stand faced with assailing this rim-protecting duo for years to come.  As Tristan continues to get stronger and improve his post game, can he manhandle these lightweights at the basket and on the boards?  Has Tyler toughened up enough to out-muscle his 216-pound former Tar Heel teammate?
This is the practice bout that Cleveland's young gun bigs need to win by KO, as they warm-up for the real battles against Greg Monroe and Andre Drummond.  More on that, tomorrow.