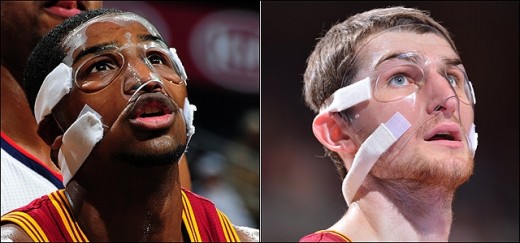 Last week, an "unbiased" and "good case" view for the 2013-2014 Cavaliers season was offered through the lens of basketball-reference.com's Win Shares data.  More so than any team in the NBA though, the spectrum of likely outcomes spans wide for Cleveland.  Built from an enticing mix of players young and / or repeatedly beset by injury, a 30-win or 50-win season is believable.  A sampling of outcomes driving the team toward another lottery trip looks like:Bad Case Scenario (League Average = 0.100 Win Shares per 48 minutes)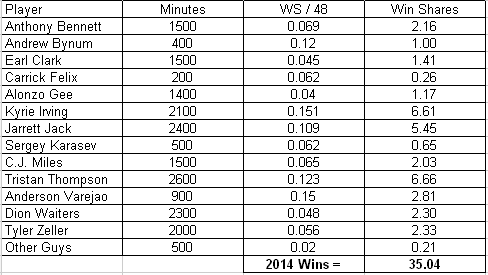 Only 35 wins.  So, what went wrong?
In his rookie and second seasons, Kyrie Irving appeared in approximately 3/4 of the team's outings.  That trend continues, and we all panic a little.
Andrew Bynum's knees are shot.  As the season progresses, it becomes painfully obvious the reason he refused workouts and warranted only $6 million guaranteed.  He rarely sees the floor and in the few opportunities that he does, his play has slipped.
Varejao manages only the 900-ish minutes he averaged over the past three seasons.  I cry.
What is the resultant from the prior two bullets?  Tyler Zeller matches his minutes total from last season, with only slightly improved results.
C.J. Miles and Earl Clark's career seasons at age 25?  They were exactly that, and both regress to marks similar to their production at age 23 & 24.
And finally, while unchanged from the "unbiased" version, Dion Waiters struggles to the tune of 0.048 WS/48.  Who knows why…maybe non-compatibility of working off-ball with Kyrie; perhaps awful shot chucking; possibly obnoxious defensive recognition.
Personally?  I am an optimist and know none of these things will happen.  Why?
Kyrie won't get injured.  Seriously, he won't.  Curse you and your stupid brain if you think otherwise.
Bynum? The "knee injury" was a hoax…seriously.  Kyrie recruited him and Mike Brown to Cleveland.  It happened during  a chance path-crossing in Burbank in July 2011.  The fake ailment helped grease the wheels towards their uniting.  Donald Sterling witnessed the whole impromptu Starbucks collusion, hence Commissioner Stern handing Chris Paul to the Clippers…the truth will come out.
Varejao returns to playing 25 – 28 minutes per night, similar to his prior Coach Brown experience.  The franchise learns to sit him on periodic nights, and 65 games is in the bag.
Plus, even if both big men get hurt, Tyler Zeller makes a huuuuuge leap this year.  This is inarguable.
Finally, have I talked about when "the light came on" for Dion last year?  In Cleveland's first 32 games, according to basketball-reference.com, Waiters took 27% of him shots from 0 – 3 ft and attempted 0.18 free throws for every field goal attempt.  From January 1st until his injury, 38% of his looks came from short range, with 0.35 freebies per shot; twice the rate as the former sample.  2013 Dion will bring it this season!  You are not ready!!
Disclaimer: The latter half of this article does not reach the threshold of  even "pseudo" scientific.  It is also barely projections.