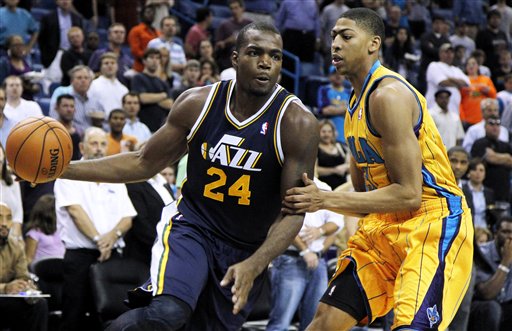 Hi! I'm Patrick Redford, new staff writer here at C:TB. Here is Part 3 of my discussion with Nate and Tom.
Most teams exit through out door of the offseason hopeful about their future, if not their present as well. However, it's dark inside that ride and the sun tends to blind with contrast once you're outside. Reality will knock a lot of teams on their butts. Prospects will stall out, contracts will go unearned, and promised successes will turn into lottery slots. This is the rule of the offseason, and the zero-sum nature of the NBA obviously prevents every team from improving this year. I have a lot of expertise in this area, having also followed the Kings for years. The last few summers featured the Maloof ship actively sinking, and as it was taking on more and more water we were told, "Don't worry! John Salmons has come back to save us!"
You guys have told me what a relaxed summer this was, and I'll have to take your word for it since I was off the grid for the month when the most blood was let. Glancing around the NBA, there were some big makeovers (Detroit, Brooklyn, Atlanta, Denver) but what always impresses me come April are the seemingly smaller moves that fill a need perfectly or create an unexpected team strength. Portland has had a strong offseason by these metrics. They were such a strange 2012-2013 team due to their wonky, imbalanced, shallow squad, but this edition promises a bit more stability without sacrificing any fun. C.J. McCollum is an athletic and smart player, and he has landed in an ideal nursery to foster his skills, staffed by a veteran, former all-star point guard and the reigning R.O.Y who hails from a similar, small-school background. The other rookie in town, Allen Crabbe, inexplicably fell out of the first round and will provide some pop and range to Portland's wasteland of a bench. Reserving a playoff spot for them in the West is tricky, but the Blazers will be at least a very intriguing team come November. I'd have them as a winner, along with Cleveland (discussion forthcoming), Brooklyn, Atlanta, Sacramento (mostly for winning the right to continue existing) and Golden State. Those Warriors will be sneaky good, although I am a bit concerned with their defense now that ace assistant Mike Malone is gone. Oaklanders best pray for Bogut's knees, lest they be subject to 'Mareese Speights: starting center.'
It's only been 3 years since the Lakers and Celtics met in the finals, and now the two squads are at home, licking wounds and following divergent paths. Boston won't be particularly interesting as an actual basketball team apart from their trio of weird young guards (Bradley, Rondo and Brooks), yet they will provide another test case on how to tool up after a series of deep runs ends with a talent exodus. Los Angeles won't be anywhere near their juggernaut level, but perhaps the subtraction of Dwight Howard will help them as a basketball team. Their blow-up may still be a year out, but the Lakers are another interesting team to watch, mostly since we don't really know how good they will be, which can happen with teams full of old dudes. These two teams aren't exactly losers, but it's not great.
Beyond teams that will be middling or bad (whattup, small-market inferiority complex!), the crop of truly championship caliber teams looks to be about the same, depending on how you feel about Dwight Howard's back. Miami added Greg Oden and lost Mike Miller but the Heat still employ Lebron James to play basketball for them, so all worries are relatively small-scale. I tend to agree with Tom on Oklahoma City's future. They are sans Beard, but their worries are allayed somewhat by Kevin Durant and Russell Westbrook's continued improvement. What remains ever scary about the Thunder is their unconventionality, particularly with regards to their superstars. None of their big guns are really in a classic mold and are thus very tricky to neutralize.
Turning an eye homeward, Cleveland looked to have improved the most. It's an important and scary step for a team to take the red pill and move forward, away from the purposefully bad years of tanking and actually make a genuine go of it. This will all be covered in more depth later, but the Cavaliers have looked both ways and taken that first step into the street. Other teams who have made the conscious decision to go for it after years of holding the line and chilling include the aforementioned Pistons, the Wizards and intriguingly, the Pelicans. The NBA is always more fun when more teams are competitive and this year we may get to see some of the younger stars get their first chance to play playoff ball.