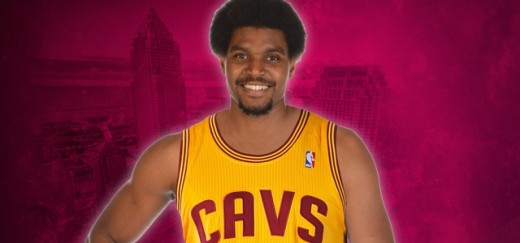 The week began with an "unbiased" projection utilizing Win Shares for the 2013-2014 Cavaliers season.  That is a fine disposition for a Monday, but heading towards the weekend, the sun shines brighter, skies are bluer; it's time for a cheerier outlook than 41 wins.
Transitioning to a "good case" only took three adjustments.  The end result with those modified Win Shares per 48 minutes and Win Shares is: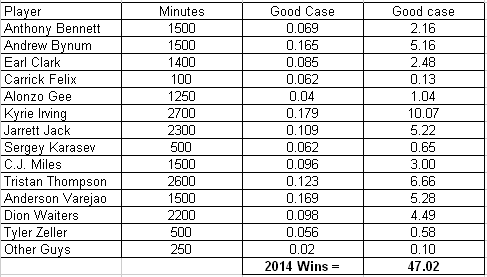 47 wins; battling for first round homecourt.  Where do the extra wins come from?
Kyrie plays 75 games, with per minute two-way effectiveness equal to Chris Paul's age 21 season.  Ambitiously hopeful?  Yes.  Possible?  Also, yes.  Obviously a healthful season featuring Kyrie continuing his ascension to the NBA's upper echelon bodes well for the team's bottom line.  This requires continued slight improvements in offensive production, and a larger uptick in his, and the team's, defensive play.   This would be extremely awesome.
Dion plays at league average.  I trotted out variations of this a few times now, but from January through his March knee injury, in 33 games, he averaged 19.8 points per 36 minutes on 53.1% true shooting.  League averages for shooting guards are 14 and 53.8, so he scored frequently but with nearly average efficiency.  Look at Joe Johnson's seven seasons as an offensive focal point in Atlanta.   He bested both of those numbers in the same season twice.  In one of his six All-Star seasons, he met neither of those thresholds.  Like Waiters, he rebounded poorly and passed well.  And Dion flashed that production for half a season at age 21. Johnson's WS/48 at age 21 was 0.060, and descended to 0.048 in his age 22 season.  Long story short, the second half of Waiters's rookie season held promise.  For Dion's WS/48 in the scenario above, I averaged Eric Gordon, Ben Gordon, and OJ Mayo's age-22 season; a handful of high-lottery, reasonably performing shooting guards.  If Waiters's off-ball offense and defense improve this year, last year definitely presented building blocks for a strong 2013 – 2014.
Instead of 1000 minutes at 80% of pre-injury, Andrew Bynum plays 1500 minutes at 90% of his 2011-2012 production.  The biggest player on the team ranks as the largest variable for the season.  What, if anything, will he provide?  While this take doesn't reach "dream" scenario status, the equivalent of 50, 30-minute games from nearly vintage Bynum tips the scales towards "first round opponent no one wants to play" status.
While the third bullet is a complete unknown contingent on distressed knees, each of these outcomes is foreseeable.  For the upcoming weekend, let's focus on those; soon, a few equally reasonable "bad cases" will be explored.