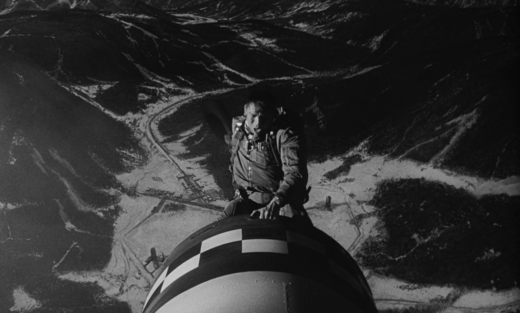 The NBA off-season isn't really all that long. It just feels that way. As there are fewer and fewer actual events for basketball chatter to revolve around, inevitably something comes along to fill the void. This summer, tempering the tempered post-Bynum cautious optimism of Cavaliers fans everywhere was CBS Sports Radio's Brandon Tierney citing "someone in the know" that Kyrie Irving "is not long for Cleveland."
Irving took to Twitter to retort "Rumors are rumors" and John Telich of Fox 8 Sports in Cleveland added "Source close to Kyrie 'He loves Clev and wants to win… [I]f there's extension w/ alot of guaranteed $ Kyrie signs'" at which point Tierney backpedaled and said that, of course, Irving's contract does not allow him to leave of his own volition for, at least, the next couple years. By "not long for Cleveland," Tierney clarified, he was talking "long term." Long term not long, is what Tierney meant to say. Ah, of course. Got it!
Then while in Las Vegas for the Team USA trials, he said "I'm a Cavalier right now. I'm happy to be a Cavalier."
Great, right? Case closed. The Cavaliers and their fan base will not get sucked into anticipating another Doomsday scenario with their franchise guy.
But who really sees this story going away? Regardless of the team's success, "Cavs' ability to keep Kyrie happy" and "LeBron's return" likely remain the media's 2013-14 dueling banjos when it comes to talking about the Cavaliers (edging out the inevitable "Tristan Thompson's a 20-20 guy" story … cough, cough…).
Still, as much as it seems like everyone insisting that LeBron James was leaving Cleveland in the run-up to his 2010 free agency played some part in James's decision, it didn't. Of course, it didn't. The best thing Cavaliers fans can do then is remember that, memorize the following "lead up to Kryie's 2018 free agency" primer, worry less (or, if you are going to worry — which all of us are — worry about injuries and Mike Brown's offense… you know, things you can control) and allow yourself to enjoy the fact that one of the brightest young talents in the league plays on the team you follow … even if he may not forever (see, I can't help but do it too!).
1.) The Contract: Beginning with the summer of 2014, the Cavaliers can negotiate an extension with Irving. Even if he doesn't sign the extension (and I can't think of any player who has turned down signing their first big-money extension) he would be a restricted free agent in the summer of 2015 and would have to sign the Cavs' qualifying offer and play out the 2015-16 season before becoming an unrestricted free agent in the summer of 2016. Especially for a young player with a growing injury history, that's leaving a lot of potential money on the table just to pick your new team colors and address sooner.
Rational response: Unless the team devolves into a putrid mess with none of their young players outside of Irving developing into anything resembling competency, Irving will sign up to a 5-year extension with the team next summer. Unless Irving wins the NBA MVP next year, though, he will not be eligible for the super-max extension known as the Derrick Rose rule.
But don't freak out if: Irving, like James, Wade and Bosh did with their first extensions, signs for fewer years in order to maximize his money/options down the road. The shorter contracts imposed by the new CBA make this scenario less likely, but should a version of this happen, it is not necessarily a cause to panic.
2.) The Team's Approach: You all remember what happened last time, right? Donyell Marshall, Larry Hughes and Damon Jones happened. Shaquille O'Neil and Antawn Jamison happened. Overvaluing J.J. Hickson happened. Trades to clear the books of wonky signings that, often, meant parting with picks and young players worth developing happened as well. All the panicy moves the Cavs made because they had to keep LeBron James "happy" ended up turning the team into exactly the thing that arguably turned him away: a capped-out team of aging mid-tier players with nothing in the pipeline to suggest sustained success.
The rational response: The Chris Grant-run Cavaliers seem to have taken this lesson to heart. They protect their organizational flexibility almost to a fault. Clearly, a lot rides on what the team is able to do next summer and how they manage the extensions of all their current rookie contracts, but it's up to them to decide what they want to do with Irving, not whether, all else being equal, Irving would rather live and work in, say, New York or Los Angeles or Denver … or wherever.
But don't freak out if: The Cavs don't sign LeBron James next off-season. Yes, there are a lot of questions surrounding the players that the Cavs have drafted over the last three years. The hope is that at least one of them shows the ability to become an all-star (say, the 2015-16 version of Anthony Bennett) and one or two of them are routinely recipients of the Josh Smith Award given yearly to players who routinely just miss the all-star cut. If that doesn't happen (or even if it does, actually) you try to use some of those good, young pieces to go after a player who is better than the collection of their parts. Should they sign James next season, that will change things. But, if they don't, it does not mean that Irving forces a trade and the team immediately ceases to exist. At least, I don't think that's what it means…
3.) "Keep Kyrie happy" is a lazy talking point: This one has always bugged me, because it's come to symbolize all the ways we perceive the Cavs' organization screwing up during the LeBron years. If keeping a player happy means being a smart, well-run organization with strong local support and providing the possibility for league-wide recognition of your abilities, that's great. It becomes tiresome, though, when a player's happiness is used as a ticking clock or as some kind of ultimatum for the team and management. Should a rising player like Irving want to play on a good team, a playoff team, a team headed in the right direction? Of course. Should that team treat him with respect, treat him as an adult, a professional? Surely. But can a team not point out the weaknesses in that player's game and expect the player to work at improving them? Should the Cavs spare the rod and risk losing the Irving? Just the phrase "keeping a player happy" suggests a team must kowtowing to its star player and the fact that its become shorthand to often criticize organizational improvement (you only read "what must the Cavs do to keep Kyrie happy?" not "The Thunder make Kevin Durant happy" or "Kobe Bryant is happy by virtue of Lakers organization") it's question is its own answer, which is rarely very insightful.
The rational response: Yes, as an organization, you want Irving to be happy. Heck, as another human being, I want Irving to be happy. I want Anderson Varejao to be happy. I still want Samardo Samuels to be happy. But there's a difference between being happy at your job because everyone heaps praise on you and being happy because it is a job where you are challenged to be the very best you can be which, in Irving's case, means that the team is allowed to criticize his defense, hire a defensive-minded coach and implement an offense that doesn't just consist of fourth quarters full of Irving isolations (especially when everyone still heaps praise on you!).
Don't freak out if: You hear Irving's happiness and the team's ability to deliver it brought up again… and again… and again. Just don't freak out.