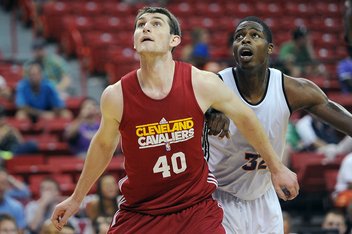 I wrote about this a lot in the Summer League recaps: the Cavs' team defense, save some lapses and that forgettable final game, was refreshingly effective. And while many fans liked to pick at Tyler Zeller lack of sheer brutishness, but the effect of his experience (he's going into his second year in the league, but played four years of big time college at North Carolina) and intelligence on the rest of the team was apparent.
Zeller was always talking, telling the younger guys, like Carrick Felix, where to go, what position to be in, etc. Zeller points out in the video below (however vaguely … players don't really like to talk about schemes, it turns out … especially when they're being asked about them in vague ways) that a lot of the difference between good defense and bad defense is trusting that your teammates will be where they're supposed to be.
Mike Brown talks about this in terms of the heavy lifting of establishing the defensive culture. Dion Waiters echoed this idea saying that we all saw him last year with his head constantly swiveling around trying to follow the ball or track the action and that wasn't effective. Effective team play, he said, comes when, say, he doesn't have to look to see if the pick's coming — a teammate knows to call it out and Waiters trusts that he will.
I touched on this subject with Zeller and got to ask him about watching his brother, Cody, play for the Bobcats in the same Summer League.
(One thing that was not vague in this interview: I am not a legit seven-footer, no matter what the Cavs: The Blog media guide says…)