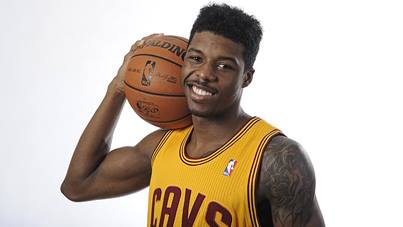 Many Cavs fans (myself included) fell hard when they were introduced to Carrick Felix back on July 12. That was the Cavaliers' first game of the Las Vegas Summer League and Felix tipped his hat in our general direction then went out and tallied 14 points on 5-9 shooting (2-3 from three) to go along with six rebounds, two blocks and a steal. Now that, one says to one's self, is what you like to see from your second round pick.
But Felix's production tapered off after that and his final game saw him scoring two points and grabbing just one rebound in 20 minutes in a loss to the Miami Heat.
Still, most people I talked to during my time at Summer League were impressed by Felix. He talks about wanting to play defense and he's built for it: long, athletic and quick. He's shown that it is at least theoretically possible for him to hit open threes. But his ball handling has still got a long way to go, which currently limits even the eventual effectiveness he'll have as a finisher in transition.
The best thing about Felix, though, may be his attitude. He's got an easy smile and comes across as genuinely enthusiastic to being in the position to make an NBA roster (I know, I know… Who wouldn't be?).
I caught up with him after a game in Vegas:
CtB: Before the draft, a lot of the draft gurus didn't have you ranked as highly as you were taken or even being taken at all. What can you say the Cavs saw in you, in your game, that made them take that chance?
Felix: I just think they saw a guy who … a guy who's just really humble, a guy who's going to go out there and compete and just play every play. That's what I decided to do. I decided to make sure I play hard every play. Make sure I'm going out there and just doing little things… I think that's the biggest part about basketball, just making sure you're doing the little things just to help everybody out. We got guys like Dion, guys like Kyrie, who can put the ball in the bucket, so…
CtB: What's been the biggest transition between being a collegiate player and now being a pro? It hasn't been very long, but what stands out in your mind as being the biggest thing you've had to adapt to?
Felix: The biggest thing right now to try to adapt to is the change in speed. [Summer League] seems like it's a lot slower, but in the beginning it's a lot faster. You've got guys who are a lot faster, a lot stronger and a lot more athletic than college.
CtB: Have you gotten a chance to spend any time in Cleveland since you've been drafted?
Felix: I was out there right after the draft for a day, but I had to come back because I had family and stuff in town. I'll be heading out there right after [Summer League concludes].
CtB: Having a good time?
Felix: Yeah. (laughs)
CtB: I know they're practicing you hard out here.
Felix: Nah, it is a good summer so far. Going out there playing with the guys, competing, getting better, what more can you ask for? I'm living the dream right now.