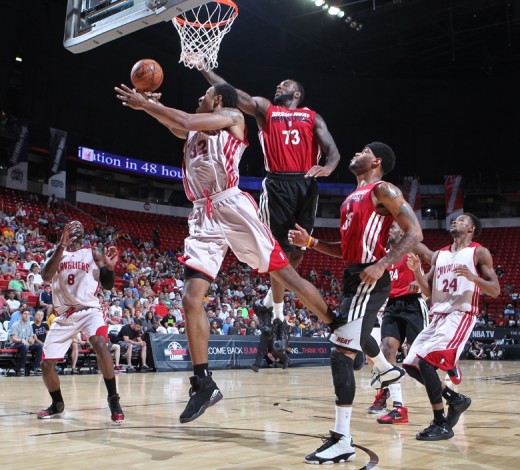 We thought that the inaugural Summer League Tournament would add a bit more excitement to the mid-off-season classic, encouraging teams to play their bigger names for more than just a couple of games. But as the Vegas minutes started to pile up for some of these guys, teams are wisely deciding that a Summer League tournament banner is not worth any long-term wear on their investments.
So, it's with a heavy heart that we bid farewell to Dion Waiters's 2013 Summer League and, consequently, that of the rest of the Cavaliers as well. The wine and gold dropped their quarterfinal game against the Miami Heat 82-76 to finish up at 3-2 in Summer League action.
1st quarter: Waiters, who has played a lot of minutes in the five previous games (and had his best game Thursday afternoon against the Spurs), is resting himself for the upcoming Olympic camp he's been invited to participate in. Joining him on the sideline is Tyler Zeller who received stitches to a cut on his left ring finger suffered during Thursday's win. With last year's top picks unavailable to go and this year's top pick, Anthony Bennett, still not cleared for on-court contact, could the Cavs rag-tag bunch of roster invite hopefuls inspire a nation by keeping the team's tournament dreams alive?
Could they?
Do ya think?!
(sigh…)
Sideline reporter Nischelle Turner talked to Waiters and came away with the following tid-bits:
-Waiters told Turner that he came to Summer League with the main idea being working on Mike Brown's defensive system and improving as a defender. He felt that he'd come a long way already and while he wasn't out there completely icing his man, he did seem much more active on the defensive end, as did the entire team. Waiters strong, sturdy frame and quick hands could help him become an above average defender at some point in his career. Hopefully, he'll see his ability to succeed on that end and put in the work.
-Waiters also said that the biggest impression Brown has made on him is in showing how much belief and confidence he has in the second year player. Waiters said Brown will sit him down after practice for an hour talking about his game and going over film. It's good that Waiters is feeling the love from his new coach. The more Brown builds that trust, especially with the young guys, the more he can make them want to succeed (which is to say, do things his way).
In Waiters' absence, the Cavs had no one to consistently score the ball and Miami races to a 17-9 lead.
A lot of the Cavs' offensive problems are about the point guards on this roster. Remember, Waiters handled the ball a lot in the first few games, as he did during the regular season last year, often serving as the team's de facto backup point guard. Cory Higgins is a smaller guy and he's getting pushed around by a very physical Miami team limiting the Cavs' ability to get the ball past the first line of perimeter defense.
Scoop Jardine enters, but isn't much more effective.
The Heat are getting strong contributions from Jarvis Varnado and Damion James.
Chris Goulding hits a three to pull the Cavs to 12-19!!! Then Kenny Kadji misses a three, but on the next possession runs the floor, draws the fould and hits 1-2. Later, Kadji drives, draws a defender then kicks it out to Higgins who hits a three, bringing the Cavs within five at 21-16.
2nd quarter: Higgins starts off the second by shaking lose from his man and hitting a nice 15-footer. The Cavs are really struggling with the Heat's stronger players and physical defense. The Cavs have good length and height on their Summer League roster, but the most well-built players are 6'5" wing Jermaine Taylor and Josh Heytvelt (again, Zeller has looked stronger, but he's never going to be a bruiser), though Jardine's got some bulk to him.
Taylor hits a shot clock beating three, only to give up a triple on the other end to D.J. Kennedy. Cavs still down 31-23. Taylor hits another shot and has clearly taken over the mantle of go-to scorer and he should. On the next possession, the team's new go-to scorer airballs a three.
(sigh…)
Higgins show off his quickness with a spin move after taking it baseline and draws a foul (and hits 2-2). Taylor finger rolls in a shot in transition to bring the Cavs to within eight at 40-32.
The Cavs finish the half with 11 turnovers. The team is hurt by an overall lack of energy and relative inexperience at the point. Dellavedova is a rookie and Higgins has all of 44 games of NBA experience (which, it should be noted, is much more than I have… to be fair). The Cavs' backcourt is constantly hurt with cross-court passes that the Heat keep picking off.
3rd quarter: More of the same…
Justin Harper has taken several shots and every one has been short. The NBA TV commentator makes the point "Cleveland probably has better basketball players, but Miami's just beating them with athleticism" and I can't disagree as Varnado jam puts the Heat up 14 at 50-36.
Kadji with an emphatic slam off a Harper miss finishes the quarter with the Cavs maintaining their deficit ways. Heat lead 60-50.
4th quarter: Higgins has really turned it around in the second half. He's using his quickness to get to the hoop and is either converting or getting to the foul line.
Carrick Felix has been less and less a factor as the Summer League has progressed. He finished with two points and one rebound in 20 minutes. I don't think we should get too down on him, though. I don't know if he's ready to be a pro rotation player this season, but we probably should never have been counting on him to be one.
As noticeable as Waiters's absence is, Zeller's may be even more so. Zeller's gotten a bad rap from a lot of fans and, yes, he can get pushed around from time to time. But he plays extremely smart basketball and he is a threat to score. Not having any options in the post (and, believe me, Zeller would have also seen his share of problems against the Heat's front line) the Cavs were never a threat to do much besides have their guards try to score. Zeller would have brought the possibility of a more balanced attack and made it more difficult for the Heat defenders to just attack the same way every possession.
Justin Harper goes on a mini-explosion to help the Cavs cut into the Heat's lead. But, in the end, it's all too little too late. Harper finishes the game with a team high 21 points to go along with 5 boards. Taylor notches 20 points on 7-16 shooting and Higgins finishes with 17 points and two assists.