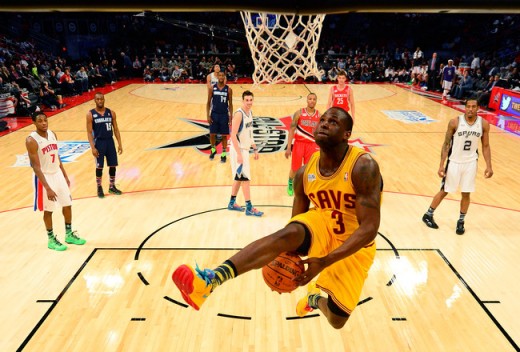 So, we have fallen silent at Cavs:the Blog.  It's summer time, and free agency is largely over, especially now that Greg Oden signed with the Heat.  Summer League and Team USA camp are behind us, and the crew at C:tB has settled into needed rest.
Not Dion Waiters though.
Surely you are aware, but Dion Waiters hosts his charity bowling event tomorrow.  Proceeds will benefit the Focused on the Future Foundation. Hopefully the event is a huge success.  Fingers crossed also that Andrew Bynum stays away from the alleys.
Also, Mr. Waiters is hosting a Dream Chaser's Summit on August 30th in Philadelphia alongside rapper Meek Mill.  The goal is "to bring together some of the biggest names in both sports and entertainment to discuss everything from chasing dreams successfully to what it takes to make it in the industry as an athlete, musician, entrepreneur and business executive. The infusion panel will focus on 'dream chasing' and looks to ignite the spark in all generations to go after their goals, no matter what those goals may be." I am actually not sure exactly what this means, but keep doing what you do, Dion.
Kyrie scored 47 points last week in a pro-am game in New York; further prove that he is better than amateurs.  Nate Robinson also played and tossed in 44, plus video is included, so check it out.
And Tristan is in Canada, preparing for a national team game against Jamaica next week.  Thompson, like every Canuck, is excited about the expanding crew of young, talented players at their disposal.  TT, Anthony Bennett, Andrew Wiggins and Kelly Olynyk form a core of recent lottery picks (or soon-to-be in Wiggins' case).  Andrew Nicholson and Cory Joseph round out a rotation full of 2011-and-after first-round selections.  Tristan is participating in workouts leading up to selections for the Canadian squad that will participate in the FIBA Americas Championship in early September.