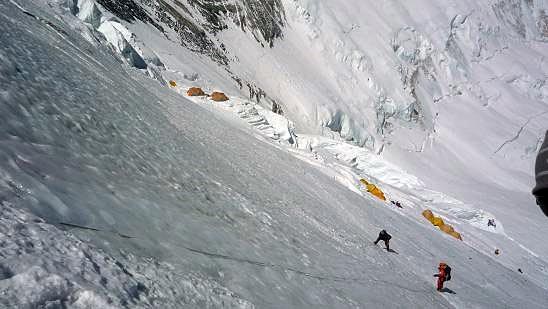 Overview:
The Cavaliers outscored the Bulls 56-41 in the first half of a 96-83 victory. The Bulls were able to make a run late in the game to cut the lead to single-digits, but the Cavaliers were able to hold them off and get their first victory of the 2010 postseason. LeBron James led the Cavaliers with 24 points, and Derrick Rose led all scorers with 28 for the Bulls. Shaquille O'Neal had 12 points, five rebounds, and four assists in his first game since February.
Cavs-Related Bullets:
Everyone knew coming in that the Cavs are a much more talented team than the Bulls. In the first half, it looked like Cleveland also wanted the win much more than the Bulls did. That's a very effective combination. The Cavs weren't running their offense like they're capable of doing, but they were getting every loose ball and offensive rebound. On top of that, they forced plenty of turnovers, and guys were making their shots.
Even though the Cavs weren't running the sets they usually do, everything they tried worked. Shaq was a monster in the post. Mo was aggressive and making shots off the dribble. Jamison and Mo were able to work a nice pick-and-roll game for back-to-back layups.
It also can't be emphasized enough just how badly things were going for the Bulls in the first half. They weren't getting good looks on offense. They committed too many silly fouls that cost them possessions. They were getting beaten to every loose ball. If the Bulls want to take a game from the Cavs, I'm not sure they can afford to play like that for a quarter, let alone a half.
In the third quarter, the Cavs went into a legitimate drought on the offensive end. They started the quarter off by going to LeBron in the post, and knocked down two open threes after the defense doubled down. They then went on to miss the next seven threes they took. This game would've been a blowout if the Cavs had made their open threes: they went 6-23 from deep, and they were getting their best shooters perfect looks all game long.
With shots not falling, LeBron out of sync, Shaq on the bench, and Chicago zoning up, the Cavs went scoreless for just over seven minutes in the third quarter and allowed the Bulls to get back in it. With LeBron sitting to start the fourth, the Bulls were able to cut the lead to single digits. If the Bulls could play offense at all, this could have been a very bad night for the Cavs. Fortunately, they couldn't get anything going on Saturday, and the Cavs were able to take the game in the fourth without ever being in real danger of losing their lead.
With the Bulls down nine and starting to threaten, Jamison, Delonte, and Mo all drained two-point jumpers on three consecutive possessions to keep the Bulls at bay. After that, Varejao made an absolutely beautiful cut when he caught the Bulls watching LeBron James on the perimeter and slipped behind them, freeing himself up for an easy layup. It was the Cavs' first basket in the paint of the fourth quarter, and Andy followed that up by drawing a shooting foul his next time down.
After that, LeBron put the game away. He had an incredible and-1 in transition, set Mo up in the corner for a huge three, and even hit the dagger jumper. It wasn't the Cavs at their prettiest or best, but they were able to win the game fairly easily.
Cavs-Related Bullets:
-Shaq looked great. He looks as skinny as I can ever remember him being, and he looked downright explosive at times. Noah has no chance of guarding Shaq straight-up, and was forced to give foul after foul in an attempt to slow Shaq down. Brad Miller did a better job on Shaq than Noah did, but Shaq making Noah such a non-factor was a big deal.
Shaq got winded and had to sit himself in the third, but this was a very promising re-debut for Shaq.
-To be honest, LeBron looked rustier than Shaq did. He started the game off by missing some easy ones at the basket, his jumper was way off, and he never really settled into a playmaking groove. According to the nice folks at ESPN Stats and Information, LeBron was 1-7 in ISO situations on Saturday. That's not very good.
He's still LeBron, so he was able to make an impact in transition and had a number of tough drives to the basket for points. He also had a great defensive game, getting four spectacular blocks and holding Luol Deng to 5-15 shooting from the field. It's good to see that the Cavs can win by double digits with LeBron off his game, but it would be fun to see LeBron dominate the next one.
-If Mo plays like this, the Cavs are going to be really tough to beat. He was hyper-aggressive on Saturday, draining shots off the dribble and racking up 10 assists. Just about everything he did worked, and he was working the pick-and-roll as well as I've ever seen him work it. In fact, the worst thing Mo did in Game 1 was miss some wide-open threes, which is normally the last thing you have to worry about with him. Great game for Mo.
-Bad game for the Cavs' shooting guard platoon. Both AP and Delonte were at their worst offensively, with AP missing open threes and Delonte taking some seriously ill-advised shots from the perimeter. Both guys played with energy and passed well, but a combined 5-15 shooting night isn't up to snuff.
-Varejao also struggled from the floor, but boy was he everywhere on loose balls. 15 rebounds for Andy, and none of them were easy. The Bulls weren't able to relax for a second when Varejao was on the floor.
-Antawn Jamison: some nice cuts to the basket and floaters, kept the floor stretched, hit some timely jumpers, took some ill-advised jumpers as well. Played surprisingly well on defense and did a great job on the boards. In other words, it was the exact same thing he's done in every game since he game to the Cavaliers. He is freakishly consistent.
-Of course Jamario Moon would be the one to break the Cavs' three-point drought in the fourth quarter.
Bullets of Randomness:
-Derrick Rose got his 28 points and 10 assists, but he needed 28 shots to get the points and turned it over seven times. We know Rose is going to be doing most of the shooting for the Bulls. If he has to work as hard for his points as he did tonight, the Cavs will be fine.
If Cleveland can get the help man over when Rose penetrates, Rose will settle for a pull-up or a floater instead of trying to get the big out of position and crash into his chest for free throws.
-Someone tell Kirk Hinrich he's not Mark Price. Also, tell Vinny Del Negro that a set designed to get Kirk Hinrich a decent look from 22 feet off a pin-down screen isn't a real set. Tell both of them these things after the series is over.
-Fake David Mamet would have some very choice words for this Bulls team.
-Alright, that's all for today. I know everyone expected this win, but it still feels good to have that first win in the bag. Until later, guys.