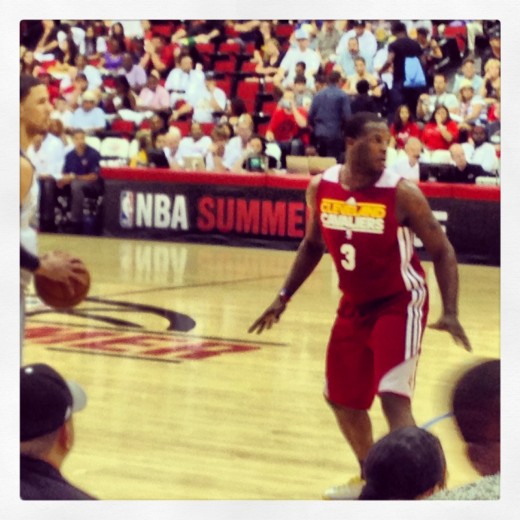 On a Monday afternoon in Las Vegas, the Cavaliers saw their undefeated Summer League jag come to an end as the team dropped its match-up with a team that now has "Pelicans" on its jerseys 62-66 in what became a tough, exciting, competitive game down the stretch.
Much of that competitiveness was the result of the Cavs' second-half defense. In case you've only been watching this team for the last three years, "defense" refers to what one team does to prevent the other team from scoring. While New Orleans shot 46.6% for the game, the Cavs nearly cut their opponent's first half scoring in half, allowing the Pelicans 24 points in the second half after giving up 42 in the first.
1st quarter: Once again, Dion Waiters starts off the game by getting to the free throw line. This time, though, rather than his shots being short misses, his first is long and he hits his second. Promising.
Cory Higgins and Kenny Kadji get the starting nod this time and Kadji quickly blocked his first shot. He finished the game with two blocks, five rebounds and zero points. Kadji is active and fun to watch, but it's difficult to see him contributing in enough different ways to make the Cavs final roster. His defense might be enough to earn a training camp invite, though, and I know he's got a lot of fans.
Higgins came back to Earth a bit after a nice game against the Grizzlies. He scored six points, had a lone assist and just didn't look quite quick enough or strong enough to finish whatever he would initiate on offense. It's amazing how slim the margin is between players with elite athleticism and those who might come up just short of NBA level.
Waiters was aggressive and was the beneficiary of a very generous bounce on a long jumper. Tyler Zeller settled in after a couple of early missed defensive rotations and an offensive foul.
As I mentioned, the Cavs' defense wasn't dialed in to start the game and they finished the quarter down 24-16.
2nd quarter: Just as I scribbled down in my notes "Dellavedova's not doing much" he turned it around. For the game, the Australian point guard out of St. Mary's had six points on 3-6 shooting to go along with three rebounds and three assists but he and Jermaine Taylor were the clear keys to getting the game tied up at 26. Taylor had 10 points and a couple of threes that were a big part of getting the Cavs back in this one. Of all the players not currently under contract with the team, Taylor is the one most ready to have a spot on an NBA roster. He can shoot and has a very solid frame for a 6'5″ guard.
Jeff Withey comes into the game and demolishes a Carrick Felix shot. Withey, who many Cavs fans wanted to see taken with one of the team's second round picks, finished with three blocks. Felix, who actually was the team's second round pick, struggled a bit this game scoring four points on 2-8 shooting and clearly needs to develop his ball handling if he is going to touch the ball at any point in the pros.
New Orleans finishes the half with a 16-9 run to take a 42-35 lead into the locker room.
3rd quarter: The Cavs start off the second half ice cold from the floor, but their defense looks much better and they start to inch their way back. Waiters has a huge block of an Austin Rivers drive after while screaming at Rivers about what his thinks of his "stuff" (it's [expletive deleted]) and where he should "get it" (out of here).
Zeller finishes the quarter with six straight points and the Cavs are in this thing, tied at 49.
4th quarter: It was back and forth for the whole quarter.
Taylor was doing a little bit of everything: dunking, blocking … uh, jumper-ing. Waiters got some jumpers to drop, but his form is still … how should I say this politely … wanting and he finished 5-16 from the floor for a team high 16 points.
And Zeller just kept plugging away. On some possessions, he'd get his shot blocked. On others, he'd drop one in off a nice cut. There was some good and some bad, but he finished with 15 points and 12 rebounds and had a clear impact on the game.
Then I tried a reverse-Dellavedova by writing down "Austin Rivers isn't terrible." Rivers hit two huge shots down the stretch after the Cavs had tied it at 60. The best part? Even though it's only Summer League, Waiters was clearly upset that they had lost and that Rivers had hit those shots to end the game. Talking to him after, the only time he lit up was when I asked him about his trash talking with Rivers following the block. A lot of fans are frustrated with his low shooting percentage (to put it nicely), but there's no denying that Waiters is a competitor.