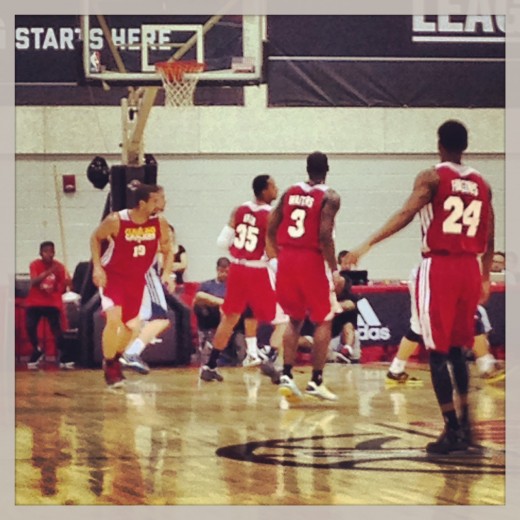 In their second course of NBA Summer League action, the Cavaliers no doubt set out to shoot the ball a little better, show a similar level of defensive intensity to their first dip and… well, basically get their prized second-year two-guard on track after his woeful 1-11 shooting display against the Lakers.
Check, check and … it depends how you want to look at it. Waiters finished with 23 points on 7-17 shooting, including 1-4 from three and 8-12 from the foul line. He also added four rebounds and four assists in 30 minutes.
Oh, did I mention he was 3-12 entering the fourth quarter? Well, it was that kind of game.
1st quarter: Dion's first shot is from the foul line and, just like Friday, it's short which, of course, does not bode well. He swishes his next one, though, and thus begins another exciting adventure along the Dion Waiters box score.
As noted in the last recap, Tyler Zeller does look like he's bulked up a little bit. Unfortunately, it's very possible that his shoulders are more Chris Bosh than Dwight Howard and that we're not looking at a future brawny 7-footer. Zeller was very impressive, though, especially with how he communicates with his (slightly) younger teammates on the floor. When Waiters started barking at the refs early, Zeller let him talk and then called out to Waiters seemingly just to give his teammate an excuse to walk away. Later, he talked to Carrick Felix while waiting for a Memphis free throw attempt, telling the rookie where he should go when the ball went up. Felix not only got the rebound, but took it the other way and converted an and-one (including the free throw).
Zeller finished the game with 11 points and nine rebounds.
Waiters got to the line early and often in this one, but he just wasn't hitting with the regularity he needs to. Some have said that Waiters looks bored playing in Summer League. I wouldn't say that. He's playing hard, but often it seems like he's just tinkering, working on his game without the consequential weight of the regular season. And tinkering ain't always pretty. Later, Waiters would say that he was just working to get his legs back which, considering how short his free throws were and how it seems like everyone in Vegas has been in a shooting funk, could very well be the case.
But the Cavs' defense (combined with the Grizzlies light-on-offense roster) held Memphis to 25% shooting for the period and took a 21-17 lead.
2nd quarter: For this game, anyway, the Cavs gave the second unit reins to Cory Higgins with Matthew Dellavedova playing off the ball. The subs pushed the lead up to 28-20 before Waiters, Zeller and Chris Quinn re-entered the game. Immediately following the substitution, Waiters hits a long jumper, Zeller grabs a strong rebounds and Quinn… well, it's sometimes hard to see why Quinn's getting run with the first team, except that he has actually been on a NBA team before. The Cavs seem to be searching for their third point guard (which would almost be like their fourth point guard as Kyrie Irving, Waiters and Jarrett Jack will all handle the ball over the course of the game) but Higgins actually showed more spark and playmaking ability than Quinn though, again, all of this is difficult to judge because everyone's shooting so poorly from the perimeter.
The Cavs end the half up 36-32 and dip the Grizzlies' field goal percentage all the way down to 23.7% Is this Mike Brown's defensive system being preached even at this level or is it … sigh … again, just people not hitting shots.
3rd quarter: Play started to get testy. I've said how the Cavs looks pretty good defensively and Memphis hustles hard on defense even in Summer League. On one play, Felix practically decapitates Memphis forward Matt Howard going after a loose ball.
Felix didn't score as well as he did in his first game. He managed 7 points on 2-7 shooting, but added 11 rebounds and a steal. The rookie second rounder does not look great when he puts the ball on the floor and tries to create. But when he plays within the system (which is to say: defends, rebounds, runs the floor) he shows where he could be a legitimate factor on the NBA level. He also plays so obviously hard that it's tough not to like him, especially since he's finding ways to contribute be it scoring or otherwise.
The Cavs' offense has been fun to watch even if the results haven't always been pretty. The ball isn't sticking, even when Dion pokes and prods at the defense. The ball is moving from side to side and the team looks to be making a concerted effort to push the ball early and often. Good news for those of us worried about Brown's less than fast-paced offense of yesteryear.
4th quarter: Now (some of) the shots start falling. Dellavedova finally connects on a three and Jermaine Taylor follows it up with a good second-effort layup to put the Cavs up 58-50. That's when Dion happens.
Waiters comes out much more aggressive wanting to put this game out of reach. In under a minute, Waiters hits a three then converts an and-one plus the foul shot to push the Cavs' lead to 63-53. Waiters started connecting from outside and was able to finish off his drives to the basket efficiently, frequently getting fouled in the process and hitting the ensuing freebie.
Much like Friday, the Cavs shot an uninspiring 38.3% from the field but held their opponent to a miserable 23.7% (including only 8.3% from three). The Cavs also out-rebounded the Grizzlies 42-40, showing the ability to bang a little down low.
Overall, this team, Summer League or not, is pretty feisty — not easy to watch, but easy to like. They play hard, they hustle, they play defense and, as much as two games can be a barometer for anything, they let that keep them in games until the guys who get the buckets start to do so.