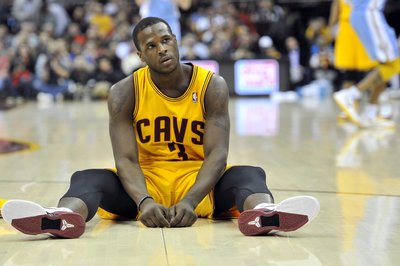 My goodness, my Summer League…
Welcome back to competitive(ish) basketball, ladies and gentlemen. This time it's the "Dion Waiters shoots 9%" party.
Yes, the Cavs' second-year shooting guard (and former number four overall pick) went an underwhelming 1-11 from the field (0-3 from deep) to finish with 3 points, 4 rebounds and 5 assists as the Cavs edged the Lakers 70-62 on Friday night in Las Vegas. It was both teams' first game of Summer League play.
1st quarter: If you like missed shots from the perimeter, weak interior defense and an uneven commitment to getting to the rim, boy-o, you missed a great quarter of basketball. For the rest of you, "meh" just about does it. Dion looked focused on defense and actually passed the ball extremely well. But when no one hits the shots you set up and you go 0-2 from the field and 0-2 from the line, the good stuff doesn't look so good.
Tyler Zeller looks like he has been hitting the weight room … a little. But he was matched up with a much brawnier 7-footer in Robert Sacre so Zeller's struggles were similar to those Zeller struggles we became familiar with last season.
At the end of one, the Cavs were down 18-10 and had already turned the ball over six times.
2nd quarter: Jermaine Taylor hit some shots from the perimeter warming the Cavs' offense from "Beyond the Wall" to just "the Wall" (apologies… I just binge-watched all three seasons of Game of Thrones).
Carrick Felix already looks confident as a physical, pesky defender. I think I may like this guy.
With two-minutes left we finally eek out a highlight: Waiters with a beautiful split of a double team off a pick and roll and a dish to Zeller who finishes!
At the half, the Lakers have a three point edge at 26-23. That's right. 26-23 at the half! Egads…
3rd quarter: Okay, if you're going to only hit one shot in a game, it better be a good one and Waiters's was. Early in a possession (semi-transition, if you will), Waiters attacks the paint does a gorgeous spin-move around Sacre and drops the ball through.
Later, in under a minute, Felix blocks a shot at one end then finishes an and-one in transition on the other. Yeah, I think I like this guy.
The quarter ends with the Cavs down one at 47-48.
4th quarter: A Taylor three-pointer puts the Cavs on top.
Later, Felix's stroke looks good as he hits another three. I do. I like this guy.
Zeller got a lot of run as the team's only reliable offensive post option. And while he was still getting pushed around a little, Zeller looked very good with the "help and recover" defense that's a Mike Brown staple. He was quick, decisive and looked effective jumping out to meet the ball handler and then sprinting back to the big man. Kinda Varejao-lite.
Taylor finished with 17 points to lead all scorers. Zeller added 15 on 6-10 from the floor with 7 rebounds and a block.
Felix chipped in 14 on 5-9 shooting, 2-3 from three, 2-2 from the line, six rebounds, two blocks and a steal. You know what I'm gonna say about that.
Overall, the Cavs were able to overcome some atrocious shooting numbers (they shot 39.4% from the field and 20% from three) with some gritty, active defense holding the Lakers to 31.8% shooting. Did a Byron Scott team ever hold a team to 31.8% shooting? Even a team featuring former-Cav Lester Hudson? Good work, Cavs.
And, yes, Waiters has got to shoot the ball better. His first two free throws were short and he just seemed to have left his touch back in February. But — and I think this is significant — he still factored into this win. He handled the ball extremely well (only one turnover) and was consistently able to get past his man, into the paint and pass off to an open shooter. He did not get discouraged and he did not disappear.
But, of course, no one likes 9%.
Some notes:
Before the opening tip, on-air commentator Reggie Miller said that Anthony Bennett reminded him of a cross between Larry Johnson and Karl Malone. He went on to explain that Bennett has a unique blend of physical explosiveness (Malone) and the ability to shoot from distance (Johnson). There are people who are excited about this guy.
Later, Coach Brown stopped by to chat with Miller and his co-host, Steve Kerr. Here are some of the coach's thoughts:
On Bennett: Brown said that he doesn't want to give the 19-year old Bennett too much responsibility too soon and so "we will play him at the power forward position" until he's ready to play some three as well.
On newly-signed Earl Clark: "I've seen him guard 2s, 3s, 4s and 5s." Brown says he plans to play Clark as a small forward but doesn't expect him to try to create too much. Because he has guards who can penetrate and are good and willing passers, he wants Clark to just defend, rebound and just shoot while open.
On Waiters: Brown said he's talked to Waiters about becoming known for his defense. He said he used the examples of two other young wings, the Pacers' Lance Stephenson and the Knicks' Iman Shumpert, whose defense is consistently mentioned whenever their game is discussed. For Waiters, Brown pointed out to the player, you don't hear anyone saying that.