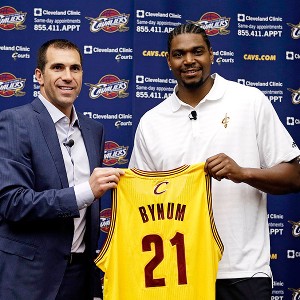 We are a day late on this news, but the Cavs introduced Andrew Bynum yesterday. He said "this is definitely a playoff team"; a guarantee the new big man is now obliged to follow through on.  One day into his official employment with the Cavaliers, so far, so good; Bynum is spending a lot of time with the doctors and in the gym.
Real GM reports (via Jason Lloyd / Akron Beacon Journal) that Mike Brown wants Dion Waiters to strictly play shooting guard.  This is completely rational, assuming the back-up point guard option is not Donald Sloan.  Fortunately, Jarrett Jack is not Donald Sloan.  Coach Brown seems to be stressing defense with Dion, and from reports, the young protege is listening.  Dion possesses potential to be an impactful player at that end of the court, and hopefully he gets there.
Finally, according to Jason Lloyd, Tyler Zeller will miss the remainder of Summer League; he requires stitches on his left ring finger.  The injury is not serious, and he was likely to sit out the remaining games regardless.  He will participate in next week's USA Basketball Mini-camp.  Glad to hear that Tyler is okay, but this shocking blow may derail the team's ongoing Summer League championship aspirations.  Losing his 10 point, 8 rebound averages requires a Herculean effort from Kenny Kadji in order to hoist the Cavs into the final four.  Their quarter-final appearance starts at 4 pm EST against Miami.  Come on, Cleveland Cavaliers Summer League Team!!  Avenge the blown 27-point lead from March!!  Beat the Heat!!
On a more serious note, it would be cool if the team won and Dion, Carrick Felix, etc, kicked butt.  Possibly this has been reported somewhere already, but Dion is probably not much longer for summer league either though.