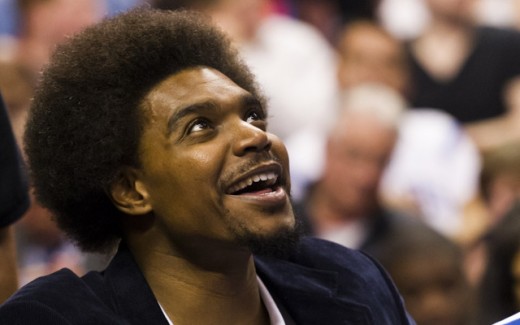 According to ESPN.com's Chris Broussard, Andrew Bynum has verbally agreed (remember that free agents can't put pen to paper just yet) to that two-year, $24M deal the Cavs offered him on Monday:
Bynum and the Cavaliers agreed to an incentive-laden, two-year contract that could be worth up to $24 million, sources told ESPN. The Cavs hold a team option for the second year of the deal, and only $6 million of the contract is guaranteed, according to sources.
You'll remember that last offseason, the Cavs kicked the tires on playing the same facilitating role the Sixers ended up filling in a four-team Dwight Howard-to-LA blockbuster. Bynum never played a game for Philly, and a year later, he's in wine and gold on a redemption contract. Chris Grant is kind of an infuriating GM—the surprising draft selections, the dense smoke screens, his insistence on trying to fleece the other team in every trade—but let it be said he's never seen a low-risk, high-reward opportunity he didn't like. Here's hoping this Bynum move is more like when Grant traded for Baron Davis and the Clippers' lottery pick and less like Christian Eyenga's entire career.