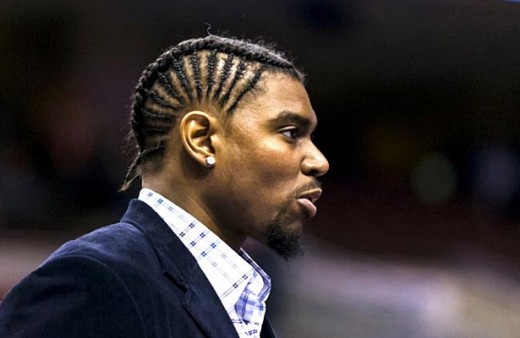 So…Andrew Bynum!  It's a wild acquisition with a wide range of potential outcomes.  Let's briefly run through a good, a (that's too) bad, and an ugly scenario, then a few other random thoughts, not necessary tied to Bynum.
The favorite idea of all for next season is: Kyrie plays 75 games, with Andy and Andrew suiting up for 65 each.  This isn't a "best case" where everyone is completely healthy, but a reasonably injury-free year.  The twin bigs don't play back-to-backs, while otherwise receiving 25 – 28 minutes per night; the reduced workload keeps them out of the doctor's office.  I like either with Tristan or Bennett, but am really enthused about this duo playing together; Bynum always thrived with Pau Gasol operating from the high post, and Varejao's passing has become a highly underrated aspect of his game.  The combined size and rebounding exceeds anything hoped for next season.  With growth from Dion and Tristan, and Kyrie taking the next step to superstardom, this crew battles towards the middle of the Eastern Conference.
The "that's too bad" case involves Bynum playing nine games or something.  Basically, the reason why $6 million guaranteed was his maximum offer rears it's ugly head; his knees are shot.  Varejao stays healthy though; Mike Brown's influences reigns on defense; Kyrie, Tristan, and Dion progress nicely; and Jack / Miles / Clark / Bennett / Zeller provide the deepest bench in years.  The team sneaks into the playoffs, able to walk away with their financial flexibility in tact.
Finally, the "do we have to talk about this?" scenario: Bynum can't get on the court; Varejao misses significant time for the fourth straight season; and Kyrie sits for fifteen games.  Suddenly we again witness a team of 22-year olds anchored by Tyler Zeller on defense; the lost opportunity of tying up $12 million of cap space on Bynum resides as an albatross to playoff hopes.  Replacing Coach Scott, Marreese Speights, Shaun Livingston and Wayne Ellington with Mike Brown, Jarrett Jack, Earl Clark, and rookie Anthony Bennett, while relying on growth from the youngsters was not enough to win forty games.  Another lottery trip ensues, with the springtime spent hoping for a miraculous summer.
This whole gamut of possibilities is real; it's fun to be a Cavs fan.
___________________________________
The roster is currently: Kyrie Irving, Tristan Thompson, Dion Waiters, Tyler Zeller, Anthony Bennett, Sergey Karasev, Anderson Varejao, Andrew Bynum, Jarrett Jack, Earl Clark, CJ Miles, Alonzo Gee and Carrick Felix.
That is thirteen players.  I would like to see the team add:
Another shooter.  They ranked 23rd in the NBA for three-point field goal percentage last year and 17th for made threes.  Adding Jack is solid and hopefully Bennett flashes NBA range, but a small forward with definite ability to step outside looks really nice between Dion and Tristan.  Perhaps CJ Miles can start, as a Dion / Gee wing combo lacks sufficient floor spacing (unless Waiters really honed his shot this summer…please knock-down 35% from deep next year, Dion…pretty please…).  Placing Sergey Karasev at six on my draftboard may make me his biggest believer, but I am not heaping any expectations on him for next year.  Free agent options are drying up quickly; Luke Babbitt is 6' – 9" and made 43% of his threes in 2011 – 2012.  The team has run out of Lukes, and stashing a deep-shooting wing at the end of the bench could prove beneficial if Gee / Clark aren't providing ideal spacing.  Babbitt should be available for the minimum.  Also, what about Metta World Peace?  He said if a small market team snags him from waivers, he will retire, but the Cavs have a lot of familiar faces and a decent amount of minutes to offer.  The artist formerly known as Artest drains 35% of his threes and offers strong defense; if the Cavs strive to keep getting weirder and more interesting, MWP fills a few needs on this roster.
Matt Dellavedova.  I am rooting for this undrafted rookie to make the roster as the fifteenth man.  When not wowing in Canton, he should be a reasonable "break glass in case of emergency" third-string point guard.
Another Center.  What?  That's sixteen players?  Plus, the team just signed Bynum and drafted Zeller last year?!?  Well, I am a little nervous about my "ugly" scenario.  How about trading Alonzo Gee for a sign-and-traded 1 year, $2.2 million Timofey Mozgov?  The Nuggets lost Iguodala and Corey Brewer and just signed JJ Hickson. Cleveland's battle for minutes at the wing would include: Waiters, Jack, Miles, Gee and Clark, plus Karasev and free agent Shooter X (MWP or Babbitt).  That doesn't even include some minutes possibly going to Anthony Bennett.  There are a lot of guys with a reasonable expectation of good health there.  Why not add a fourth center, considering two of the existing three come with injury concerns?  Mozgov isn't an exciting grab, but is big and a veteran.  Having a guy like that stashed at the end of the bench may come in handy.
__________________________________________
If Bynum, Varejao and Tristan combine for 200 games, this concern subsides, but team defense may still be an issue next year.  I know; Mike Brown.  But player personnel may still leave something to be desired.  Jarrett Jack is an eight-year NBA vet and definitely not a defensive difference maker.  Earl Clark receives a lot of praise from coaches for his defensive versatility, but numerically it's hard to call him anything above an average defender.  The team is still staffed largely by 22 year olds, with another rookie tapped to play 1500 minutes.  Both centers are injury risks.
So, what's the answer?  To some extent, I want it to start with Kyrie and Dion; one the team's star, the other hoping to move closer to that level.  Kyrie has great size, deceptive athleticism, and court-smarts.  The ability is certainly there; remember the 8 game stretch last season with 26 steals?  He oftentimes coasts on defense though.  Next season, ideally Kyrie can start facilitating more in a Chris Paul mode.  Dion, Jack, Bynum, and maybe even Bennett will be able to shoulder offensive load.  Mr. Irving can pick his spots for scoring over the first forty minutes, keep his teammates involved, and buckle-down on defense at the initial point of attack.  Then in crunch time, destroy everyone…leave the opponent crying.  Don't get me wrong; Kyrie absolutely needs to remain the offensive focal point, but a routine commitment to defense from the team's star would look great this year.
Regarding Waiters, part of what I liked about him out of Syracuse was his two-way play.  I linked to this Sports Illustrated article a few times leading up to the 2012 draft; it touts the impact Dion made at Syracuse on defense.  His sophomore year, he ended 4.6% of opponent possessions with a steal, the thirteenth best mark in the entire NCAA.  He definitely showed a commitment to, and tenacity on defense that was enticing.  Last year of course, he struggled as all rookies do, not only transitioning to a bigger, faster, more complex game, but also man-to-man defense.  By all accounts, Dion is putting in work this summer.  Hopefully some of his rest-time involves watching tape and talking to coaches about defense.  Because Tristan will continue growing into a defensive force, and ideally Bynum clogs the paint for at least 1500 minutes, and Mike Brown's system will help, but a defensive leap from Kyrie and Dion will go a long ways towards this team exceeding all expectations next year.
_______________________________________
That's it for now.  Summer League starts today.  Let's see what interesting results are added to an already noteworthy summer.