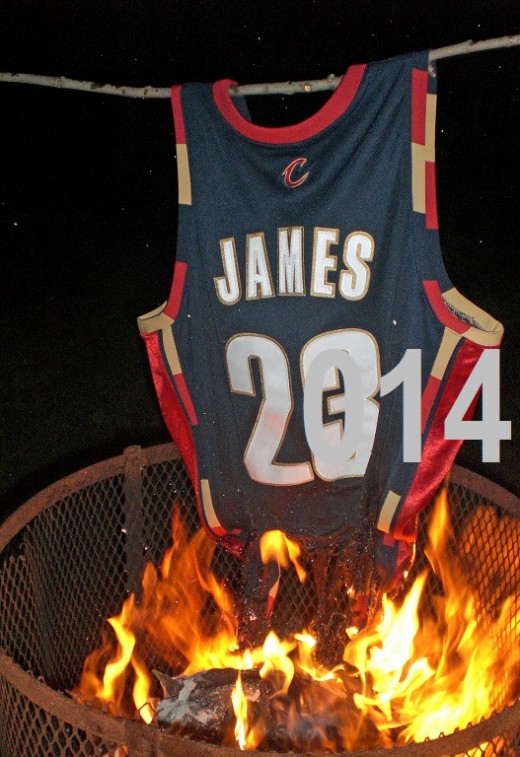 One week or so into the 2013 NBA free agency madness and one thing is eminently clear: the Cavs are playing this for next summer.  The wisdom of handicapping the team's effectiveness in 2013 for the chance to get LeBron James in 2014 can be debated ad naseum, but it's becoming increasingly evident that this is the plan.  Don't kill the messenger.
Yes, I know, Dan Gilbert promised us improvement.  Nick Gilbert said he didn't want to be on the lottery podium next year.  Mr. Gilbert is as impulsive as they come.  When the season ended, his internal thought bubbles probably read in comic sans, "I can't watch the Cavs lose anymore. I can't watch Byron Scott with his arms folded any more. We've got to make the playoffs next year." I admire Gilbert's passion.  But as the weeks after the lottery passed, I think Chris Grant wore him down.  In classic Rick Pitino fashion, Grant said, "Dwight Howard's not walking through that door, Dan.  Chris Paul's not walking through that door.  Josh Smith's not walking through that door.  Mr Gilbert…  We can't get Marco freaking Belinelli to walk through that door.  We have to rethink this."
The signs are clear.  If the Cavs can't get major talent back in return, the Cavs aren't signing or trading for anyone that puts their 2014-2015 cap space in jeopardy.  If the player wouldn't be appealing to LeBron James, he's not getting money beyond next season unless he's on a rookie contract. The Cavs' only free agent move so far has been for Earl Clark, for two years and $9 million dollars.  But the second year of the contract is a team option.  For further proof of their intentions, look at who the Cleveland has been linked to in trades.
League sources tell CBSSports.com that Golden State has offered the likes of Andrew Bogut, Andris Biedrins and Richard Jefferson to the Hawks, Cavaliers and Jazz. The Warriors would have to unload two of the three in order to clear enough space to land Howard in a straight free-agent signing, and Atlanta, Cleveland and Utah essentially are the only teams with that kind of room.
That's from Ken Berger of CBSsports.com.  Bogut, Biedrins, and Jefferson are all on the last year of their deal.  Furthermore, Pau Gasol, Robin Lopez, and Omer Asik have also been linked to the Cavs as possible trade targets, by Brian Windhorst.  Lopez is off the board now, and Asik is the only one left of those players who has a contract that stretches beyond 2013-2014.  He has a very reasonable $8.37 million cap number, and probably wouldn't be all that hard to move if needed.  These are all guys that can help the Cavs now and be used in a sign and trade later.
Dwight Howard is the lynchpin of the 2013 free agency class.  Every other major move is dependent on what Howard decides to do.  The Lakers are possibly in fourth place now in the race to get Dwight.  Their long standing policy of refusing to help out D-12 with a sign and trade may be falling.  The Cavs will try to get young players, draft picks, and guys on the last year of their deals, either directly trading with teams that are trying to sign Howard, as they clear cap space, or by participating in a multi-team deal with the Lakers and whatever team Howard agrees to go to.
When Dwight gets up today he'll probably blindfold himself.  Then he'll be led into a room full of goats wearing jerseys of all the possible NBA teams he could sign with.  He will be spun around and commence throwing florescent paint filled balloons at the goats as they sing "neigh…" in their lollipop guild voices.  Different voiceover actors will extoll the praises of the teams on the goat jerseys.  Then a copious amount of feathers will be released from a trap door in the ceiling, and the goats will be herded to separate rooms.  When the feathers on those goats are counted by incorruptible Tibetan Monks paid by Dan Fegan, whatever goat has collected the most feathers will have serious implications for the Cavaliers and the rest of the NBA landscape.
I may have gotten off track here.  There's still a possibility the Cavs could end up with a major player.  Whoever doesn't get Howard, and whoever misses out on the free agent bonanza will have the choice of either hiring middling level free agents, or blowing their teams up.  Chris Grant will be on the phone either way.  Teams like Atlanta, Milwaukee, Phoenix, etc. who have assets to pluck and want to stink next year will listen.  But Chris Grant isn't going to sacrifice 2014 flexibility for anything short of an all-star or elite defensive player.  Think Al Horford or (maybe) Omer Asik.  This is the right strategy.  2014 is too good of a draft class to try to be the last team in the playoffs.
Unless Cleveland can pry one of these players away, the Cavs improvement next year will mostly have to come from their core.  The team will have to trust that Mike Brown can turn them into effective defensive players.  But the brutal truth is that the Cavs may actually be worse next year, because it seems like every most teams in the East are getting better.  Meanwhile, the Cavs still don't have a backup point guard.  The Walton and Speights replacements will be an (hopefully) healthy Varejao, Anthony Bennett, and half of Earl Clark's time.  We still haven't at all figured out who's replacing Wayne Ellington (whose lack of a qualifying offer still baffles me).  You know what?  That's ok.  Dan Gilbert isn't going to come right out and say it, it's Dan's job to sell tickets, but Chris Grant got to him.  It probably went down like this.
Chris Grant (reading Hoopshype on his iPad): "Crap.   These idiots are falling all over themselves to pay Martell Webster $22 million?  Tony Allen is 31 and just signed a four year deal! Kevin Martin just signed for $28 million.  He's 30, and he can't guard anyone! HAH!  Jordan just gave Al Jefferson $14 million a year.  Also, no one even knows if Dwight Howard will ever be the player he was!? All these moves we can make?  All these players we could sign?  They might make us 10-15 wins better on top of our core improving.  That's an ideal scenario, at best."
Zydrunas: "Is that worth sacrificing flexibility next year…? I want to trade DVDs with LeBron again."
Dan Gilbert: "OK, unless Kevin Durant becomes available, roll with the guys we have, and one year rentals.  Someone tell Nick.  I'll be in the weight room."
Mike Brown: "Wow.  We could field three fifths of team Canada in 2014… and I could coach them in the Olympics! That Wiggins kid is supposed to be pretty good.  Hey!  Who farted?"