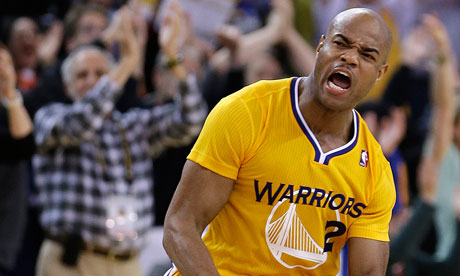 Things are heating up in free agency.  Cleveland is set to snag Jarrett Jack with a 4 year, $25 million contract.  Three years are guaranteed; Jack's age 30, 31 and 32 seasons.  Many people weren't expecting a long-term contract this summer, but this veteran combo-guard probably rated highly on many fan's off-season wish lists.  Jack provides a durable combo-guard to spell Kyrie and Dion, and much needed shooting.
A few facts and stats:
Jack is 6′ – 3.5″, with a 6′ – 7.5″ wingspan and a stout frame.  For size, he is very similar to Dion Waiters.
Over the last two seasons, in nearly 4000 minutes, he averaged 6.7 assists and 2.4 turnovers per 36 minutes.  Last season, that sandwiched him between Andre Miller and Deron Williams for assist to turnover ratio.
Also over that time, he drilled 38% of his threes.  He scored 16 points per 36 minutes, with true shooting slightly above average for either guard position.
According to Synergy Sports, he ranked 27th in the NBA for points per play as the pick & roll ball handler, and 62nd as a set shooter; a uniquely diverse offensive game.
He's basically Mr. Combo guard; a great fit backing-up both Dion and Kyrie.
According to 82 games.com, last year he played 20% of the Warriors minutes at point guard. He outproduced his opponent by a PER of  17.9 to 15.6.
He logged 39% of their minutes at shooting guard, besting his counterpart by 15.2 to 11.9.
In 2011 – 2012 with New Orleans, he similarly outplayed both guard positions.
Another amazing item about Jack; he has been very durable.
Aside from the strike shortened 2011 – 2012, he missed nine total games in seven seasons.
Three seasons ago, he played 83 games.
If Kyrie misses time, there is not a better substitute point guard available than Jarrett Jack.  When all three are healthy, Kyrie could play 36 minutes, with Dion and Jack at 30.  If Kyrie is hurt, Dion and Jarrett play 36 minutes, and the team still fields a solid back-court.
In addition to a back-up point guard, the Cavs sorely need shooting.  Jack can do that:
He's a career 36% three point shooter.  Last year, it was 40%.
For shooting percentage from 16 to 23 feet, only three guards with 50 or more jumpers bested him last season: Chris Paul, Steve Nash and Roger Mason.
He doesn't get to the rim often though.  Based on the numbers at hoopdata, he ranked 61st of 76 point guards for per minute shots at the rim.  Similarly, he hoisted only the 54th highest frequency of shots from 3 to 9 feet.
So Jack is: durable; a capable back-up point and shooting guard; and a reliable marksman.  That meets some team needs.  What's not to like?
Maybe his defense.  A few notes:
RAPM has routinely considered his defense to be replacement level.
For Defensive Plays (steals, blocks, plus charges) per 40 minutes, he ranked 13th worst of all point guards last year.  He was equally inept in this regard with New Orleans.
He is capable on the defensive boards.
Eh, now the team needs to find a serviceable free agent center, then rely on Andy, Tristan and Center X to anchor the defense.  Jack appears primed to fill a sweet three-guard rotation for a few years, allowing the offense to run smoothly with two shot creators on the court at all times.