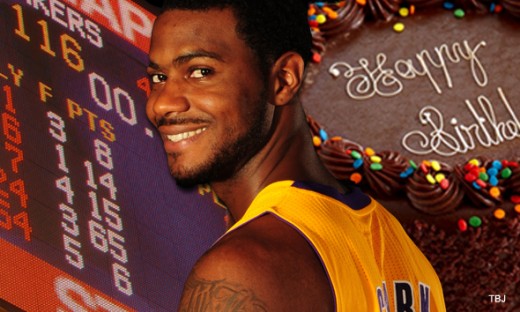 I posted a quick link to the Earl Clark signing earlier, and somewhat to my surprise, most readers were pleased with the signing.  Having watched a handful of Clark's games last year and being aware of his production, the move seemed inconsequential to me.  It is certainly low risk though, with only one year guaranteed.  But is it a move forward for the team?  A few facts:
He is big, with 6' 10" height, 7' 3" wingspan, and reasonably athletic.
He turns 26 in January.
His PER was 12 last year, easily a career high.  He averaged 7.3 points, 5.5 boards and 1.1 assists on 44 / 34 / 70 shooting in 23 minutes per game.
The Cavs really need shooters.
Before this season, Clark shot five total career three pointers.
Last year with the Lakers though, it was 35 of 104.  From the corner, it was 10 of 26 (38%).
He hoisted three shots from deep per 40 minutes, with effective field goal percentage of 51% on those.  Over two-thirds of his shots were jumpers (via hoopdata.com).
An average NBA small forward last season took two three-point field goal attempts per forty, converting 54% eFG (via hoopdata).
An average NBA power forward bombed less than one shot from long range per forty, with eFG% exactly matching Clark.
As a power forward, his assist rate ranked 19th of 70 players (via ESPN).  Looking at those numbers, Clark is a reasonably effective stretch four.
As a wing though, he presents a relatively ineffective floor spacer sandwiched between Dion and Tristan.  In addition to the below average eFG% from three, his assist rate ranked 50th of 71 small forwards.  Offensively, the team is better served with him playing power forward.  The Cavs may plan to play him extensively at small forward however.  About that:
According to 82games.com, he outproduced opposing small forwards by a PER of 12.3 to 12.0 last season.
Unfortunately in 2011 – 2012 with Orlando, those numbers were 4.2 and 18.4.
Of small forwards, his 1.06 steals per 40 minutes is below last year's average of 1.33 for the position.
Also, he only drew two charges in nearly 1400 minutes.
His defensive rebounding rate is very strong for a small forward, but only average for the front-court.
He seems best served to play small forward on defense, and as a stretch-four on offense.  That is interesting as it relates to his role on the Cavs next season.  But first, how did his recent teams fare when he played?
Via basketball-reference.com, the Lakers played 3.4 points per 100 possessions better on offense without him.  Also, their defense tightened up by 2.5 points per 100 possessions when he sat.  That negative-5.6 differential* was the worst of their guys logging more than 300 minutes.
The prior season with Orlando must have been traumatic.  The Magic offense leapt by 14.5 points per 100 possessions when Clark hit the pine.  Their defense faired 4.2 points per 100 possessions better while he towel-waived.  This 18.7 was easily worst of anyone who played more than 200 minutes for them.
Not good. Ultimately, Clark seems best served playing alongside Bennett, with Clark playing the "four" on offense, but guarding "threes" on defense.  Clark took a large step forward last season**; perhaps he can do it again this year at age 26.  If not, it is difficult to fathom him as a huge aid towards a playoff push, or a significant piece for the future.  He is not a back-up point guard, a basket-protecting center, or a small forward with great range that can displace Alonzo Gee.  As always with a sentiment like this, I hope to be wrong.
*The Lakers were 25 points per 100 possessions worse during the playoffs when Clark played.
**The 2012 – 2013 Pro Basketball Prospectus listed his comparables as Anthony Avent, Donald Hodge, Hakim Warrick and Alec Kessler.