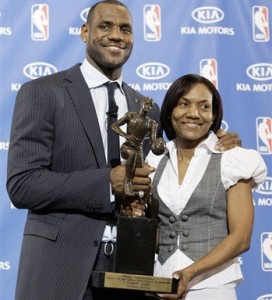 "Cavs' teammates Leon Powe and Jamario Moon and trainers Max Benton and Mike Mancias apparently found James snoozing somewhere in the Cavaliers' Cleveland Clinic Courts facility on Monday. They wrapped the NBA MVP in a tarp and carried him across the court, where he was sufficiently roused to talk with the media." [Cleveland.com]
"Doctors were so pleased with the healing process that O'Neal, who has lost around 20 pounds by running and cutting out cheeseburgers during his absence, probably could have returned earlier if the games were more important.  Perhaps not wanting to jinx the recovery, O'Neal declined to talk about his progress Monday and said he would discuss it when he was activated." [Brian Windhorst on Shaq]
"Powe: I actually wear it because of Ice Man back in the day. Me and my brother both had posters of him – the one on the ice throne and the finger roll. I used to always finger roll back in the day, until I realized I could jump. Then I started dunking the ball.  But I still go with 44 because of the Ice Man – George Gervin." [Leon Powe's Mailbag]
"By the same token, it also shows that we can be competitive without our main people. And, to me, that's the signal that should be going out across the league. These guys are basically on vacation right now, and they're still competitive. When they bring all the horses back, they should be even more intimidating." [Austin Carr]
Check out the ESPN Round-table on this Year's MVP: LeBron James.  The best one is from Henry Abbott: "I hate to be hyperbolic, but sometimes superlatives are accurate: When we look back at this season decades from now, "best player in the league" will be far too timid in describing the reign King James has started. He's a mighty candidate to be the best player ever. If James doesn't win in a landslide, voters must be drug tested."
Nothing to do with the Cavs, but this article about Shane Battier's ideas for the NBA are worth a read.
"But since the Cavaliers have wrapped up home court advantage throughout the playoffs, Cavs coach Mike Brown has had the chance to give extra minutes to those that have patiently waited for a chance to make an impact with the team.  Moon, the product of Meridian Community College – as fans have come to find out through the pre-game introductions, has accepted the opportunity with open arms." [Scott Sargent]
I like the spirit of this billboard-to-be but not sure about the picture.
This will be the series to watch in the East because, while Orlando is clearly one of the top 2 teams in the league, Charlotte is the only lower seeded team in the conference that can pull off an upset. They have the wing defenders, defense, and playoff experience (ok, so only a few players have made the playoffs in the past, but hey, Stephen Jackson makes love to pressure) to pull off the impossible." [Colin Zvosec]
J.E. Skeets gets very wound up about the criticism of LeBron James at the end of his Basketball Jones VidCast.  Hard to not agree with him.  I have yet to find a Cavs fan that is angry at the organization because LeBron has been sitting.
Tweets To The Present: (follow me @tompestak)
"When did NBA teams become responsible for pleasing OPPOSING team fans by not letting their guys rest?" [Lang Whitaker]
"Marcus Camby just stole ball from Maynor and dove on floor for it, then dunked at other end. He has game-highs of 26 and 10. He's 36 yrs old" [John Hollinger]
"Mike Brown says there's "good chance" LeBron won't play at Hawks on Wed. He's not sure about Shaq and other regular starters" [Brian Windhorst]