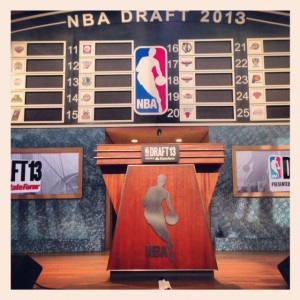 Here's just the first of what I'm sure will be many articles about how the draft has reshaped the Cavaliers' roster.
First off, I don't mean to neglect the Cavs' selection of 6'6″ guard Carrick Felix out of Arizona State University with the 33rd pick. As you might have guessed, I was pulling for Jamaal Franklin at 33 (and at 31!), so I was a little thrown by this unfamiliar name. You can read all about Felix here. I know I will be.
That being said, the video montage ESPN played following the selection leads me to say this: good size, an athletic player with some explosiveness, good catch-and-shoot guy (37.4% from three). I'll take that with the 33rd pick (even if I'd rather have Jamaal Franklin). I was convinced Chris Grant would draft someone he could stash overseas. With Felix, he might have drafted a guy he can stash in Canton, at least for next season.
Okay, on to Anthony Bennett. We all probably had something verging on Bill Simmons' reaction, but within ten seconds it was pretty easy to talk yourself into the pick. Bennett was one of the two most talented players in this draft. It was him and Ben McLemore. They both had the most talent, the highest upside… however you want to phrase it. In that respect, it doesn't matter that the Cavs already have Tristan Thompson — just as it wouldn't have mattered that they already had Dion Waiter had the Cavs picked McLemore or Victor Oladipo. They now have the guy they feel was the most talented of the bunch of available guys this year.
The "glass half empty" view is that Bennett and Thompson are redundant, both undersized power forwards, so Chris Grant must have wasted one pick to get another right. There is that…
The "glass half full" view, though, is that all we're dealing with is a similar redundancy to what we got when Grant drafted Dion Waiters, a creative, ball-handling scoring guard to pair with … well, you know, another creative, ball-handling scoring guard in Kyrie Irving. That happened and we saw the benefits of it. "Redundancy" became "flexibility" with Waiters able to handle the ball (more than) capably while Kyrie sat as well as score it while the two ran side-by-side.
That's where Bennett's listing of Carmelo Anthony as his favorite player during interviews yesterday was interesting to me. Anthony "found himself" in many way this past season playing the four for stretches, but has long made his home at the three. Likewise, Larry Johnson, the player who Bennett said his college coaches most compared his game with, was a burly, undersized, athletic, player who played both the three and the four during his career.
I think the Cavs embrace Bennett as a hybrid forward, while insisting that he be in good enough shape to be effective against threes on the defensive end. Bennett already brings more explosiveness and shot-making ability than any of the small forwards currently on the Cavs roster at the beginning of the night. Should he be able to play half of his minutes alongside Thompson, a front court of Bennett, a continually improving Thompson and the usually pin-balling Varejao is something to consider. It's got size, strength, athleticism and the ability to generate baskets in a lot of different ways.
But Bennett can also slide down to the four spot and run in line-ups with the likes of Dion Waiters, Sergey Karasev, Alonzo Gee and Tyler Zeller. I don't mind that group a bit either.
When you look at the Cavs you see a team of fluid positions. Waiters can play the two or he can handle the ball. Karasev can play the two or the three. Bennett (we're being told) can play the three or the four. And then all of our other post players — Varejao, Thompson and Zeller — can play either the four or five, depending on the situation.
This makes for a more potent, surprising offense than if the Cavs had gone with either of the centers, Alex Len or Nerlens Noel.
So, no, I don't think the Cavs have soured on Thompson just because they drafted Bennett. What it does make more clear, however, is that no one is especially safe until (or even after) this team starts winning. When the draft rolls around, Grant will take who he feels is best.
Too much of the best, after all, can only be good going forward.