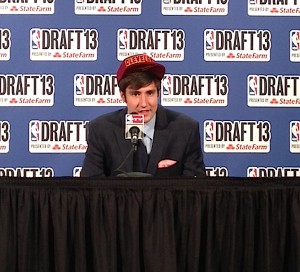 Sergey Karasev already knows what he can do to help the Cleveland Cavaliers.
"Cleveland need shooters," Karasev said. "And I think I'm the guy who can shoot the ball."
He does, in fact, seem to be that guy. Karasev, the son of the coach of his Russian team, BC Triumph, and top scorer in Russia's top league, the PBL, at 15.3 points per game, is praised for his proclivity as a shooter and his high basket ball IQ. While evaluating Karasev during this year's Nike Hoops Summit, Matt Kamalsky of draftexpress.com said, "Shooting the ball with great range and effortless mechanics with his feet set, Karasev impressed scouts with his prolific perimeter shooting both in drills and game action to the point that it was surprising to see him miss at times. Making 38% of his 3-pointers this season, Karasev's numbers belie his consistency from the perimeter given the defensive pressure he regularly faces."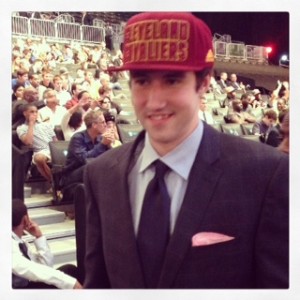 With Cleveland, he joins a team with a glaring offensive hole at the three and an overall lack of knock-down shooters (outside of Kyrie Irving) from either the two or three positions.
Karasev is ready to try to fill those needs right away. When asked if he planned to join the team immediately, he responded, "That's all about them. I'm ready to come next year to play in Cleveland. If they're going to say I need them, I come straight. I know that. I understand they need shooters. I try to help them and go as hard as possible."
The biggest knock on Karasev coming into the draft was that he would not be able to defend his position at the NBA level. In fact, both he and top pick Anthony Bennett were considered defensive liabilities to some extent. You can expect coach Mike Brown to use Karasev's length and intelligence to make up for what is currently a very slight frame.
Attending the draft was very important to Karasev. "Last time I'm going to shake the hand," he said. "First and last time in my life in the draft." It was an important stay in the states, but a short one. He arrived earlier this afternoon then left the Barclays Center to catch a return flight home to prepare for "the university games" with his team back in Russia.
"I feel very great," Karasev said in broken, but passable English. "It's my dream come true."