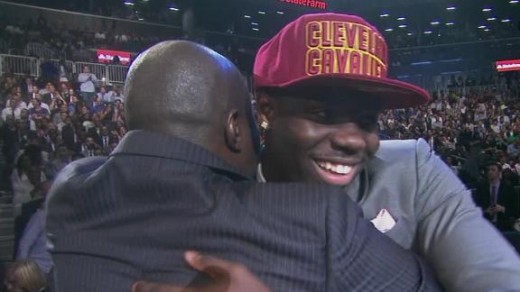 Cavs fans should consider themselves lucky there wasn't a consensus number one pick in the draft this year. If there were, there's no telling if GM Chris Grant would have taken him.
Grant threw a draft day curve for the third straight year, selecting Anthony Bennett, the 6'7″ forward out of UNLV, first overall in a draft that kept everyone guessing right until David Stern capped the pause after his "A…" with"-nthony Bennett."
But, don't worry if this pick shocked you. You have company.
"I'm just as surprised as everybody else," Bennett said, after being the first Canadian-born player to be chosen with the top pick in the draft. "I didn't really have any idea who was going number one or who was going number two. I heard everything was up for grabs."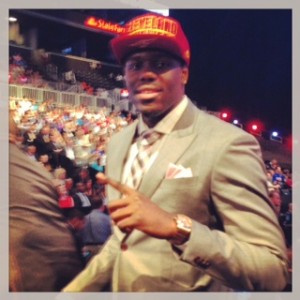 The Cavaliers and Grant, who has long said the team would select the best available player, clearly saw something in Bennett worth grabbing. While averaging 16.1 points and 8.1 rebounds as a freshman (his 12 double-doubles ranked third in the country among freshmen), Bennett couldn't shake a comparison to a former Runnin' Rebel and number one pick, Larry Johnson. "[T]hroughout the whole year, Coach Rice at UNLV, Stacey Augmon and Heath Schroyer, basically all said [my game and Johnson's are] similar," Bennett said. "So I went back… I watched UNLV play Duke and beat them by 30 in the final. It was pretty much similar. I kind of see where the comparisons are coming from."
Some questioned the pick, as the Cavs already have a young, somewhat undersized power forward in 6'8″ Tristan Thompson. But Bennett believes it's not an either/or between he and Thompson. "I can contribute at the four, at the three. … I think I can just fit in right away." And he downplayed the Canadian connection between he and Thompson, saying that the second-year Cavs forward is "just a great guy. He seems real cool," but that the two don't speak regularly.
Bennett was always considered one of the top two talents in this draft (with Kansas's Ben McLemore being the other), but questions about his fit with the Cavaliers, his shoulder surgery and the inconsistent defense he displayed during this past year, led most to believe the team would choose a different path. While no one asked Bennett about his shoulder injury in the press conference, a source from the Toronto Sun confirmed that, while it would not be healed in time for Summer League, Bennett expects to be ready for the start of training camp.
Bennett is considered an explosive athlete who finishes around the rim, while also having the ability to face the basket and shoot with range.
If Bennett is able to transition to playing the three at least part of the time, the Cavs may have solidified a young, dynamic starting lineup that now seems light years away from their veteran, role-player-laden post-LeBron roster. A starting five of Kyrie Irving, Dion Waiters, Bennett, Thompson and Anderson Varejao while, not without its questions, will be the most formidable … or, at least, the most intriguing one the team has fielded in some time.
"I can play with anyone," Bennett assured. "There's no agendas for me. I just want to be successful… win championships… and, you know, just win games. … It's just like a longtime dream that I had since I first started playing basketball."