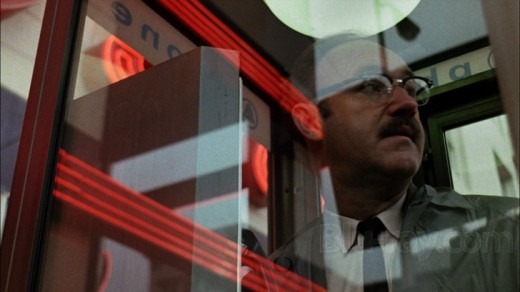 So, hey, look: I'm not excited about this. After a season during which one of the running subplots was where the Cavs would end up in the draft and how the class itself was shaping up, after the lottery victory, after two solid weeks of speculation and rumors and smokescreens and interviews and profiles: I feel like Gene Hackman's character at the end of The Conversation, just wailing away on a sax in a torn-asunder apartment, either mad or tranquil, not really able to distinguish between the two anymore. My draft board is actually just stick figure drawings and Young Jeezy lyrics. I'll be watching the draft feeling burnt out, ready for anything at all but mostly just ready for it to be over. I've got two forties of Olde English and a cat asleep by my foot. I may occasionally bury my face in his belly to quell my feelings of aggravation.
But anyway, wherever you are and however shellshocked or excited or nervous you are: refresh your laptop with us while we watch the draft. I'll be updating this post with the latest news and perhaps even some useless, knee-jerk reactions as the night progresses. Feel free to squabble and vex and kvetch and cheer in the comments. Let's check in with some of the C:TB team:
Kevin: I got home from work, and said hi to the wife and kids. We're set to dine on a simple meal for the night: hot dogs, french fries, and microwave steamed vegetables.  I've fired up the grill, and gotten myself a beer: a Triton Rail Splitter; not from my favorite Indianapolis brewery, Flat 12 Bierwerks, but still a tasty IPA.  Through this Rockwellian early evening though, an eery feeling resides over me; after the draft, I sense that life will never be normal again.
Robert: [Ed: Robert's covering the draft for us in an official, real-life journalist sort of way. He's got a lanyard and everything.] I'm going through some Draper-esque NBA draft DTs, as I am usually a good several pints in before taking my seat (soon after which, several more follow). For the last couple years, my buddy Scott, and I have treated attending the draft like we were attending an actual sporting event. Boo David Stern, hit the nachos bar. Cheer Adam Silver, get another round. Heckle Jeff VanGundy, have some hot dogs. Pass Derrick Coleman in the halls, think to yourself, "Man, Derrick Coleman is huge…" It should be interesting to be up close on the action this time. But, clearly, I'm just going for the free food…
Nate: I'm going out for a quick bite and to find an acceptable six pack of beer: I'm hoping for something from Indiana, maybe some Three Floyds. I will follow that up with some beers worthy of the next picks, a solid American, and some foreign stuff I wouldn't normally drink.
Mallory: Since all of the C:TBers had quite a lot to say on tonight's draft (look at how many posts we've put up in the last week) we're keeping our second annual Brews and Bruises short and sweet.  Tonight's topic?  Beginning the healing. Gimmicks are out—no more "what beer represents X person" or "what should I drink when the Magic draft."  Tonight is a night to celebrate because, hopefully, this is the last time we, as fans, will have to go through the lows that lead to the number one pick in the draft.  We've weathered the storm of the past three-plus years. We've consumed bitter IPAs, heavy stouts, and crisp lagers, imbibed copious spicy wheat beers, refreshing kolsches, and even partook in pumpkin and Christmas beers.  As you watch the draft tonight, reflect on the last few seasons and take in the moment. Grab your favorite beer and drink hearty.  The future starts now.
7:33 (EST): *Literally every person on the planet lustily boos a smirking David Stern*
7:41: The Cavs take Anthony Bennett. I haven't spoken to Nate but assume he is dead. We're now hiring.
Kevin: Well, I'm glad it's not Len or McLemore.  I'm not sure exactly how Bennett fits… is this an effort to lure Andrew Wiggins in 2020 to play with his Canadian homeboys?  Ah, yes, it all makes sense now.
Tom: I thought Stern was gonna say Ahhh-lex Len about 5 times.  Anthony Bennett made me smile.  Definitely a Chris Grant pick.  Outside the box, puzzling fit, crazy athlete.  I love the pick.  I've been a big fan of Bennett since I did some super advanced Youtube scouting of him.  What's not to like about a guy that has a 7'1″ wing span, can hit threes, and might be the best finisher of any of these guys?  If Mike Brown can get him and his 250 pound butt to play D, he's gonna be just fine.  And I really do think he's a SF.
Nate: I'm not dead.  I'm just in mourning for sanity.  Who was the last 6'7″ starting power forward to win a championship?  Dennis Rodman.  Before that?  Wes Unseld.  The trail of undersized power forwards is littered with donuts and disappointment.  Seriously, the Cavs picked a poor man's Carl Landry with the number one pick of the draft.  Check out their college stats.
And he can't play small forward.  Name me one small forward in the league he can guard!?  Ugh.  Also, as I've said five million times: undersized power forwards are the goal line running backs of the NBA.  You can find one any time you want to.  You don't take one with the first pick in the draft, especially one who doesn't even get back on defense. My only hope is that somehow the Suns and Cavs are flipping picks.  That's right, Chris Grant, you've reduced me to hoping for Alex Len.
Kevin: Obviously Tom is a huge fan of the Bennett pick, but I am still trying to wrap my head around it.  Does Tristan start playing center for 16 minutes per night alongside Bennett?  Combined with Waiters, the Cavs are the shortest team in the league in that scenario.  Or is Bennett the league's second 250-pound small forward?  Kyrie, Dion, TT and Bennett.  Is that better than Knight, Caldwell-Pope, Monroe and Drummond?  Or Wall, Beal, Porter…and fortunately the fourth name is Vesely here.  I want to believe, but Bennett next to those other three names isn't immediately adding up for me though.
Some time that I have failed to document: The Cavs take Sergey Karasev with the 19th pick.
11:00: Allen Crabbe with the 31st pick. A seminal member of Nate Smith's Dumb Name All-Stars.
11:04: Carrick Felix with the 33rd pick. I'm not going to pretend to know who that is.
And by the way, if you guys want analysis—because we're analysts, not complete hacks, obviously—we'll be writing and podcasting about this stuff over the next week. I'm just not inclined right now to type fully formed paragraphs about Sergey Karasev and an Arizona State player with whom I'm pretty much completely unfamiliar.
11:15: I'm hearing—not from, like, "sources" or whatever, but from the internet—that the Cavs have flipped Allen Crabbe to the Blazers for two future second-rounders. Big trade!
11:51: Okay, I think we're done here. At any rate, I'm about to hop on a podcast with a few of the guys. If any other fireworks burst, we'll talk about it in the morning.