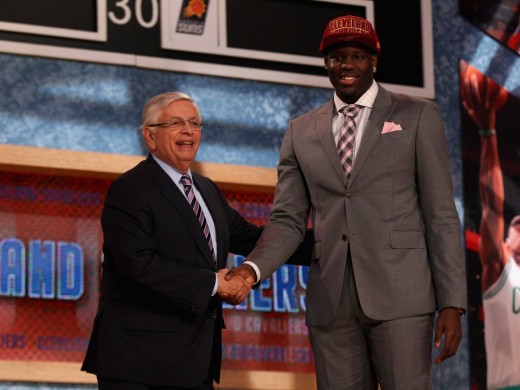 This post will be a dumping ground of thoughts on: the Cavs draft; other team's selections; and free agency, which starts Monday.  By the end, you may confuse me with Tom or Nate, as this post approaches 4000 words.  But hey, I need to summarize my thoughts about a few critical formative weeks in franchise history.
Also in the next 24 hours, Robert will provide some pictures and final thoughts from his visit to the Barclays Center last Thursday, and Mallory has another podcast en route.  So come back often; maybe take the day off work.  Eh, Thursday's a holiday…better call-in sick for the week.
Time to get started, with one man's thoughts on the Cavs' draft…
Carrick Felix at #33 – Like most everyone else, I didn't list him in the top sixty players; there are a decent amount of athletic 23-year old wings that can't create their own shot and convert 37% of their NCAA threes.  Alonzo Gee was one of these guys.  Felix excelled at accumulating rebounds, steals, and blocks, but only for the NCAA's 89th ranked adjusted defense.  As it regards my ranking, I hope to be wrong.
Trading #31 for future second round picks – In 2011, Cleveland owned the 32nd pick in the draft.  At that time, I said "the Cavs are going to pick a lot in the 28-40 range over the next 5 years and need to add quality rotation players".  At the time, I pined for Jimmy Butler, either at #32 or by trading #32 or #54 to move into the end of the first round.  Obviously, the Cavs had different plans.  The 31st pick got dealt for two future Orlando picks; initially I was unhappy, as it seemed as good a time as any to start adding young talent.  As time went by though, and Dwight Howard left, it became clear…Chris Grant was clairvoyant and a genius.  Two early second round picks for one…amazing!  But now, the first of those picks comes up, and it gets traded for two other future second round picks, that probably come around 45th?  Why not stash a player in Europe and start turning paper assets into accumulated talent?
Meh; so I didn't necessarily like the outcomes of those picks, but what happened at #19, I was all about it.
Snagging Sergey Karasev – Kevin Pelton rated him 10th, ESPN placed him 15th…shoot, I ranked him sixth.  Grabbing this young Russian with the nineteenth pick was good value.  He is only nineteen years old, so patience will be a virtue with this pick.  With a strong shot and advanced-for-his-age passing & court vision, he fits well with Kyrie and Dion.  About his defense?  I'm not worried; he's a teenager.  With decent size, smarts, and effort, he'll be just fine.
And the shocker!  Anthony Bennett!!  At number one?!? First, as has been discussed at some level in the comments, a dynamite trade just wasn't there.  I thought that perhaps the rumors of disinterest towards the first pick could be a bit of smoke-blowing; I was wrong.  Nerlens Noel plus a 2014 #1 for Jrue Holiday says everything that needs said about the trade market for top-five picks in the 2013 draft.
So, Cleveland had to pick someone.  They selected a forward with decent length & strength, a guy that ranked among the best power forwards in his class as a finisher and also as a jump shooter.  He's undersized, but also a guy with a "superb combination of length, explosiveness and aggressiveness (that) makes him a threat to tear down the basket at any given moment and allows him to finish plays from impressive distances, sometimes even when elevating from outside the paint (via draftexpress)."  That's pretty cool.  Pretty much every major draft publication ranked him between third and fifth in the draft.  Of the 24 power forwards in DX's top 100, he ranked:
Second for pace adjusted scoring;
Fifth in PER, with three of the players ahead of him being seniors that were 23;
Eighth for True Shooting Percentage.  Of the players ahead of him, only two were within five percent of his usage rate; and
Eighth for pace adjusted rebounding,
all as a player in his first NCAA season, only turning 20 this spring. According to RSCI, he ranked sixth in the high school class of 2012, and of the players rated above him, only Noel, Shabazz, and Steven Adams were in this draft.
It's easy enough to rationalize Bennett as potentially the best future player from this crew.  The biggest question comes down to fit; are Bennett and Thompson redundant?  That is a tough question.  Five years from now, against a lot of teams, I think a Kyrie, Dion, Karasev, Bennett and Thompson unit can be fun and dangerous.  Many opponents won't have the right personnel to exploit the limited size, and the offense could feature several each of above average shooters, ball handlers, and passers for their respective positions.  If this worked for fifteen minutes per game against most opponents, that would provide TT and AB with over thirty minutes a night, while reserving thirty minutes for a hulking, seven footer.  Again, against many teams, this scenario could provide a lot of offensive firepower to outgun any defensive deficiencies.  And for NBA defense, I think that with some athleticism, effort, and well executed five-guys-on-a-string type defense, size deficiencies can be overcome anyways (now, the team just needs 100% defensive effort and a solid system that the players can execute).
My primary concern is for the nightly Bennett / Thompson lineups needing to match-up against the next generation of Bynum / Pau Gasol, Randolph / Marc Gasol, Duncan / Splitter front-courts; units featuring two extremely large, and offensively skilled, players.  Perhaps divisional rival Detroit, with Greg Monroe and Andre Drummond, eventually fits this mold?  These squads are tough, and suddenly a small-ish frontline pales.  Based on this consideration, the more important long-term outcome for Bennett and the Cavs is probably whether the new rookie can establish an ability to play some small forward as part of a "big" line-up.  If he could passably play the wing for fifteen minutes, the ceiling opens for this Cavs team considerably.    The team would be able to utilize multiple position-flexible talents, and present matchup issues for most teams.  Bennett is athletic, and certainly wouldn't be the NBA's first 239 pound small forward; I'm going to keep an open mind.
Time for me to wrap up Cavs related draft talk.  With all of the surprising draft picks of the last three years, many of us are anxiously waiting to find out determinately whether Chris Grant adds himself to the list of elite general managers, or is just another goofball that turned a series of elite lottery picks into mediocrity.  I am staying optimistic; next season is certainly a critical year in this ongoing saga.
Let's run through some quick draft related thoughts on other teams…
The teams that I think are most likely to be Winners and Losers (after we've had several years to evaluate the outcome of the draft)…
Winner, Detroit Pistons – One thing that scares me about the Bennett pick is the Cavs division rival to the North.  If Tony Mitchell and Andre Drummond approach their potential….ooooh, I have nightmares.  Combined with Greg Monroe, this three-man rotation could be an absolute beast to deal with; monsters in the closet scary.  I like their Caldwell-Pope and Peyton Siva picks, too.  Along with Washington, moving forward, this is a team that Cleveland will need to gauge itself against.
Winner, Oklahoma City Thunder – The Harden trade will continue to be universally panned, but adding Steven Adams, Andre Roberson, Alex Abrines, Grant Jerrett, Jeremy Lamb, and Perry Jones III over the last two drafts is a strategy that:
Keeps the Thunder a top-three team in the league for the next ten years, while
Staying under the luxury tax
Staying elite and profitable for a decade?  A run of winning that long, fueled by Kevin Durant, seems due to deliver a couple of championships.  That's a small market dream.
Winner, Philadelphia 76ers – For Jrue Holiday, around the league's tenth best point guard, Philly came away with Nerlens Noel and a 2014 first-round pick.  Dependent on his knee, Noel can be the draft's best player.  The Pelicans likely improve next year, resulting in a pick in the 10 – 15 range.
The 76ers were a team about whom I questioned their direction a couple of times this year: destined for middling records, limited flexibility, and having traded two first future first rounders (including their protected 2014).  Now?  With a guy considered a viable #1 this year, and their ticket punched for the Andrew Wiggins sweepstakes, they have a clearer path to the bottom, but also to the top.
Winner, Atlanta Hawks – Of course I liked Atlanta's draft.  Lucas Nogueira and Raul Neto selected at reasonable draft slots…Danny Ferry, do you read Cavs:the Blog?  Add in Dennis Shroeder, and the Hawks accumulated a lot of young foreign-based talent. With all the young foreigners, perhaps the Hawks are gearing up for a massive tank job next year.  Regardless, I think these moves helped to start building a talent base for the Hawks for many years.  Mike Muscala at #44 is nice value, too.
Loser, Indiana Pacers – I live in Indianapolis, so I hope this is wrong. Last year, the Pacers picked Miles Plumlee, leaving me scratching my head.  Of course, this year they were able to get him on the court for 55 minutes…and he turns 25 this summer.  Solomon Hill at #23 is another pick out of nowhere.  As Paul George approaches an extension, it will be important for Indiana to get these picks right to solidify a low-cost bench.
Loser, Chicago Bulls – Tony Snell and Erik Murphy.  I wasn't a big fan of either guy; Snell because of extremely poor rebounding and steal rates, and a series of flops in his biggest collegiate games; Murphy because the world can only utilize so many stretch-fours.  Of that grouping, I had him rated fourth-ish this year.
Loser, Phoenix Suns – I liked the Alex Oriakhi pick, but only as a hard-nosed energy bringer.  Alex Len and Archie Goodwin seem unlikely to shift this franchise's future.
Talking about other teams was sort-of fun, but what about free agent targets for the Cavaliers?
I am glad you asked that question.  First, I will start with two goals; a mission statement if you will:
Make the playoffs in 2013 – 2014
Maintain roster flexibility.  This desire is a combination of potentially luring a free agent next summer, providing ample room for a big trade, and also giving the youngsters an opportunity to identify themselves.  While the team is trying to figure out exactly what Tristan, Dion, Tyler, Anthony and Sergey are, it may be premature to lock in another piece long term.  For my proposed salaries below, you will notice that frequently a very inflated salary is offered, but only on a one year contract.
With that, I think the 15 man roster gets broken into a few categories:
A ten man group that expects to see minutes every night.  In the event of one injury, it still leaves a solid nine person rotation, which is probably "right sized".
A three man group of, "just happy to be there, but able to contribute when needed".  This group is always traveling with the team; when everyone is healthy, one is wearing a suit though.  For this group, it is important consider whether they will be malcontents or locker room distractions if they are not getting minutes.  It is important that they will not be.
A two man group of players on the threshold between the D-League and NBA; projects that are only called up in the event of a huge surge in injuries.
Of the team's current roster, I would assign the following groups:
Healthy Rotation – Kyrie, Dion, Gee, Miles, Varejao, Tristan, Bennett
Happy to be here – Sergey Karasev; turning 20 the week that the season starts, the Cavs should head into 2013 – 2014 with options that don't need to rely on the Russian Rookie.  That doesn't mean I don't like him; I placed him 6th on my Big Board after all.
Tyler Zeller: this hurts me more than it hurts you, big guy.  And it doesn't mean you have been forgetten…not remotely.  With the playoffs as the goal next year, the Cavs should begin the season with you as the fifth big.  You would play in the event of injuries, foul trouble and garbage time.  Players will need rest when there is a four in five nights set.  You'd probably log 500 – 800 minutes.  You'd work on your strength, confidence, jumper, and the intricacies of NBA offense and defense…then in 2014 – 2015, we will all say, "Holy crap, when did Tyler Zeller become a beast!?"  Next year though, let's sign a veteran center to a one-year contract.
Teetering between D-League and end of bench:  Carrick Felix has to be here, right?  For the other guy, I prefer undrafted players James Southerland or D.J. Stephens; one a promising "three and D" small forward, the other an athletic freak of nature.  Also in the running would be Josh Selby for one more year.  With the selection of Anthony Bennett, Kevin Jones is out.
So that means the team needs…three "healthy rotation" guys and one "happy to be here" bench mob member.  The rotation guys would be a back-up point guard; a wing that turns Alonzo Gee into a 15-minute per night player; and a paint protector.  None would be long-term investments.  Mo Speights declined his player option, and my thought is that the Cavs should not pursue him, instead looking for a more traditional center.
With that as an intro, my initial list of free agents of interest included: Daniel Gibson, Wayne Ellington, Shaun Livingston, Devin Harris, CJ Watson, Jarrett Jack, D.J. Augustin, A.J. Price, Chase Budinger, Ronnie Brewer, Reggie Williams, Kevin Martin, Corey Brewer, Sam Young, Al-Farouq Aminu, Tony Allen, Trevor Ariza, DeMarre Carroll, Luke Babbitt, Dorrell Wright, Sam Young, Mike Dunleavy, Derrick Brown, Tiago Splitter, Josh McRoberts, Nazr Mohammed, Elton Brand, Chris Kaman, and Samuel Dalembert.
Some noteworthy players who are "out":
Daniel "Boobie" Gibson – You will always be remembered fondly by this member of Cavalier fandom, but your success was built around playing with Lebron.  With the current configuration of the team, you don't bring enough size, and can't displace any of Gee's minutes.  Best of luck at your next destination.
Wayne Ellington – With the playoffs as the goal next year, someone with a more established track record is needed.  It's too risky to gamble that February / March 2013 Wayne Ellington is the real thing, and not the Wayne Ellington that has posted a single-digit PER over the other twenty months of his career.  Best of luck to you too, pal.
Jarrett Jack and Tiago Splitter – Both of these names are very interesting, but are both worth lengthly contracts, which conflicts with one of the goals.
Chase Budinger – When healthy, he's a fine player, and a career 36% three point shooter.  He has missed significant portions of the last two seasons though, and the goal here is to limit Gee's minutes.
Tony Allen – I could envision him as a culture changer, but he will probably be in demand and is unlikely to come to Cleveland without too many years and dollars being offered.
Derrick Brown – Last year, when seeking low cost free agent options, this Xavier alum was my top choice.  No NBA team signed him.  I was a little surprised by that, as I can't believe he wouldn't provide bench value somewhere.  Anyways, after a training camp invite to San Antonio, he was Europe-bound.  He had a really nice season there, finishing second-team all-Eurocup, guiding his Russian team to be crowned champions.  His squad also finished second in the VTB United League, losing to powerhouse CSKA Moscow.  As a reward for all of that, they were promoted to the Euroleague for next season, one of 24 teams taking part in that elite annual competition.  Brown re-signed with Locomotiv Kuban for next season, but I wanted to give a shout-out to an NBA free agent that I considered a solid value play in 2012.
Enough of that though; those are the guys that didn't make the cut.  Including two minimum salary "D-League threshold" guys, and picking up CJ Miles' option, Cleveland would have eleven players under contract for $37 – $38 million next year.  If the team doesn't spend approximately $54 million, the remainder gets spread amongst the contracted players; to some extent, Dan Gilbert should spend $17 million on the four other players.  That leaves the franchise sufficiently under the cap to take on salary at the trade deadline, while fielding a competitive team still full of rookie-scale contracts.
With that as extensive intro, I will run through two scenarios receiving my seal of approval:
Scenario One
The four free agents would be Shaun Livingston, AJ Price, Dorell Wright and Chris Kaman.  Price tag, in order, is: 1 years, $4.5 million; 1 year, $1.7 million; 2 years, $9 million; 1 year, $7 million.
This quartet fills a lot of gaps.  Livingston brings good size to the back-court and sometimes brilliant ball movement, but if bringing him back, the team also needs another veteran, albeit cheap, "traditional" point guard.  Last year, I advocated for AJ Price as a low-cost back-up option for Kyrie; instead he subbed for John Wall.  Responding with a career best 2.2 win shares, 7.7 points per game, 3.6 assists, and only 1.1 turnovers, Price was certainly worth the minimum.  If willing to sign on as a "non-malcontent if I'm not playing" guy, a pairing of he and Livingston provides a reasonably solid quintet in the backcourt, along with Kyrie, Dion and CJ.
Wright is 6' – 7" and hit 37% from deep each of the last three seasons.  These are traits that Cleveland badly needs, and PER, Win Shares per 48, and RAPM all consider him average to above-average for three years running…that makes me feel good about him.
Finally; overpaying for one year of Chris Kaman…he made $8 million last year.  It's a risk, as he annually misses time to injury.  Last season though, Dallas reduced his minutes to 20 per game, and he played 80% of their games; a similar role would be in store in Cleveland.  Like Varejao, he would never play four games in five days.  Last year, he ranked 41st in the NBA for defensive rebounding rate and drilled 46% of his nearly 600 jumpers in the last two years.  Another guy that PER and RAPM consider an average NBA player over the past three seasons, he adds bulk, an interior presence with a jump-shot & post skills, and a little basket protection; even in a nearly career-worst season, his 3.0% block rate would have lead Cleveland in 2012 – 2013.
This scenario isn't sexy, but it adds four experienced, legitimate NBA rotation players that fill team needs, while maintaining cap flexibility.
Scenario Two:
This is actually my favorite.  The team adds: Devin Harris, Mike Dunleavy, Nazr Mohammed, Samuel Dalembert for 2 years, $8 million; 2 years, $7 million; 1 year, $1.7 million; 1 year, $8 million.  The team nears the minimum salary floor, but stays below the salary cap at approximately $54 million in salary.
Devin Harris provides a near starting caliber NBA point guard to spell Kyrie during games, and also when Irving is injured.  With career 55% true shooting, Harris has always been an efficient scorer.  Another guy that is revered by box-score based stats and APM metrics (still average according to PER, and reasonably above average by RAPM), this would be a huge improvement over the Sloan and Pargo tandem from November and December 2012.  Finally, with Kyrie and Devin both standing 6' – 3", the team can play them together for a handful of minutes every night, hopefully making the minutes situation appealing to Harris.
The Dunleavy acquisition provides many benefits.  First, he's 6' – 9" and turned himself into an annual 40+% bomber from long range.  Like mentioned with Wright, these are absolutely attributes that Cleveland needs on the wing.  Also a talented passer for a wing, Dunleavy piles up three assists per 36 minutes and a positive Pure Point Rating.  As he ages, RAPM likes his contributions, rating as the NBA's 75th best player in 2011, 89th in 2012, and 60th in 2013.  Finally, he would be a great mentor in front of Karasev for a year or two.  As a knockdown shooter, skilled passer, and someone using smarts, size, and experience to overcome marginal athleticism, Dunleavy is the style of player that Karasev should become. While Karasev should eventually prove superior at that style, Dunleavy provides double benefit of teaching Sergey the tricks of the trade, and also allowing Cleveland to implement an offensive system where the Russian slides in seemlessly, first as a back-up for a couple of years, then as the starter approaching his 22nd birthday.
Samuel Dalembert checks a couple of boxes for "team needs".  Blocking 2.5 shots and snagging twelve boards per thirty-six minutes, this 11-year NBA vet provides a paint protecting presence the Cavs need.  Also, prior to last season when he struggled to find the good favor of his coach, he missed only three games in six seasons; durability like that is absolutely something Cleveland could use.  Rumor is that he wants to go to a contender, but for a payday easily exceeding what anyone else offers, and a Cavs team committed to a playoff berth, perhaps he will delay those desires for one year.
Last, and least, I like Nazr Mohammed as the "happy to be here" guy, getting paid a small premium above the minimum.  He's big, rebounds, blocks some shots…occasionally he shoves Lebron for no apparent reason.  The Cavs need a little bit of all of that, and if Nazr wanted to battle towards the playoffs on a new, upstart team, while schooling Tyler Zeller in being mean…that would complete my favorite free agency scenario.
Bringing it all Home: A Kyrie, Harris, Dion, Miles, Gee, Dunleavy, Bennett, Thompson, Varejao, Dalembert rotation with Zeller, Karasev, and Mohammed in reserve, looks good for one season.  That team has shooting, passing, rebounding, and size.  The youths are well balanced with a group of savvy veterans.  Cap flexibility remains fairly pristine heading into 2014.
And playoffs, here they come!