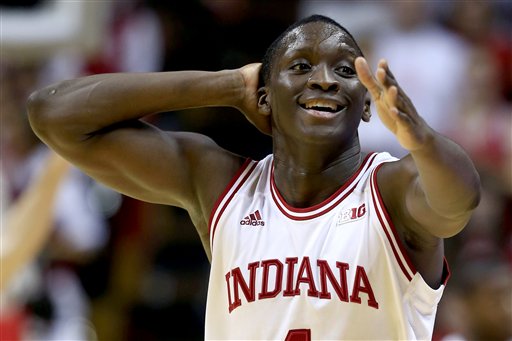 So, the draft is here.  We finally get the answer to what crazy thing Chris Grant has plotted out.  I'm excited, and as we dive into the ecstasy that is draft day, let's run through my top ten…
(Also, read Robert's article immediately below this, live from the draft.  Live from the draft?  What are we, like real media or something?)
#10 -Alex Len, Maryland, C, 20 years old – Previously while writing about Len, I lumped him into a group with Chris Kaman, Spencer Hawes, and Meyers Leonard.  I don't dislike him, obviously including him in the top ten, but I won't be dancing if the Cavs pick him first.
#9 – Kentavious Caldwell-Pope, Georgia, SG, 20 years old – Some facts on KCP:
His offensive rating of 113 on 27% usage, while only turning 20 in February and playing in the SEC, is impressive*.
Easily bored by offense?  Of the 18 players labeled as shooting guards in the DX top 100, he ranks 2nd for pace-adjusted defensive rebounding and steals.
Georgia outscored opponents by 77 points when he played, but was beaten by 83 points with him on the bench.
That's pretty good stuff, and enough for me to place him top-ten.
#8 – Cody Zeller, Indiana, Center, 20 years old – Another athletic, 7-foot tall Zeller?  Can someone promise me that Cody will turn into a mean son-of-a-gun? Because I gave Tyler's 247 pounds, 6.4% body fat and 16 bench press reps a lot of credit last year, overlooking that he needed a serious prescription of tough guy pills.  Or can you assure me that Cody will hit jumpers?  Because I thought that Tyler's 80% free throws and solid jump shooting, albeit in a small sample, foretold an ability to reliably stretch the defense.  If you confirm a "yes" about either of these things for Cody, that would make this much easier.  As it stands today, I will place Cody in the exact same position in 2013 that I placed Tyler in 2012.  (Come on, Tyler!  Get nasty!!  MAKE THE WORLD PAY FOR EVER HAVING DOUBTED YOU!!!  RAAAWWWWWRRRRRR!!!!)
#7 – Ben McLemore, Kansas, SG, 20 years old – This is about the time that I snapped, and responded by going to my "safe place", making a small table and graph that have no track record of being reliable (I named the graph, Ricky Ledo).  I couldn't help myself; I just didn't know what to think about McLemore's lack of assertiveness.  Was there a story that could be told, possibly by his usage rate?  Below, I listed the shooting guards drafted in the top half of the lottery from the past ten drafts, with their age during a season similar to McLemore's age now, and their corresponding offensive rating and usage rate from that year.  As you can see, McLemore used the lowest percentage of his team's possessions, clustered in a small group with Bradley Beal and Brandon Roy.  Beal was 16 months younger, but the appearance of Roy helps McLemore's case.
Dwyane Wade – 108 orating on 33.3 usage, Age 20.4 season
Tyreke Evans – 102 orating on 33 usage, Age 19.8 at draft
James Harden – 113 orating on 32.6 usage, Age 19.8 at draft
Stephen Curry – 122 orating on 31.4 usage, Age 20.3 season
O.J. Mayo – 106 orating on 30.5 usage, Age 20.6 at draft
Eric Gordon – 111 orating on 29.7 usage, Age 19.5 at draft
Evan Turner – 108 orating on 29.5 usage, Age 20.7 season
Randy Foye – 94 orating on 28 usage, Age 20.7 season
Ben Gordon – 114 orating on 27.5 usage, Age 20.2 at draft
Dion Waiters – 116 orating on 25.5 usage, Age 20.7 at draft
Bradley Beal – 112 orating on 22.5 usage, Age 19 at draft
Brandon Roy – 123 orating on 22.1 usage, Age 20.9 season
Ben McLemore – 118 orating on 22.0 usage, Age 20.4 season
Next, based on the research in this article, I adjusted everyone's offensive rating to usage of 25, graphed that number versus their age, and plotted a regression line with an intercept of zero.  What in the world possessed me to do that?  And tell you about it?  I told you I snapped.
On the graph, the point waaaay above the line is Steph Curry; obviously occuring  at a mid-major, but his NBA career is working out well.  The other points furthest above the line, at 19.5 and 19.8 years of age, are James Harden and Eric Gordon.  The player farrrrrr below the line…Randy Foye.  The other players reasonably below, at ages 20.4 and 20.7…Evan Turner and O.J. Mayo.  The line generally differentiates players by quality of NBA career.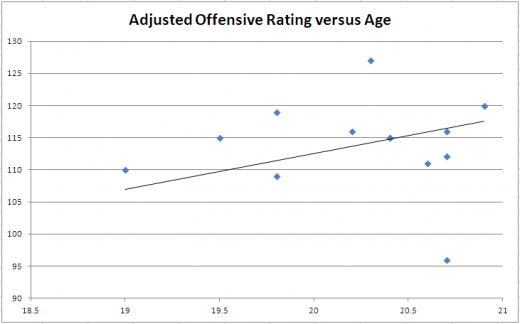 McLemore is the player exactly on the line at 20.4 years old, and actually that dot represents two data points: he and Dwyane Wade.  The other player that is almost exactly on the line?  Dion Waiters.  It would appear that the line has mystical powers, and Waiters is in fact due to follow Wade's path.
McLemore, too.  Despite some reservations, this graph places him in the top half of the lottery.  (And I said that I was trolling you yesterday…)
#6 – Sergey Karasev, Triumph Moscow, SF, Age 19 – A coach's son, this player is praised for his maturity and smarts.  At a young age he has performed extremely admirably.  A sampling: The Eurocup is the second most elite amalgamation of Europe's professional basketball teams (after the Euroleague).  Karasev is only 19 years old.  In 350 minutes in that competition, per 40 minutes, Karasev averaged 20 points on 44 / 49 / 83 with 4 rebounds, 3 assists, and only 1.7 turnovers.  In 33 minutes per game in the Russian League, it was 18 points and 5 rebounds on 44 / 36 / 84.  Finally, he led his team in scoring as they finished five-hundred in the VTB United League, a combination of top teams from ten Eastern European countries.  At age 18, he suited up for the Russian Bronze Medal winning Olympic team.
Really, there isn't a teenager in the draft with a more impressive resume than that.
#5 – Anthony Bennett, UNLV, PF, 20 years old –  With some ball-handling ability, a decent jumper, explosive hops, and a potential aversion to defense, he could be the most fun, yet frustrating player in the draft.  Once upon a time, I saw someone compare him to former undersized UNLV combo-forward Larry Johnson.  For a ceiling, I envision Bennett's career as similar to Grandmama; a couple of all-star games, but also a lot of five-hundred records and second-round playoff exits.  There are worse things than a couple of all-star appearances though.
#4 – Otto Porter, Georgetown, SF, 20 years old – 6' – 9" tall in shoes, Porter provides the shooting (42% from three) and passing skills (positive PPR) that typically make tall small forwards such unique contributors.  Also a great off-the-ball player, his skills fit well with Cleveland's young backcourt.  Finally, as a competitive, smart defensive player, he rebounds well and collects steals adeptly, aiding the Hoyas to the NCAA's fourth best adjusted defensive performance.  He may not become an All-Star, but as a "gorilla glue" player or "Tayshaun Prince 2.0", he won't cause regrets for the team selecting him.
#3 – Victor Oladipo, Indiana, SG, 21 years old – Would you believe that Robert's article from yesterday about the draft's media availability event raised Oladipo above Porter on my draft board?  Oladipo's charisma and groundedness…the checkered shirt with the vest…man, I got a system, and am sticking to it.  Combining great length, strength, athleticism, commitment, and intensity, Oladipo is considered the top wing defender of the draft.  Add the highest two-point shooting percentage and offensive rebounding rate of draftable shooting guards, stir in 44% shooting from deep, and this young Hoosier has the recipe for an awesome soufflé.  He is not the shot creator that most teams prefer from their guards, but if teamed with a ball dominant point guard and other wing, Oladipo presents a magnificent final piece of the puzzle for some team.
#2 – Trey Burke, Michigan, PG, Age 20 – Look at the graph above and place Burke's adjusted offensive rating of 125 at age 20.6.  Basically only Steph Curry looks more impressive, and if their strength of schedule is accounted for, Burke's NCAA Player of the Year season stacks up even better.  With a sweet shot and tight handle, this pick & roll aficionado stands poised to make waves in the NBA. 
After dinner at the hotel bar and a couple of Three Floyd's Alpha Kings, I said, "F-it…I'm putting Burke second."  Moments of clarity rule.
#1 – Nerlens Noel, Kentucky, C, 19 years old – Not a lot has changed for me about Noel since May.  I'm not worried about his weight; if he played at nearly 220 as an eighteen year old, he can bulk up to 240+ over the next few years.  I'm not worried about his offense: 18 years old; 11 points per game on 58% true shooting; and a 109 orating with 19 usage, from an uber-athletic seven-footer?  If all he ever does is finish oops, cuts, pick & rolls, and offensive rebounds, he has the size and speed to give a team 13 efficient points a game.  I am concerned about his knee…not one surgery, but two, missing significant time from a pair of his teenaged seasons.
Drumroll please…let me roll up my sleeves…time for the #1 pick…So, the draft is tonight; then we know the answers.  Personally, I hope when the NBA steps to the podium to proclaim the Cavs pick, they start with, "We have a trade to announce…", and we all lean forward in our seats with goosebumps, about to find out the future of our beloved Cleveland Cavaliers.  A trade could be a lot of fun, as long as we are not faced with a scenario where the entirety of the roster next season is Kyrie Irving, LaMarcus Aldridge, Alonzo Gee, Wayne Ellington, and Tyler Zeller.  This is probably just the sentiment of a fan, but trading Thompson or Waiters isn't much fun. 
If the Cavs make the first selection, I want to hear the name Noel, Oladipo, or Porter.  But, in the most amazing and shocking outcome of the night, here is my prediction for what the Cavs will do:
Trade #1 to the Thunder for #12, #29, and #32 and Thabo Sefolosha.
Trade a top-ten protected 2014 first rounder to Dallas for #13
Buy the 44th pick from Dallas
With 12, 13, 19, 29, 31, 32, 33 and 44 picks, the Cavs take Karasev, Nogueira, Adetokunbo, Abrines, Todorovic, Jean-Charles, Neto, and Dublejevic.
Take that San Antonio!  Cleveland rules!!  
I've lost my way…bring on the real deal tonight.
*It's right "on the line" for the graph of shooting guard's picked in the top half of the lottery in the past ten years.  Combined with the rebounds and steals, that's pretty solid.