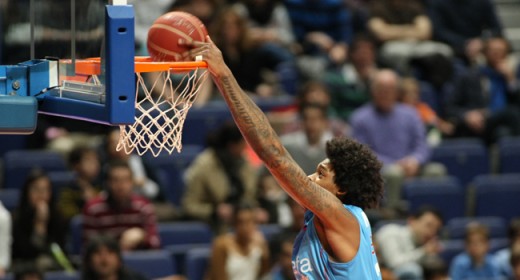 Writing sixty of these, and putting in the necessary care to ensure that I am uneqivocally correct, now and later, about all of them, is exhausting.  But I forge on.  Time to move towards the lottery and offer some thoughts on the #19 pick.
#20 – Allen Crabbe, California, SG, 21 years old – For both size and athleticism, Crabbe graded out as extremely similar to Reggie Bullock, a favorite of Cavalier fans.  The only discernible distinctions in the their combine results are that Crabbe is longer (2.5″ for wingspan, 1.5″ for reach) and significantly faster at shuffling his feet through cones (10.67 compared to 11.33 seconds in the agility drill).  An accomplished shooter, he converted 54% of his open jumpers this year and 44% coming off of screens.  Asked to handle a larger offensive load than the Tar Heel, and being a full year younger, he offers a nice package of size and floor spacing from the wing.
#19 – Giannis Adetokunbo, Filathlitikos (Greece), SF, 18 years old – This a complete "imagination" pick; the guy is basically a high school senior.  He's 6′ – 9″ with long arms, huge hands, and promising perimeter skills as a ball-handler and passer.  Playing in a low-level Greek league, scouts were wary of reading too much into his decent, yet non-dominant performance there.  Greatly improving his stock in two recent games against Croatia and Turkey's U20 teams, he offered 11 points, 6 rebounds and 4 assists against the former, and 17 points and 5 rebounds in 20 minutes against the latter.  Beginning a four-year stint in the Spanish ACB next year, he will still be 22 years old at the start of the 2017 – 2018 NBA season, so he serves as a definite pick for those with a longview.
#18 – Gorgui Dieng, Louisville, C, 23 years old – I really like Gorgui Dieng.  I like that he blocked nearly 10% of opponent two point attempts.  I like that he coupled that with 44 steals in 33 games.  I like that he had more assists than turnovers, thanks to a good eye from the high post.  I like the 66% free throw shooting and that he made 50% of his jumpers this year (via draftexpress).  I like that he ranked 2nd in the Big East for defensive rebound rate and 7th for offensive rebound rate.   And I like that Louisville is the national champions, thanks to back-to-back seasons as the NCAA's best adjusted defense (via kenpom.com).  I think he pretty clearly separates himself from Jeff Withey and Rudy Gobert.
#17 – Michael Carter-Williams, Syracuse, PG, 21 years old – Take five minutes and look through the Draftexpress measurements database.  Try to find a point guard that was 6' – 5" barefoot with a 31.5" no-step vertical leap, a 10.68 agility drill and a 3.22 sprint time.  You couldn't?  With that size and averaging over seven assists per game, he is really unique.  Despite all that, I'll leave him outside the lottery.  He struggles in the pick and roll and doesn't shoot well (39 / 29 / 69)…plus he's tall…and he passes well; I've seen a Shaun Livingston comparison thrown around, but when talking about elite picks, is that good enough?  He turns 22 before the start of the season and needs to acclimate to man-to-man defense; can't place him above…
#16 – Shane Larkin, Miami, PG, 20 years old – Making up for his small stature by being a ridiculous athlete, he finished top five in this class for no-step vertical leap, sprint speed, and agility drill…if you recall, that matters for point guards.  He also paced the NCAA in points created in the pick & roll and scored 24 points per game while leading Miami to the ACC tourney championship.  Also one year younger than MCW, you read this right, second best point guard in the class.
#15 – Shabazz Muhammad, UCLA, SF, 20 years old –   It's getting late…what is there to say about Shabazz?  He isn't tall, or terribly athletic.  He wasn't particularly efficient on offense, nor did he rack up counting stats on defense.  He doesn't create well for himself in the half-court.  Or others, as he turned the ball over twice for every single assist.
On the bright side, he broke Dirk Nowitzki's record for scoring at the 2012 Nike Hoop Summit.  Hence, all is salvaged and I keep him in the top fifteen.
#14 – C.J. McCollum, Lehigh, SG, 21 years old – Every year I undervalue a small school player; this year it may be McCollum.   In 2011 – 2012, his last full season, McCollum posted a 114 orating on 33 usage with a pure point rating of 0.4 as a 6' – 2" combo guard playing a very weak schedule; the NCAA's 282nd toughest according to kenpom.com.  Erick Green is over a year older than McCollum was then, but as a 6' – 2" combo guard, he posted a 120 orating on 32 usage with 0.9 PPR against the NCAA's 56th toughest schedule.  I am oversimplifying, but is one a top-ten pick and the other a second rounder?  I'll say "no", and rank them a bit closer than that.
#13 – Kelly Olynyk, Gonzaga, PF / C, 22 years old -In the last ten years, Olynyk's senior season PER of 37 ranks among the NCAA's best.  Other extremely elite PER marks above 36 came from Blake Griffin, Danny Granger, Andrew Bogut, Dejuan Blair, Michael Beasley, Mike Sweetney, Nick Fazekas, and John Bryant during that time.  That is a solid group, but obviously does not guarantee success.  It sounds like Olynyk is shooting very well in workouts, and I am willing to buy into him as a multifaceted, offensively talented power forward, that when paired with a rim protecting center, can make an impact in the NBA.
#12 – Steven Adams, Pittsburg, C, turns 20 in July – Every analytics-based article I read likes Adams.  And how can they not?  Top 25 in the NCAA for offensive rebound rate and percentage of opponent two-pointers blocked, he did damage as a freshman.  Plus, a seven-footer, weighing 255 lbs, and with a 3.40 sprint time?  What's not to like?
#11 – Lucas Nogueira, ASEFA Estudiantes (Spanish ACB), C, turns 21 this summer – Look at this article and compare Nogueira to Rudy Gobert.  Nogueira is better at everything other than getting to the free throw line, plus Gobert ranked first for True Shooting with Nogueira second; Lucas was even a better shot blocker.  All with the big Brazilian being slightly younger and playing in a more difficult league.  Nogueira tested as faster and more agile, and has the second highest no-step vertical reach in the 2013 draft class (behind only D.J. Stephens).  Until recently, Gobert typically ranked above Nogueira in mock drafts, but there is a clear distinction between the two, and it favors the Brazilian.  Finally, a 24 PER in the ACB at age 20 is a really fricking stellar.
Now time for a recommendation on the 19th pick: Clearly Adetokunpo or Nogueira, to finish forming my super team of young ACB players.
Ok, Crabbe or Bullock would be cool, too.