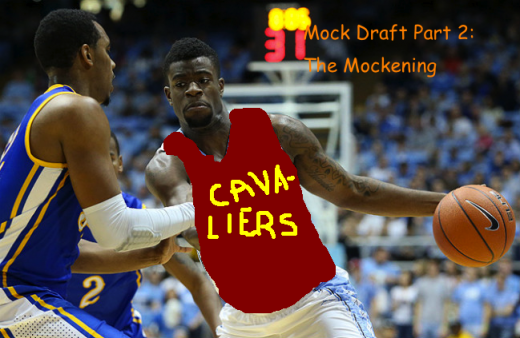 Okay, part two. Let's drop any pretense that I'm (this is Colin) going to say anything useful in this opening paragraph. Let us mock, however poorly:
16.) Boston Celtics (Mallory Factor): Sergey Karasev, 6'7″, Triumph Lyubertsy, SF – The Celtics are in a tough place.  Given the whole, "Doc Rivers has made it clear he doesn't want to be part of the future" situation, it's assumed KG and/or Pierce are likely on the way out too.  If all of that is true, then the Celtics are left with a bevy of needs.  They'll be in full-on rebuild.  What better way to start the process than a young Euro project?  Karasev appears to be one of the most polished shooters in this year's draft, hitting the three at a high percentage in Europe.  Imagine the damage he could do in the catch-and-shoot game with Rondo dishing to him!  He's decent at attacking the rim and is a good decision maker as well.  While his defense is questionable, but his youth makes him a great prospect for a team with so much missing.
17.) Atlanta Hawks (Colin McGowan): Giannis Adetokunbo, 6'9″, Basket Zaragoza (Spain), SF – So, The Greek Freak finally goes here. I wouldn't be shocked if he climbs higher than this Hawks' 17th/18th duo once the actual draft rolls around. Given a selection of prospects amongst which it's hard to identify a superstar, why not take a kid who needs some work but might become quite special in a few years? The Hawks could go any number of directions this offseason, depending on what they want to do with Al Horford and where Dwight Howard ends up, but it would be hard to fault them for letting Giannis play at Zaragoza for a year or two, then seeing what they have when he enters his twenties. Even if the pick goes bust, it's a nice pickup in the late teens.
18.) Atlanta Hawks (Colin McGowan): Gorgui Dieng, 6'11", Louisville, C – If the Hawks swing for the fences with the 17th pick, they could go safe at 18 with Dieng, who at the very least will be a capable backup center in the NBA for the next eight-to-ten years. This is where the draft breaks down (for me, at least), and teams are either taking a flier on someone like Ricky Ledo or playing it safe with a player that can become, at best, a borderline starter. Dieng falls into the latter category, but there's something to be said for drafting a player you're almost certain can contribute—and contribute right away. Dieng will defend and knock down the odd jumper. That's not nothing.
19.) Cleveland Cavaliers (Mallory Factor): Reggie Bullock, 6'7″, UNC, SF – While I firmly believe this pick ends up getting traded, for the time being the Cavs are picking at 19.  Since we already have them taking a center with the first pick, and since the roster's 3 position is currently being held down by Alonzo Gee, CJ Miles, and Luke Walton, Bullock is by far the most sensible pick.  A prototypical three-and-D guy, Bullock shot the lights out: 42.9% from three this season (and an even better 44% on catch-and-shoots) while regularly using his long, athletic frame to shut down the opposing team's best wings.  Bullock won't be an NBA star, but his game loosely resembles Kawhi Leonard's  when he was drafted (without the elite rebounding, unfortunately).  If he can become even a bit of the player Leonard is, he's be a great long-term fit for the Cavaliers.
20). Chicago Bulls (Kevin Hetrick): Erick Green, 6'2″, Virginia Tech, PG / SG – The Bulls offense functions best with a high usage point guard that is called upon to score.  Enter the NCAA's leading bucket-getter from last year.  Green scores frequently and rarely turns the ball over.  He is a great candidate to back-up Derrick Rose, but also to play a handful of minutes alongside the former MVP, thanks to Green's ability to spot-up: he knocked down 40% of his catch and shoot jumpers this past year.
21.) Utah Jazz (Nate Smith): Nate Wolters, 6'5″, South Dakota State, PG.  I know.  I know.  Unsexy pick, but the Jazz need a point guard.  Damian Lillard proved small school point guards could succeed last year, so this year it will be up to the bigger Wolters, who did it all at South Dakota State.  He's an excellent shooter with a TS% of  61, he passes well with a 2.41 assist to turnover ratio, he's also one of the better rebounders for a guard in this draft with 5.9 boards per 40 minutes, and he gets to the line 7.7 times per 40 minutes, trailing only Erick Green and C.J. McCollum in that department.   Oh, and did I mention his 32.3 PER?  The choice here will be Wolters or Dennis Schroeder from Germany.  Wolters is a bit undersold, and let's be honest, this kid has Utah written all over him.
22.) Brooklyn Nets (Tom Pestak): Glen Rice, 6'6″, Rio Grande Valley (D-League),  SF – The Nets ranked near the bottom in assist to turnover ratio, turnovers committed, and turnovers forced.  They assembled a decent amount of talent (at an outrageous cost) but it was obvious they were less than the sum of their parts.  Offensively, they took (and missed) a lot of unassisted mid-range jumpers, not totally surprising given the wing duo of Joe Johnson and Gerald Wallace.  They ranked 29th in the NBA in fast break points and preferred back to the basket post play to weak-side cuts and pick-and-rolls.  The common thread here is that they didn't generate easy baskets as much as their talent suggests they should have.  A wing glue-guy with good instincts, solid court vision, and a knack for forcing turnovers would be ideal for Brooklyn.  Also, with over $70 million committed to 4 players, the Nets are certainly in win-now mode and are best served selecting to that end.  Glen Rice checks most of those boxes, or at least he has since February, when he started dominating the NBA's D-League after being a nightly DNP.  Check out these numbers: 18 points, 8 rebounds and 2.5 assists in 31 minutes per game in 25 games as a starter, shooting 56% from 2-point range, 43% for 3, and 76% from the free throw line.  He was the best player in the D-League Championship putting up a LeBron-like 29 points, 11.5 rebounds, 4 assists, 3 steals and 3 blocks per game.  He earns possessions with his athleticism, scores well in transition, is a willing passer, and has posted a positive A/TO ratio as a SF in each of his last 4 years.  Maybe most importantly, he dominated fringe NBA talent this past season and the Nets need some help right now.
23.) Indiana Pacers (Robert Attenweiler): Tim Hardaway Jr., 6'6″, Michigan, SG – The Pacers could go a lot of directions here. They could look a couple years into the future and start grooming their heir to David West (a safe assumption to re-sign this summer) with a tantalizing project like Tony Mitchell. Or they could bolster one of the NBA's best defenses by plugging Jamaal Franklin into a rotation with George Hill, Lance Stephenson, Paul George and (maybe) Danny Granger, making the Pacers' defense as daunting on the perimeter as it is on the block. But I think the Pacers opt a little more for an immediate boost and start chipping away at their offensive shortcomings. Hardaway Jr. has legit size to play the two with a sprinkling of the three if the Pacers try to go small for stretches. He has worked hard to become a knockdown three-point shooter (he shot 36% this past year), but what has impressed me the most is the way he has seemed aware of how he can best fit into a team and worked to accentuate that. With the rise of Trey Burke and a talented freshman class, Hardaway Jr. didn't force the issue and try to get more shots to pad his stats. He played solid offensive and defensive basketball on what became a very successful team. Given the right fit (and I believe the Pacers are one), I expect him to continue to do just that.
24.) New York Knicks (Robert Attenweiler): Mason Plumlee, 7'1″, Duke, PF/C – The name most closely linked to the Knicks at present (i.e. "could change at any minute") is Jamaal Franklin. Also, anyone noticing the amount of times I've typed the words "Jamaal" and "Franklin" over the last couple of weeks may surmise (correctly) that I agree that the Knicks should be high on him. However, I'm just not bowled over by the fit. The Knicks already have their hyper-athletic defensive wing player with an irregular offensive game. His name is Iman Shumpert. So, I'm not sure why the team would double down on the same type of player when it has other issues. Mainly, they keep signing 400 year old big men! Rasheed Wallace, Kurt Thomas, Marcus Camby, Kenyon Martin … the list goes (unfortunately) on. An unsexy pick to be sure, Plumlee really took off this past season scoring 17.1 points and grabbing nearly 10 rebounds a game. He's mature, well-coached and gives the Knicks a legitimate offensive option in the post. Plumlee should be able to contribute immediately as a back-up to Tyson Chandler who can also play a little bit beside him when the Knicks go Iso-Melo Big and Amar'e Stoudemire's knee is doing that thing it does. Yes, history is littered with the underwhelming pro careers of Duke big men, but Plumlee gives the Knicks too many things they need for them to say no at 24.
25.) Los Angeles Clippers (Tom Pestak): Allen Crabbe, 6'6″, California, SG – With Eric Bledsoe being shopped, the Clippers could use some depth in the backcourt.  LA native Crabbe is a great shooter with NBA range, a quick release, and a propensity/willingness to get open using screens and curls.  In a Chris Paul-centric offense this style could work well at the 2 for the Clips.  Crabbe didn't get a lot of space to shoot in college, but when he was open he was lights out.  No matter where he lands he won't be warranting all the defensive attention of the opponent, and the extra spacing of the NBA will mostly likely help the lanky (7′ wingspan!) sharpshooter.
26.) Minnesota Timberwolves (Nate Smith): Lucas Noguiera, 7'0″, Asefa Etudiantes (Spain), C – The Wolves are celebrating right now because three limited upside players were just taken ahead of them, and serious prospects are all sitting here:  Tony Mitchell, Rudy Gobert, Bebe Noguiera?  Are you kidding me?  Tom and Robert apparently snuck into the Pacers, Knicks, and Clippers war rooms and spiked their coffee with Folgers instant mediocrity. (I might have accidentally slipped some into the Jazz's decaf, too).  Mason Plumlee?  Is there a more milquetoast player in this draft?  OK, enough haranguing.  After Michael Beasley and Derrick Williams, the Wolves can't take Mitchell here, so I guess I will go with the kid who better fits Kevin's big man profile of running faster, having not quite as freakishly long arms, and not being 21 yet.  Noguiera it is.
27.) Denver Nuggets (Kevin Hetrick) Tony Mitchell, 6'9″, North Texas, PF – The Nuggets have ten players under contract for next season, and if they pick up reasonable options, the same ten under contract for 2014-2015.  They may resign Iguodala; long story short, they probably aren't looking for a rotation player for next season.  They can take a "tough love" approach with Mitchell, and try to reap the benefits of snagging this high-flying power forward.
28.) San Antonio Spurs (Mallory Factor) Rudy Gobert, 7'2″, Cholet Basket (France), PF/C – Is there a more perfect fit in this draft than the Spurs and Gobert?  The Spurs may be the best team in the league at scouting internationally, they're the best at fostering raw talent, and they're one of the most stable places in the NBA.  Gobert's talents lie in his long frame, his speed, and his soft hands.  He's great on the defensive side of the ball, with the length and instincts to cause a ruckus inside.  While he needs a ton of work on offense (the guy weighs less than 240 despite his height!) he's certainly in the right system to give him the time to blossom.  This would be a home run for both parties.
29.) Oklahoma City Thunder (Colin McGowan) Ricky Ledo, 6'6″, South Kent High School, SG – We have the Thunder taking a useful, NBA-ready talent at 12 in Olynyk, so why not draft a project late in the first round? Ledo is a talented mess: he was seen as a fantastic shooting guard prospect coming out of high school, then sat out the entirety of his freshman year at Providence due to academic issues. But OKC can afford to gamble. They're a team of boy scouts, and perhaps being around a bunch of model citizens would do Ledo some good. If not, they can send him to the D-League and/or decline his team option in a couple years. This late in the first round, there's little downside to giving the roulette wheel a spin.
30.) Phoenix Suns (Colin McGowan) Jamaal Franklin, 6'5″, San Diego St., SG/SF – Now I'm starting to wonder about the accuracy of this mock draft (despite the fact we're all complete pros at C:TB; we're totally not pulling 90 percent of what we're saying out of our butts) because I'm not so sure Jamaal Franklin, Dennis Schroeder, and Tony Snell are all going to be here at 30. I think Schroeder's the best prospect available, but Phoenix has Goran Dragic under contract for another two-to-three years (he's got a player option). I guess the Suns take Franklin, who's a terrific athlete, a good mid-range shooter, and a capable rebounder. He can also play either shooting guard or small forward because of his long arms. He might become a defensive stopper. Some scouts have questions about how his game will translate to the pros, but he's a good value at 30.
31.) Cleveland Cavaliers (Nate Smith) Dennis Schroeder, 6'2″, Germany, PG – If Schroeder's still around here the Cavs will take him.  He's a top 20 talent available at the start of the second round, where the pickings get slim quickly.  If we were all smarter at mock drafting, he wouldn't be, but we're not. Cavs just found their backup point guard.  Now I have to pray Mike Muscala is available two picks later.
32.) Oklahoma City Thunder (Kevin Hetrick) Marko Todorovic, 6′ 11″, Montenegro (playing in Spain), C – A long term, low cost answer to pair with Serge Ibaka in the frontcourt?  Perhaps Todorovic can mimic Tiago Splitter in San Antonio, joining the Thunder as a veteran and adding a boost to the already strong 2017 Thunder.
33.) Cleveland Cavaliers (Tom Pestak) Aaron Craft, 6'2″, Ohio State, Pitbull – You think I care that he's not in the draft?  A coach just got traded, The Kings are staying put, and the Spurs blew a 5-point lead with under 30 seconds in the Finals.  Way crazier things have happened.  The only condition under which I'd hedge here and not give Mike Brown a future DPOY in the backcourt is if Craft is seen wearing a Heat jersey or tweeting something similar to "I don't understand how people can still hate on LeBron James."  In that event, plan B is Mike Muscala from Bucknell.  Honestly I've never heard of the guy, but Nate told me he thinks Muscala could be the best center in the draft.  Nate is wrong so often that I figure he's due.  Plus, it's the first time I've heard Nate rave about someone that has a name I can pronounce, so there must be something extra special about the Muscle Man (trademarked!).  DraftExpress has an enticing scouting report of him as well.