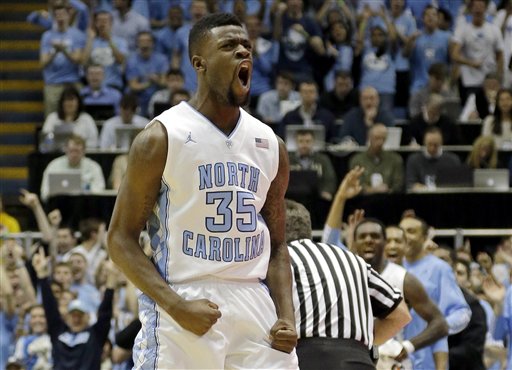 Well today, I will attempt to stay brief; this group of players is slightly less relevant to the Cavs.
#30 Glen Rice Jr, D-League, SF, 22 years old – A decent, yet unspectacular recruit muddles through three trouble-filled seasons of college, then gets selected 55th in the D-League draft. Riding the pine for the first few months there, he suddenly explodes with a 31-game run that culminates in D-League playoff MVP status.  Standard, right?  I'll hedge my bets and put him at the end of the first round.
#29 – Rudy Gobert, Cholet (French League A), C, 21 years old – Technically, he turns 21 on Wednesday.  Happy early Birthday, Rudy!  As a pro, I think he is more of a curiousity than a legitimate force.  With his length and timing, he will block some shots and finish some dives to the basket, but his limited strength and athleticism will preclude dominance.  Also, the track record of extreeeeeemely long centers is not very good.
#28 – Mason Plumlee, Duke, PF / C, 23 years old – I don't have a lot say about Plumlee, except I think he is a career back-up in the NBA; despite being bigger and older than everyone else, he was productive, but not dominant this season.  I have him about ten spots lower than many places.
#27 – Dennis Schroeder, Braunschweig (German 1st Division), PG, 19 years old – Preceding his apparently poor workouts and strong Hoop Summit showing, this young floor general spent the season in the top German league.  In 25 minutes per game, he averaged 12 points, 3.3 assists, 2.5 rebounds, 2.5 turnovers and 0.9 steals.  He made 40% of his three point attempts, but only 44% from inside the arc.  My highly elaborate German to NBA statistical translator places him here on the list.
#26 – Tim Hardaway Jr, Michigan, SG, 21 years old – Hardaway thrived at the combine, pairing great size for a wing with across-the-board, strong athleticism marks.  While not a spectacular college player, he just turned 21, and helped key Michigan's March Madness with averages of 13.5 points, 4.5 rebounds, 3.3 assists, and 1.3 turnovers during the Big Ten and NCAA tourneys.  Considering the prevalence of athleticism toward guards' success, as well as his flashes of skill on a winner, I like his chances.
#25 – Mike Muscala, Bucknell, C, 22 years old in July – Getting excited about senior centers often proves foolish, but towards the end of the first round, this is a good fit.  Combining 6′ – 11.5″ height with a 7′ – 1″ wingspan, great effort, and solid athleticism, Muscala posted 19 points, 11 boards and over 2 blocks per game this year; his defensive rebounding rate ranked third in the NCAA.  Converting 80% of his free throws, and leading draft-worthy centers in pace-adjusted assists per minute, he also presents a package teeming with skill.  Ultimately he accumulates these stats against a relatively weak NCAA slate, and weighing only 230 pounds while performing five bench press reps at the combine, he is another center whose limited strength and toughness could make acclimation to the NBA a difficult process.
#24 – Erick Green, Virginia Tech, SG, 22 years old – Definitely not a typical 6′ – 2″ tall facilitator, Green's 25 points per game lead the NCAA, and he posted a spectacular 120 offensing rating on 32% usage against the NCAA's 56th toughest schedule.  He scores effectively with pull-up jumpers from the pick & roll and in isolation, and finishes effectively in transition.  Only turning 22 this past May, and playing an extremely low turnover brand of ball, a role similar to Marcus Thornton appears likely.
#23 – Jamaal Franklin, San Diego State, SG, 22 years old in July – Described as extremely, perhaps irrationally confident, this man rates in the discussion for next Tony Allen. Like Allen, he played as a ball dominant player on offense while in college, but wasn't particularly effective doing it, converting 30% of his three point shots over three years, and making only 24% of the catch & shoot variety this year.  Of the draftexpress top 100, for pace adjusted, per minute stats, he ranks last for committing turnovers.  His 6′ – 11″ wingspan, tenacious defense, and ridiculous rebounding for a guard (9.5 per game), will provide an enticing package for a team seeking a big, athletic wing committed to defense.
#22 – Reggie Bullock, North Carolina, SF, 22 years old – The embodiment of a "3 and D" wing, Bullock built his 128 offensive rating (28th best in the NCAA) by shooting 200 times from deep, and making an awesome 44%, while also displaying great finishing skills at the rim, leading draft worthy small forwards for per possession scoring in the half-court and finishing top-five in transition.  A solid passer, his three assists combined with a miniscule turnover rate forged a Pure Point Rating (PPR) besting Erick Green, Myck Kabongo, Seth Curry and Isaiah Canaan.  For a Cavs team lacking size and shooting on the wings, Bullock makes a lot of sense.
#21 – Tony Mitchell, North Texas, PF, 21 years old – Let's get in our time machine for a minute and pretend that June 2012 Tony Mitchell was in this draft.  A 6′ – 9″ tall power forward with a 7′ – 2.5″ wingspan; crazy athletic, with 236 pounds, only 5.6% body fat, and a 38″ maximum vertical leap; his no-step vertical reach is only three inches less than the best in this draft class.  Recently turning 20, he is younger than fellow freshman Ben McLemore and Anthony Bennett, and just finished his maiden NCAA season averaging 15 points on 65% true shooting, with 10 rebounds and 3 blocks per game.  He converted 44% of his 41 three-point bombs; scouts are concerned with the level of competition, but can't argue with that productivity…
That guy is top-ten in this draft, right?  Instead, a bad attitude derailed his season, and he performed worse across the board.  I wrote about Mitchell at #19 a month ago, drafting him and saying, "First round contracts are guaranteed for two years.  You're going to the D-League.  Prove to us that you deserve that third year and playing in the NBA".  Perhaps that dose of reality could provide high end value at the twentieth pick.  And if not, eh, it only cost the 20th pick and $2.5 million.
____________________________________
That's it for today.  Two days until the draft.  Wednesday, we will take at the group of guys that I think are in play for Cleveland at #19, then on Thursday, the top ten.  Let's get this done.